Few Diverse Global Players Dominate the Market Holding ~40% of Revenue Share Despite the Presence of about ~200 competitors comprising a Large Number of Country-Niche Players and Regional Players, finds a recent market study on Global Grape Seed Extract Market by Ken Research
Grape seed extracts are nutritional supplements made by extracting, drying, and crushing grape seeds. Antioxidants including anthocyanins, phenolic acids, and flavonoids are abundant in these seeds. Additionally, grape seed extracts have antiviral, antifungal, and antibacterial activities. Another name for grape seed extract is Vitis Vinifera.
Ken Research shares 3 key insights on the competitive landscape of this dynamic market from its latest research study.
Global Players Who Comprise 5% in Terms of the Number of Competitors Hold the Dominant Revenue Share
Competitive Analysis by the Ken Research Study found that the Global Grape Seed Extract Market is highly competitive with ~200 players which include globally diversified players, regional players as well as a large number of country-niche players having their niche in the grape seed extract. The country-niche players comprise ~65% in terms of the number of companies, followed by regional players accounting for ~30% in terms of the number of companies. Most of the country-niche players are raw material suppliers. Some of these who successfully evolve to create grape seed extract often get acquired by large global players seeking to grow and diversify quickly
Leading Specialist Global Players' Ongoing Efforts To Provide Grape Seed Extract To a Variety of Industries Drive the Growth of the Market
Detailed comparative analysis of key competitors available within the Research Study shows that specialist companies, such as Polyphenolics, Augusto Bellinvia SRL, and Hunan NutraMax Inc. are highly focused on providing a significant number of Grape Seed Extract products that can be used across multiple industries, including food & beverage, Personal Care, Pharmaceuticals, and many more.
In February 2020, HumanN, a leading producer of science-backed functional foods and nutritional products, introduced SuperGrapes Chew, the first chew with grape seed extract for sustaining a regulated blood pressure rate and providing energy support.
In October 2021, Distillerie Bonollo Umberto S.p.A (DBU S.p.A), a pioneer in the distillation of grappa and one of the most significant producers in Europe, has signed a distribution agreement for the United States with Artemis International, Inc., a leading supplier of Berryceutical ingredients to the dietary supplement, functional food, and beverage industry.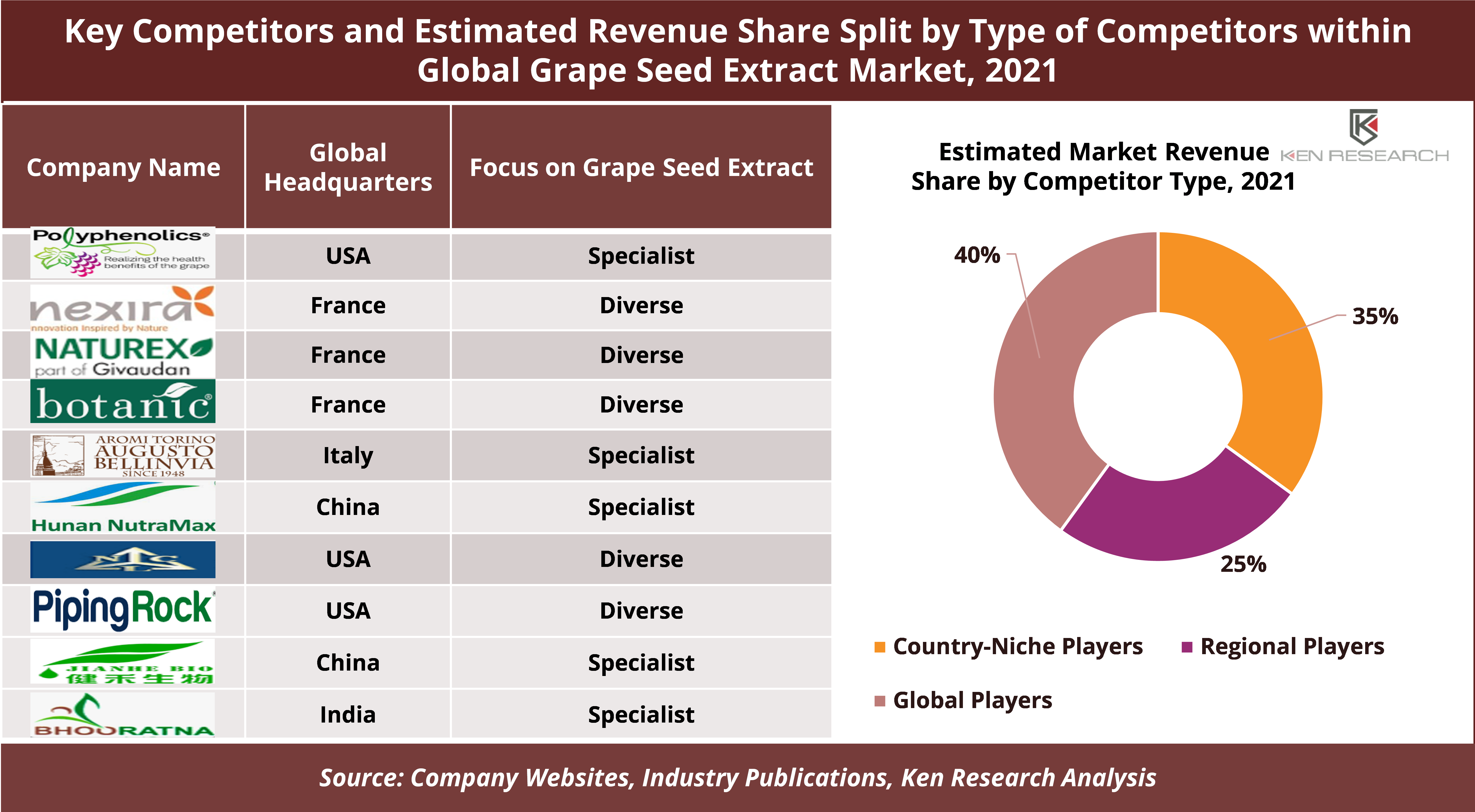 Request For Sample Report @
https://www.kenresearch.com/sample-report.php?Frmdetails=NTk2MDU5
Government Initiatives to Aid in the Expansion of the Global Market for Grape Seed Extract
In August 2022, by the regulatory framework for supplemental foods, Health Canada's Food Directorate undertook a thorough premarket safety review of grape seed extract. Based on the concentration of oligomeric proanthocyanidins, the premarket assessment results indicate the safety of standardized grape seed extracts.
In August 2020, the National Center for Complementary and Integrative Health (NCCIH) is funding research into the ways that polyphenol-rich dietary supplements, such as grape seed extract, can lessen the negative effects of stress on the body and mind. (Polyphenols are chemicals with antioxidant properties that are present in many plants.) This study also examines how the microbiota influences the body's ability to absorb particular beneficial polyphenol components.
For more information on the research report, refer to the below link:
Leading Players in Grape Seed Extract Market
Read Also –
3 Key Insights on the US$ 500 Million Opportunity in the Global Food Grade Lubricants Market
Follow Us –
LinkedIn | Instagram | Facebook | Twitter | YouTube
Contact Us: –
Ken Research
Ankur Gupta, Head Marketing & Communications
+91-9015378249