Driven by Rising Environmental Concerns and the Consequent Rise in Demand for Bio-Based Composite Materials, the Global Natural Fiber Reinforced Composites Market is forecasted to cross US$12 Bn by 2030 says Ken Research Study.
Natural fiber composites (NFCs) are a type of composite material in which the reinforcing fibers are generated from renewable and carbon dioxide-neutral materials like plants or wood. Owing to their greener nature and contribution to sustainable practice, natural fibers have garnered significant interest from industry players and researchers for the utilization of polymer composites. To better balance environmental concerns with social and economic issues, some sectors have transitioned toward sustainable technology which is, in turn, fueling the natural fiber reinforced composites market.
According to Research estimates, the Global Natural Fiber Reinforced Composites Market – which was valued from around US$ 5 Bn in 2019 to nearly US$ 6 Bn in 2021 – is expected to grow further to more than US$ 12 Bn opportunity by 2030.
Ken Research shares 5 key insights on this high opportunity market from its latest research study.
1.   Better Properties of Reinforced Natural Fiber Composites as Compared to Synthetic Fiber Composites to Boost their Demand and Market Revenue Growth
Compared to synthetic fiber composites, natural reinforced fibers are affordable, require minimal effort to create, and emit lesser harmful fumes. Additionally, its high specific strength, stiffness, and less dense makeup help reduce weight in a range of end-user applications. For instance, in the building sector, natural reinforced fiber composites are added to concrete to enhance its mechanical properties, such as flexural strength, impact resistance, and fracture toughness. The market for natural reinforced fiber composites is expanding due to their numerous advantages over synthetic fibers.
NFC's potential to replace synthetic fiber composites and rising consumer desire for eco-friendly packaging options are expected to contribute to the market's growth over the projected period.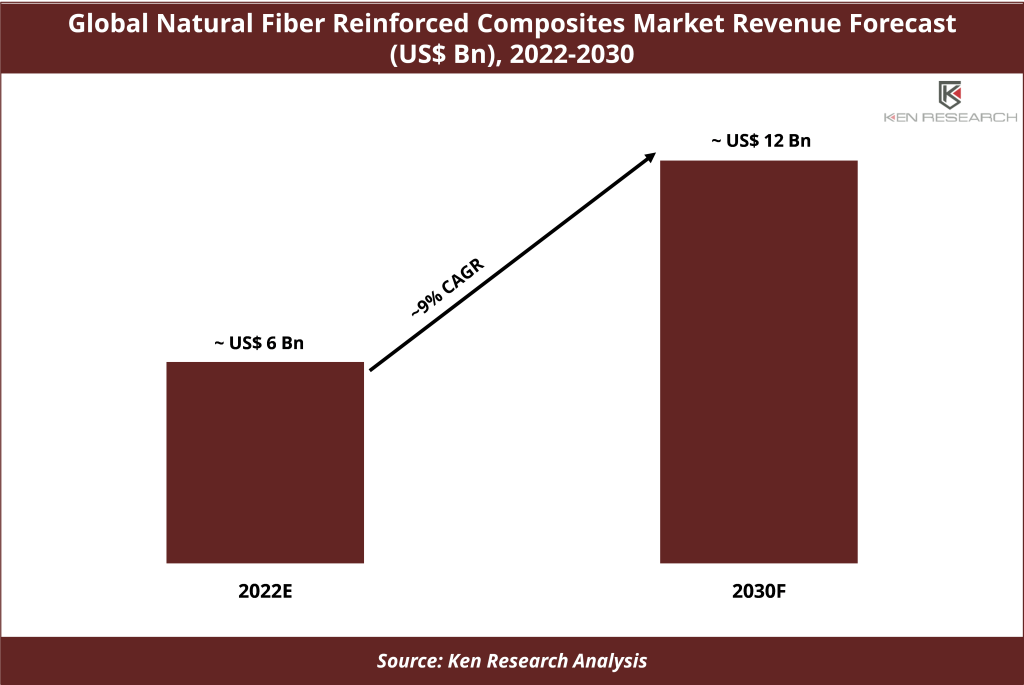 2.   Increased Adoption of Natural Fiber Reinforced Composites in the Automotive Industry to Boost the Market Growth
Fiber-reinforced composites have a higher tensile strength, moldability, and less weight than aluminum-made car parts, making them lighter, safer, and fuel-efficient. Fiber-reinforced composites are employed in the creation of structural elements for automobiles. The extent of the global electric era is another factor boosting the demand for natural fiber-reinforced composites in the automotive industry. Utilizing composite materials is expected to aid in enhancing the mechanical and electrical characteristics of drive systems.
The average amount of plastic used in a car today—120 kg globally and 105 kg in developed countries—represents around 50% of the interior components and contributes to 10% to 12% of the overall vehicle weight.
Leading the way in the utilization of natural fiber composites is Germany. Natural fiber composites for interior and exterior uses have been introduced by the German automakers Mercedes, BMW, Audi, and Volkswagen. Germany accounts for two-thirds of all bio-fiber consumption in the European automobile sector.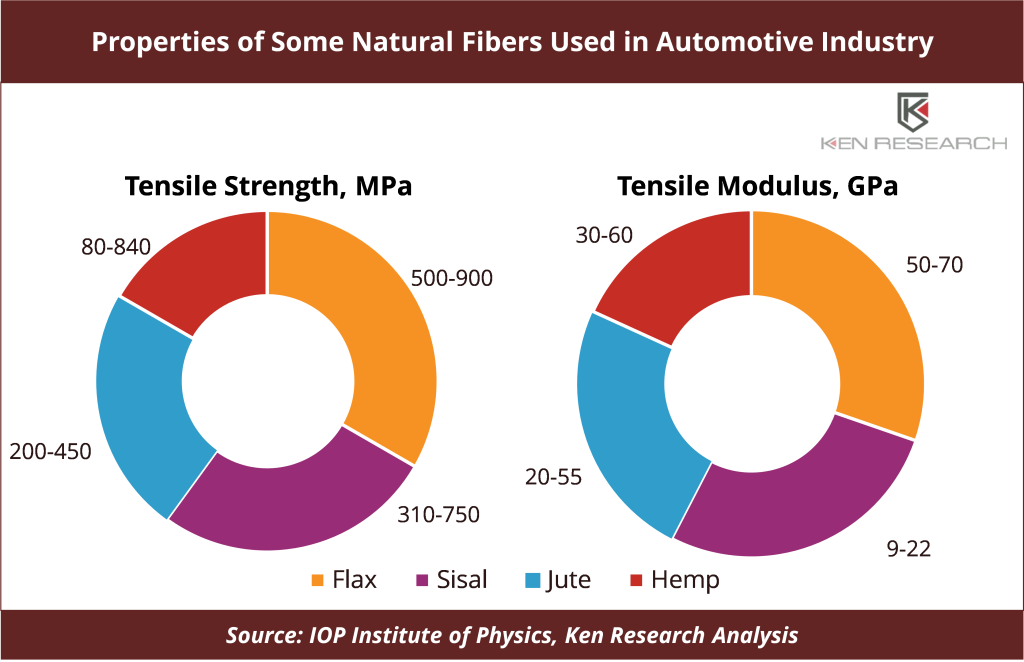 Request For Sample Report @
https://www.kenresearch.com/sample-report.php?Frmdetails=NTk1OTkx
3.   Sustainability Concerns to Propel the Market Growth
The issue of resource depletion is a significant concern for humanity in the current context of a rapidly expanding global population. The development of alternative materials has become increasingly important in recent years as a result of the environmental degradation caused by particular material extraction methods. This prompted the creation of composite materials, particularly those made of natural fibers. In terms of durability and sustainability, natural fibers have an edge over their synthetic equivalents.
Increasing demand for bio-based composite materials due to growing environmental concerns is a prime factor driving the growth of the natural fiber reinforced composites market. These fiber composites are derived from the bast or outer stem of various plants. The use of these composites can reduce the carbon footprint by 50% compared to oil-based products. Additionally, these natural fibers are recyclable (up to 100%).
Stringent regulations governing non-biodegradable composites have created new business opportunities in regions like Europe and North America. Throughout the projection period, the market showcases fresh development prospects for expansion, with rising demand for sustainable natural fiber composites in developing countries for the construction and automotive industries. As a result, it is anticipated that throughout the forecast period, demand for this market will increase.
4.   Price Fluctuations in the Natural Fiber Reinforced Composites to Slow Down the Expansion Rate of the Market
Price variations of natural fibers have been specifically impacted by the growing market share of man-made fibers. In some cases, when man-made fibers make deeper inroads into the fiber market, the range of price swings for natural fibers increases. This claim is supported by changes in the supply curve of fibers that take place when the manufacture of synthetic fibers increases. Natural fibers like wool have been experiencing a fluctuation in terms of price due to the expansion of man-made fibers which is in turn negatively impacting the growth trend of the global natural fiber reinforced composites market.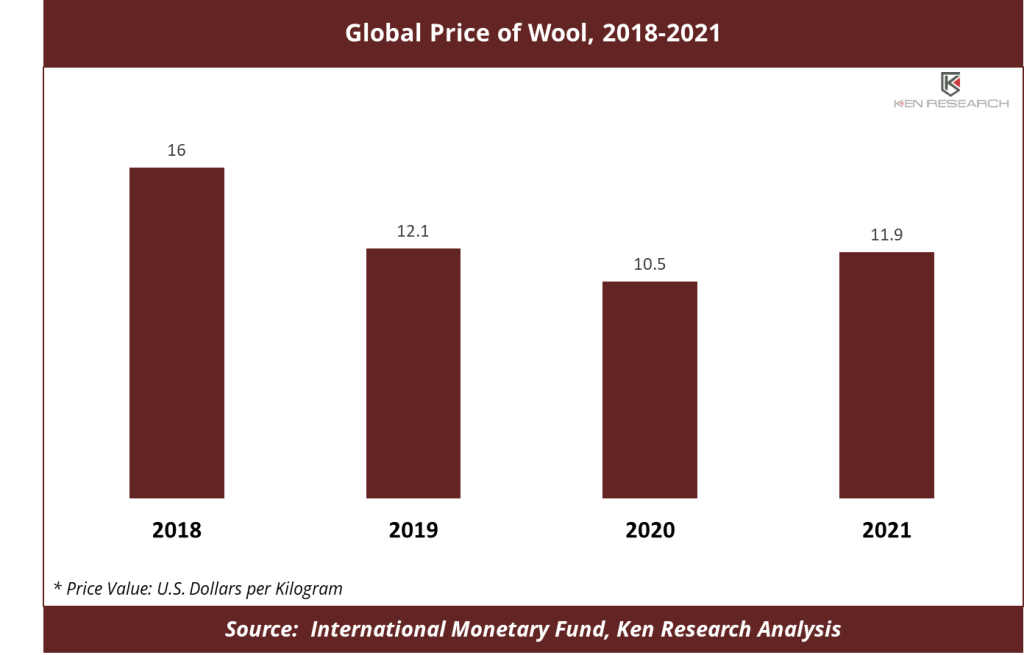 5.   North America Holds the Largest Market Share in the Global Natural Fiber Reinforced Composites Market
North America has a wide market for building and construction. The recent trend of increasing adoption of natural fiber reinforced composites in building and construction has augmented the adoption of the product. While wood fiber has seen tremendous expansion in the North American region, European players use flax, hemp, and kenaf extensively.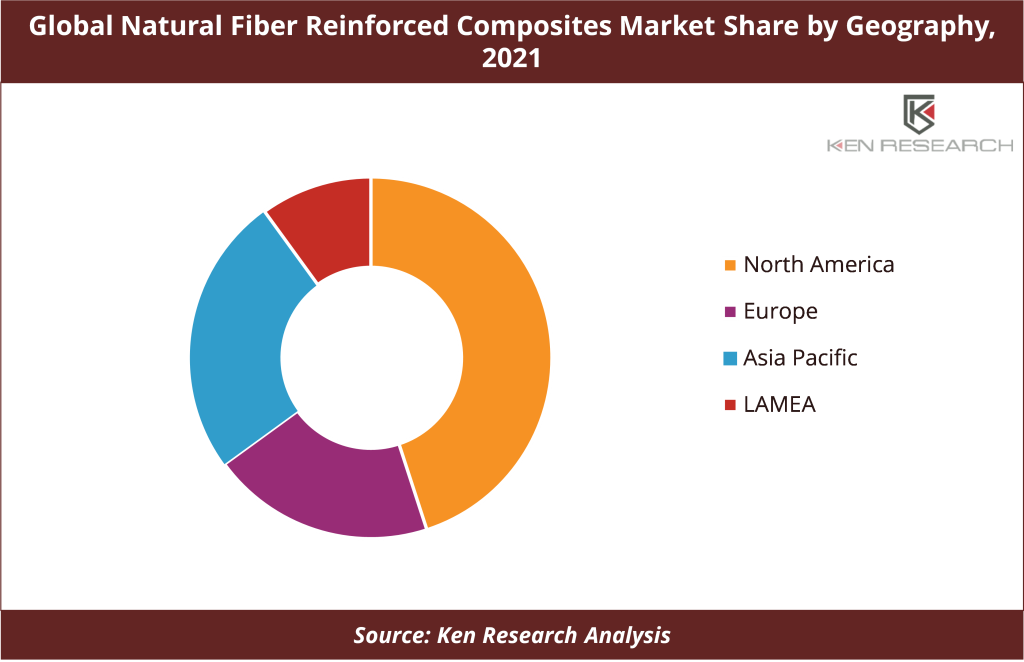 Various organizations including private and public are conducting research on expanding the availability of wood fiber which is another reason for the growth of the market in North America. For example, a nationwide assessment of the availability and demand for wood fiber resources in the US is being prepared by the USDA Forest Service.
For more information on the research report, refer to below link:
Competitors in Natural Fiber Composites Sector
Related Report –
Global Network as a Service Market Size, Segments, Outlook, and Revenue Forecast 2022-2028 by Type (WAN, LAN, Bandwidth on Demand, and Data Connectivity Center), By Application 
Follow Us –
LinkedIn | Instagram | Facebook | Twitter | YouTube 
Contact Us: – 
Ken Research
Ankur Gupta, Head Marketing & Communications
+91-9015378249