49% of the Australian hotel development pipeline till 2024 will be made up by 5-star or 6-star properties.
Medium Mattress Comfort Level expected to hold close to 50.0% share in the overall hotel mattress industry sales in Australia.
The price of hotel mattresses in Australia is expected to rise by 3.0% by 2025. King and queen size mattresses are expected to extend their dominance, going forward as well. Leading players in the industry are looking to introduce oil-scented mattresses for premium hotel clientele coupled with, product innovation and integration of advanced technologies.
Future Hotel Investment Pipeline: 300 new or upgraded hotels are to be added in Australia's hotel industry supply by 2025, totaling 45,000+ rooms. Melbourne, Sydney, Perth and Brisbane were identified as cities leading the way in hotel development. A shift towards experiential travel, locally styled hotels and authentic travel experiences is clearly seen in the tourist preferences. Hence, lifestyle and boutique hotels are on the upsurge and their frequent refurbishments and renovations will drive strong growth in hotel mattress demand in the future.
Rise in Popularity of Medium Mattress Comfort Level: Hotels are looking to incorporate a mixture of a plush and firm comfort level in their mattresses. Customers generally want either a firm or a plush mattress. Hence, hotels aim to maintain a middle ground in the comfort level as its unfeasible for them to introduce multiple products for varied guest profiles. They are majorly focusing on a "one mattress fits all" strategy.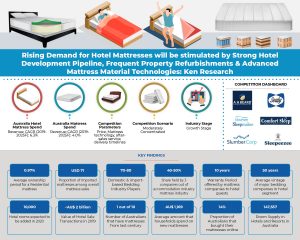 Upcoming Technologies Impacting Hotel Bedding Needs: Advanced comfort materials such as gel-infused foam, memory foam, latex and hybrid materials are forcing hotels to change their bedding on a more frequent basis to cacth up with changing trends. Additionally, new bedding technologies such as adjustable beds, USB connectivity, Bluetooth connectivity and massage systems will push hotels to providesuch add-ons in their exclusive hotel beds, in a bid to cope up with competition and optimize sleep experience.
The report titled "Australia Hotel Mattress Market Outlook to 2025 – Hotel Supply Pipeline, New Bedding Technologies and Faster Hotel Refurbishments to Increase Hotel Bedding Spend in Future" by Ken Research suggests that the opening of new hotel properties along with the rebranding and re-opening of old hotels will considerably drive up the demand for premium quality bedding in Australian hotels in the future. Capital cities such as Hobart, Brisbane, Melbourne and Adelaide have promising hotel developments and construction lined up and will emerge as key target segments for a bedding manufacturer looking to penetrate the commercial segment. The revenue generated from sale of hotel mattresses is projected to grow at a CAGR of 6.3% during the period 2019-2025
Key Segments Covered
By Mattress Size
King and Super King
Queen
Double
Single
By Mattress Comfort Level
Medium
Firm
Plush
By Mattress Support System
Spring
Foam
Latex
Hybrid
Key Target Audience
Mattress Manufacturing Companies
Raw Material Manufacturing Companies
Hotels
Tourism Associations
Accommodation Industry Associations
Time Period Captured in the Report:
Historical Period: 2014-2019
Forecast Period: 2019-2025
Companies Covered in Report:
AH Beard
Sealy
SleepMaker (The Comfort Group)
Comfort Sleep Bedding
Sleepeezee
Slumbercorp
Other Commercial Bedding Mattress Companies
Key Topics Covered in the Report
Major Upcoming Hotel Projects in Australia
Hotel Mattress Procurement Trends- End User Perspective
Mattress Need Differing by Hotel Cadres
Mattress Pricing Analysis
Product Landscape of Major Bedding Industry Players
Complimentary Bedding Products Analysis
Comfort Layer Tech Used in Hotel Mattresses
Why Luxury Hotels Create a Signature Bedding Brand?
AH Beard's Commercial Manager's Take on the Hotel Mattress Industry in Australia
Recommended Market Penetration Strategies
Australia Hotel Mattress Industry Future Outlook to 2025
For More Information, refer to below link:-
https://www.kenresearch.com/consumer-products-and-retail/home-and-office-furnishings/australia-hotel-mattress-market-outlook-to-2025/321674-95.html
Related Reports
https://www.kenresearch.com/consumer-products-and-retail/home-and-office-furnishings/australia-mattress-market/214917-95.html
https://www.kenresearch.com/consumer-products-and-retail/home-and-office-furnishings/thailand-mattress-market-outlook-/222339-95.html
https://www.kenresearch.com/consumer-products-and-retail/home-and-office-furnishings/south-africa-mattress-market/220049-95.html
Contact Us:
Ken Research
Ankur Gupta, Head Marketing & Communications
+91-9015378249