On the basis of Institution (Banks and Non Banks):
We witness that in Philippines, New vehicle loans given by banks amounts to ~ while by non banks they only amounts to ~ Similarly for used vehicles, banks provide ~of loans and non banks provide ~ of the loans.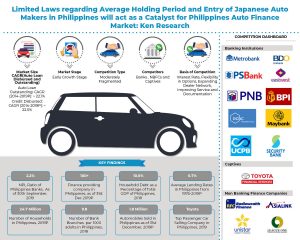 By Tenure of Loan: In Philippines Auto Finance Market, the Tenure of loan for New Vehicles is divided in 5 sections; 1 Year Loan period amounts to the lowest share of ~ on the basis of Auto Loan Disbursement for New Vehicle while ~ share is given to the 0-5 year or more tenure period amounts to the maximum share. For Used cars, the most favorable tenure is said to be for 3 years or more, with ~ of loan being disbursed for this section.
Competitive Landscape In The Philippines Auto Finance Market
The overall competition nature has been fragmented owing to large size of other players in the market. The top 5 entities capture around ~ of the total auto loan outstanding in the banking sector in 2019P. Banks have been the dominant entity with more than ~ share in 2019P. Although there are approximately ~entities involved in extending auto finance in Philippines, the market is dominated by banks in terms of auto loans extended owing to low cost of financing and high trust factor associated with their organized & stable business structures. In 2019P, there were 6 major banks namely Metrobank, BDO Unibank, Eastwest Bank, Bank of Philippine Island, Rizal Corporation and Maybank. Banks captured almost ~ share in terms of total loan outstanding in 2019P.
The overall competition nature has been highly concentrated owing to major market share captured by 3 big players namely, Toyota Financial Services Philippines Corporation (TFSPH), Unistar Credit & Finance Corporation and Radio Wealth finance Company (~ of the Non Bank Share of the Market).
Philippines Auto Finance Market Future Outlook And Projections
Philippines auto finance market is likely to witness a boom in terms of auto loan outstanding, credit disbursed and number of vehicles financed especially owing to fast pace developments on the technological front with the development of the Eastern Economic Corridor (EEC). Furthermore, the inclusion of many Japanese Auto makers is also supposed to act like a catalyst for the growth. This is expected to increase the number of total vehicles financed in the country. Customers would witness new schemes in the market focusing primarily on customers friendly outlook and enable customers to operate auto loans financial services from home, without any hassle. Moreover, rise in commercial activities engaging automobiles, such as use of vehicles in public transport, agricultural and industrial use, are expected be the potential prospects of growth in the next five years.
Key Segments Covered:
By Type of Vehicle Financed
New Vehicles
Used Vehicles
Motorcycles
By Banks and Non Banks
Banks (Auto Loans and Motorcycle Loans)
Non Banks (Auto Loans and Motorcycle Loans)
By Type of Banking Institutions
Commercial and Universal Banks
Thrift Banks
By Nature of Vehicles New Vehicles (Banks and Non Banks)
Used Vehicles (Banks and Non Banks)
By Type of Vehicle Sold
Passenger
Commercial
Motorcycles
By Tenure of Loans
New Vehicle (1 year, 2 Years, 3 Years, 4 years, 5 Years or More)
Used Vehicle (1 year, 2 Years, 3 Years or More)
By Registration of Vehicles
Key Target Audience
Existing Auto Finance Companies
Banks
OEM Dealerships
Captive Finance Companies
Credit Unions
Private Finance Companies
New Market Entrants
Government Organizations
Investors
Auto mobile Associations
Auto mobile OEMs
Time Period Captured in the Report:
Historical Period: 2014-2019P
Forecast Period: 2019P-2024F
Key Companies Covered:
Banks
MetroBank
BDO Bank
PS Bank
Eastwest Bank
The Philippine National Bank
Bank of the Philippine Islands
The Rizal Commercial Banking Corporation
Maybank Philippines
China Bank
United Coconut Planters Bank
Security Bank Corporation
Union Bank
Robinsons Bank
The Philippine Bank of Communications (PBCOM)
Land Bank of Philippines
Asia United Banking Corporation
Bank of Commerce
Development Bank of Philippines
Union Bank
UCPB Bank
Sterling Bank of Philippines
NBFCs
Radiowealth finance company (RFC)
Unistar Credit and Finance Corporation
Asia Link Finance Corporation Leauge
One Finance and leasing Corporation
DBP Leasing Corporation
First United Finance and Leasing Corporation
BPI Capital Corporation
Cebu International Finance Corporation
Orix Metro Leasing and Finance Corporation
Philippine Depository and Trust Corporation
LBP leasing and Financing Corporation
RCBC Leasing and Finance Corporation
Captives
Toyota Financial Services Philippines Limited
Key Topics Covered in the Report
Philippines Auto Finance Market Overview and Genesis
Philippines Auto Finance Market Ecosystem, 2019P
Value Chain Analysis of Philippines Auto Finance Market, 2019P
Philippines Finance Market Value Chain Analysis
Philippines Auto Finance Market Size, 2013-2019P
Philippines Auto Finance Market Segmentation, 20113-2019P
Major Trends and Development in Philippines Auto Finance Market
Regulatory Framework in the Philippines Auto Finance Market
Snapshot On Philippines Automotive Sales And Manufacturing Market, 2014-2019P
Ways to Finance Automotives in Philippines(Bank Finance or Multi Financing Companies, Personal Finance, Lease Financing)
Vendor Selection Process for Auto Finance Company in Philippines
Competitive Landscape containing Company & Product Profiles in the Philippines Auto Finance Market
Financial Penetration of various OEM Brands
Philippines Finance Market Future Outlook and Projections, 2019P-2024
Analyst Recommendations for the Philippines Auto Finance Market
For More Information, refer to below link:-
Philippines Auto Finance Market  
Related Reports:-
Thailand Auto Finance Market Outlook to 2024: Growing Prominence of Captive Finance Companies and Loan Portfolio of Banks acting as a Catalyst for Market Growth
Qatar Auto Finance Market Outlook to 2023 –By Banks, Non Banking Financial Companies and Captives, By New and Used Vehicles Financed, By Type of Vehicle Financed (Motor Bikes, Cars and Light Commercial Vehicles) and By Loan Time Period
US Vehicle Finance Market Outlook to 2023 –By Banks and Non Bank Entities including Captives and Credit Unions and Finance Companies (Auto Loan Portfolio), By New and Used Vehicles, By Type of Vehicle Financed (Passenger Cars and Light Trucks), By Loan Time Period and By Risk Category
Contact Us:
Ken Research
Ankur Gupta, Head Marketing & Communications
Ankur@kenresearch.com
+91-9015378249