How Is The Bags And Luggage Market Positioned In Saudi Arabia? What Are The Major Market Trends Driving The Industry?
The retail sector in Saudi Arabia has been growing at a CAGR higher than ~% in the last few years. It was estimated at value around USD ~billion in 2018. The brick-and-mortar retailers are expected to gradually adopt the omni-channel business model to establish and maintain constant touch with its customers by adapting to changes in consumer buying pattern. However, the customers in Saudi Arabia prefer to buy the bags and luggage through offline channel rather than an online channel. The Saudi Arabia bags and luggage market consist of luxury bags, non luxury bags and luggage sold in Saudi Arabia through the online as well as the offline channel. Most of the bags and luggage sold in Saudi Arabia are imported from European and Asian countries. There are some manufacturers of luxury bags in Egypt and Turkey but they represent a very small share of the overall market. The numbers of brands operating in the market has grown over as the years. Many fashion brands foresee Saudi Arabia as one of the most lucrative market in the world due to very high purchasing power of the customers.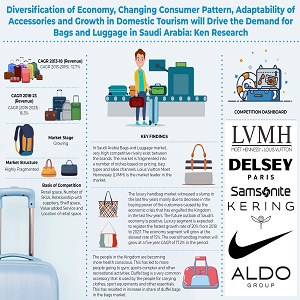 Most of the bags manufacturers operate in Saudi Arabia through franchise model as it help them to reduce their financial and operational risk substantially. Some of the major retailers in the market are Splash, Lifestyle, Rubaiyat, Harvey Nicholas and others. The share of population belonging to 25-54 years of age is ~% of the total population. This age group is the target customers for most of the bags and luggage products. High per capita income which leads to high buying power is another major factor for high potential market. The favorable socioeconomic condition of Saudi Arabia leads to the growth of bags and luggage market. There has been an increase in supply of bags imported from neighboring countries such as Egypt and Turkey. The increase supply can be linked to growth of Egyptian and Turkish fashion designers. Egyptian brand Okhtein is an example, which sells luxury bags in Saudi Arabian market.
What Are The Major Types Of Bags Selling In The Saudi Market?
Handbags dominated the Saudi Arabian bags market generating nearly two third of the revenue in 2018. Bags have an extensive product reach which include backpacks, cross body bags, handbags, wallets and coin pouches and most of these bag types are used on a daily basis and are considered a necessity and hence have a comparable share in the overall market.
The demand for bag packs has grown in the last few years especially due to rising number of laptop users and current trend. Major Brands have been continuously innovating their product to match the fast changing need of the customers. It has been observed that the number of people engaging in sports activities have been increasing in last few years. Gym bags are also getting very popular among young generation who loves to own specific accessories for specific purpose. The rise of athleisure trend has created an entirely new range of consumers.
What Are The Major Types Of Handbags Trending In The Market?
The Saudi Arabia handbag market is divided into three categories luxury, premium and economy. Premium category leads the market and is followed by luxury and economy category. Business bags have become a necessity for the people of Saudi Arabia, it has been observed that many customers have started to foresee business bags as a lifestyle statement which has prompted them to spend more. This shift in consumer behavior has resulted in increase demand for luxury business bags in the country. Cross body bags are not currently in fashion there is demand for these types of bags in the last five years. Some of the luxury brands have traditionally focused their marketing communication on ladies. However, a trend was noticed where some of the brands are targeting men especially through media advertising. Luxury segment is expected to register the fastest growth rate of ~% from 2018 to 2023. The economy segment will grow at the slowest rate of ~% in the above mentioned period.
Key Segments Covered
Market Segmentation of Bags Market
Types of Bags
Backpacks
Business Bags
Cross body Bags
Duffel Bags
Handbags
Wallet
Other Bags
Type of Handbag
Luxury
Premium
Economy
By Distribution Channel
Multi Brand Outlets (MBOs)
Exclusive Brand Outlets (EBOs)
Local Retailers
Online Sales
By Material
Leather (inc faux and Suede leather)
Non Leather
By Region
Central
West
South
East
North
Market Segmentation of Luggage Market
By Price Segment
High (SAR 500<)
Medium (SAR 250- SAR 500)
Low (SAR 250>)
By Case Type
Hard Case
Soft Case
By Region
Central
West
South
East
North
By Sales Channel
Online
MBOs
EBOs
Local Retailers
Time Period Captured in the Report:
Historical Period: 2013-2018
Forecast Period: 2019-2023E
Companies Covered:
Louis Vuitton (LVMH)
Avon Products Inc.
VF Corporation
Samsonite international SA
Adidas AG
Nike Incorporated
Herschel Supply Co.
Hermes's
Marithé et François Girbaud
Key Topics Covered in the Report
Value Chain Analysis
Market Size,2013-2018
Market Segmentation
Trends and  Developments
Issues and Challenges
Trade Scenario
Porter's Five Forces Analysis
Competitive Scenario
Company Profile of Major Players
Future Market Size. 2018-2023
Future Market Segmentation, 2023E
Analyst Recommendation
Wallet Industry Saudi Arabia
Backpack Market Saudi Arabia
Business Bag Sales Saudi Arabia
Luggage Turnover KSA
Hard Case Luggage Sales KSA
Imported Bag Sales Saudi Arabia
Luxury Handbag Market KSA
Saudi Arabia Bags and Luggage Market
Saudi Arabia Bags and Luggage Industry
Bags and Luggage Businesses Saudi Arabia
Saudi Arabia Bags and Luggage Market Revenue
Major Companies Bags Saudi Arabia
Major Companies Luggage Saudi Arabia
Saudi Arabia Bags Sales
Saudi Arabia Luggage Revenue
Handbag Market KSA
Bags Luggage Distribution Channels Saudi Arabia
Bags Sales in Riyadh
Luggage Market in Saudi Arabia
Bags Market Trends KSA
Luggage and Bags Future Saudi Arabia
Luggage and Bags Recent Developments
Samsonite Saudi Arabia Market
Avon Saudi Arabia Market
Louis Vuitton Saudi Arabia Market
Adidas Saudi Arabia Market
Nike Saudi Arabia Inc. Market
Capri Holding Company Bags
Luggage and Bags Target Consumers Saudi Arabia
Bags demand Saudi Arabia
Luggage retailers Saudi Arabia
Online Bags sales Saudi Arabia
Bags importers Saudi Arabia
For More Information on the research report, refer to below link:
Saudi Arabia Bags and Luggage Market
Related reports
Global Rolling Luggage Bags Market Analysis 2013-2018 and Forecast 2019-2024
Global Luggage & Bags Zipper Market 2018 by Manufacturers, Regions, Type and Application, Forecast to 2023
Contact Us:
Ken Research
Ankur Gupta, Head Marketing & Communications
Ankur@kenresearch.com
+91-9015378249