July 2022 | UAE News
Increased Awareness on Health and Hygiene: With the advent of COVID-19, consumers were witnessed to be more concerned on maintaining personal health and hygiene. Therefore, they are preferring the option of private transportation rather than availing public transport system. The change in consumer's behavior and preference is expected to act as an opportunity for the four-wheeler aftermarket service industry in UAE. As more and more consumers prefer availing private transportation medium, the demand for new cars would surge in the coming years. With the surge in the vehicle parc, consumers would also require to periodically maintain their vehicle every as prescribed by the government of UAE, thereby the demand for aftermarket services would enhance.
Rapid Urbanization and Fast-Growing Middle Class: Rapid urbanization over the years is contributing to the Growth of Automotive Industry in UAE, as more and more consumers are migrating to urban cities, there remains an increased demand for availing private transportation. Urbanization serves as one of the growth drivers for the aftermarket service industry as consumers migrate for better payment opportunity in the cities, it allows them to have the financial means to avail private transport thereby increasing the prospect of aftermarket services.
Enhancing Online Ecosystem: Four-Wheeler Aftermarket service companies in UAE has not been able to adapt to the growing significance of the online ecosystem over the years. However, the advent of COVID-19 has changed the perception of consumers towards the utilization of online space. More consumers are utilizing digital medium for buying and selling products as well as booking services through online medium. Similarly, there exist a shift in aftermarket service industry wherein consumers are preferring to book slots for their vehicle services online. Therefore, the four-wheeler aftermarket service and spare parts companies are expanding their presence in the online realm for better visibility among consumers and compete on the basis of brand integration. Servicing companies have initiated the process of online booking to enhance customer's convenience. This also helps the servicing companies to maintain COVID protocols such as curb in overcrowding in public places as set by the UAE government.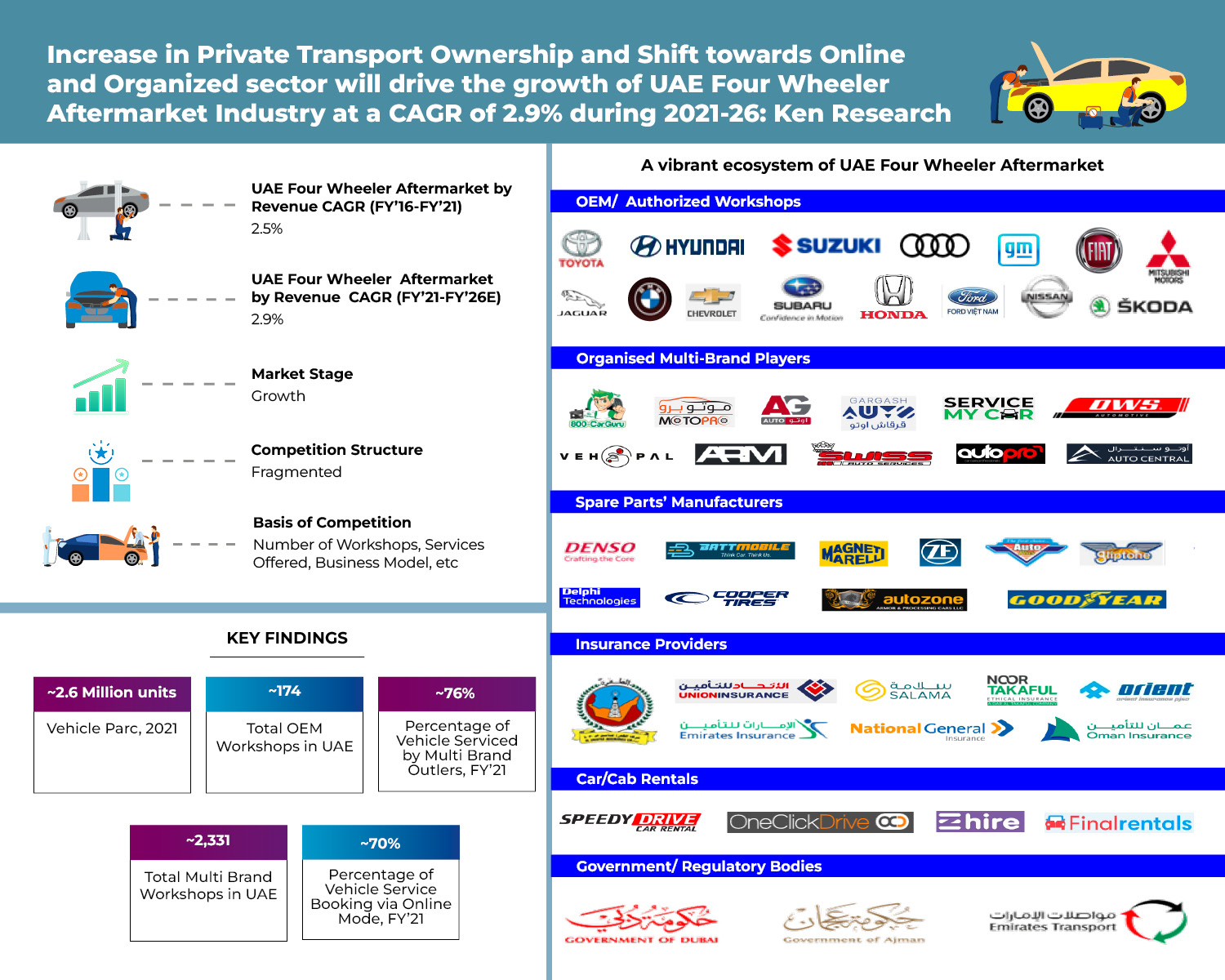 Government Initiatives: UAE's low import and fuel costs, conducive tax regime and high disposable incomes have also helped strengthen the automobile sector and encourage global giants to set up shop here and manufacture in the country. The government has also been encouraging research and development with regards to autonomous or driverless vehicles, smart and eco-friendly alternatives, for instance, hydrogen, natural gas and hybrid vehicles.
Digital Transformation: Online players are emphasizing on integrating new-age technologies and building a robust sales network to give complete view of the car to customers. Considering the digital transformation across industries, new-age start-ups are emerging in the four-wheeler aftermarket service industry. Social media plays a major role in generating leads for dealers & end consumers by virtue of offering advertisements at a lower cost with respect to other traditional marketing channels thus bridging the gap between physical and digital sales
The report titled "UAE Automotive Aftermarket Service Industry Outlook to 2026: Driven by increasing number of startups and consumers shifting preference towards online and organized sector" provides a comprehensive analysis on the status of aftermarket service industry in UAE. The report covers various aspects including automotive aftermarket service industry market size on the basis of revenue and number of vehicles serviced, value chain analysis, ecosystem of major entities in aftermarket service industry in UAE, trends & developments, issues & challenges faced by the industry, government regulations, SWOT Analysis, Porter 5 forces analysis, key decision making parameters of OEM and multi brand vehicle servicing companies, pain points in OEM and multi brand aftersales workshops, opportunities in OEM and multi brand aftermarket industry, market size of spare parts aftermarket industry in UAE, ecosystem by different type of spare parts &  consumables market, competition in OEM and multi brand aftermarket service industry, pricing packages of OEM and multi brand automotive service companies and other aspects. Further, the report focuses on the UAE Four Wheeler Aftermarket Service Industry Segmentation by Type of Workshop (OEM/Authorized, Large Multi Brand, and Small/Unorganized Workshops); by Type of Vehicle Serviced (Sedans, SUVs, Hatchbacks, MPVs and Crossover); by Age of Car (0-2 Years, 2-4 Years, 4-6 Years, 6-8 Years, 8-13 Years and Above 13 Years); by Region (Dubai, Abu Dhabi, Sharjah, and other Emirates); by Booking Mode (Online, and offline); By Car Brand (Toyota, Nissan & Renault, Mitsubishi, Hyundai, BMW, General Motors, Ford, Fiat, and Others); and by Service Split (Non-Crash Repair, Crash Repair, and Body Care).
UAE Four Wheeler Aftermarket Service Industry report concludes with projections for the future of the industry including forecasted revenue and number of vehicle serviced by 2026, and analysts' take on the future highlighting the major opportunities.
Key Segments Covered in UAE Four Wheeler Aftermarket Service Industry
UAE Four Wheeler Aftermarket size by
Revenue
Number of Vehicles Serviced
Market Segmentation By Type of Vehicle Serviced
Sedan
SUV
Hatchback
MPVs
Crossover
Market Segmentation By Age of Car
0-2 Years
2-4 Years
4-6 Years
6-8 Years
8-13 Years
Above 13 Years
Request For Free Sample Report @ https://www.kenresearch.com/sample-report.php?Frmdetails=NTc0NDI0
Market Segmentation By Region
Dubai
Abu Dhabi
Sharjah
Other Emirates
Market Segmentation By Booking Mode
Online
Offline
Market Segmentation By Car Brand
Toyota
Nissan & Renault
Hyundai
BMW
Ford
Fiat
Market Segmentation By Service Split
Non-Crash Repair
Crash Repair
Body Care
UAE Spare Parts Aftermarket Segmentation
By Expenditure Category
Spare Parts
Consumables
By Type of Spare Parts
Engine components
Electricals and Electronic Components
Suspension and Braking
Consumables and Miscellaneous
Cooling Systems
Body & Chassis
By Type of consumables
Battery
Oil, fluid & filter
Tires
Others
Key Target Audience
Automotive Companies
OEM Vehicle Service Companies
Multi Brand Vehicle Service Companies
Automotive Spare Parts Companies
Government Bodies
Automotive Associations
Time Period Captured in the Report:
Historical Period: 2016-2021
Forecast Period: 2021-2026
Automotive Aftermarket Service Companies in UAE:
OEM/Authorized Vehicle Service Companies
Toyota
Nissan & Renault
Mitsubishi
Hyundai
BMW
Ford
Spare Part Suppliers
3M
Delphi Technologies
DENSO Corporation
Magneti Marelli S.P.A
ZF Services Middle East
Battmobile (Battery)
AutoPlus
 Key Topics Covered in the Report
Comparison of UAE Automotive Industry with other Countries
UAE Four Wheeler Aftermarket Service Industry Segmentation, FY'21
Competitive Landscape of UAE Four Wheeler Aftermarket Service Industry
Pricing Packages of Major OEM Automotive Service Companies
Pricing Packages of Major Multi Brand Automotive Service Companies
Trends in UAE Four Wheeler Aftermarket Service Industry
Issues and Challenges in UAE Four Wheeler Aftermarket Service Industry
SWOT Analysis of UAE Four Wheeler Aftermarket Services Industry
Government Regulations in the UAE Four Wheeler Aftermarket Services Industry
Comparing Car Servicing Decision Parameters in UAE
Analysis of Multi-Brand and OEM Workshops in UAE
Operating Model of Spare parts in UAE
Ecosystem by Different Type of Spare Parts and Consumables Market in UAE
Future Outlook and Projections of the UAE Four Wheeler Aftermarket and Spare Parts Industry, 2021-2026E
Future Market Size of UAE Four Wheeler Aftermarket Service Industry on the basis of Number of Vehicles Serviced, FY'21-FY'26E
Future Market Size of UAE Four Wheeler Aftermarket Service Industry on the basis of Revenue, 2021-2026E
Related Reports
Indonesia Automotive Aftermarket Service Market Outlook to 2026: Influx of new players and car variants from abroad are contributing to the growth of automotive aftermarket service industry in Indonesia
Malaysia Automotive Aftermarket Service Market Outlook to 2025: Surging Used Car Sales contributing to the Growth of Automotive Aftermarket Service Industry in Malaysia
Contact Us:-
Ken Research
Ankur Gupta, Head Marketing & Communications
+91-9015378249