With a moderately concentrated competition Saudi Arabia's cloud service market is poised grow at a CAGR of 21.8% from 2021 to 2026 and expected to generate over $1500 Mn by the end of 2026, as per the findings by Ken Research
Increase spending on Cloud services, Favorable Geography and Surge in Mobile and Internet Penetration will help the Cloud Services Market to reach $1.5 Bn.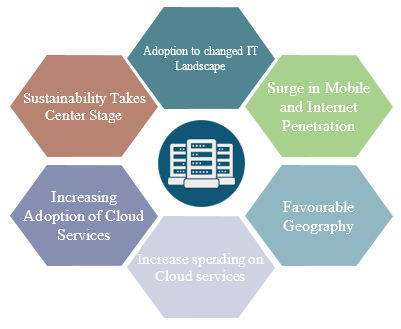 Saudi Arabia aims to increase spending on cloud computing services by 30%, the pandemic is accelerating this rate of cloud adoption further. Moreover, Public cloud spending in KSA stood at $40 Mn in 2020.
Interested to Know More about this Report, Request for a sample report
The KSA cloud services market is expected to grow at CAGR of over 21% by 2026 driven by multiple upcoming projects by Google, Oracle and Alibaba and proliferation of IoT and digitization.

In December 2020, Saudi Aramco and Google Cloud signed an agreement that paves way for the rollout of high-performance, low-latency cloud services. STC Group has partnered with China's Alibaba Group to establish Alibaba Cloud for high-capacity cloud services in Riyadh with a capital amount of around $200 Mn. Moreover, Google Cloud planning to open 3 zones in Dammam which is an important location given its proximity to several subsea cables. Also, Oracle, Google, and Huawei Cloud are opening new cloud regions in KSA.
Visit this Link :- Request for custom report
With vast number of Ongoing and Upcoming Data Center Projects, KSA has the potential to become largest Data Center Hub in the Middle East Region.
The high upfront costs, higher power tariffs, maintenance-related issues, security and high real estate costs are increasingly tipping the scale in favor of Third-Party Data Center operators. Additionally, major cloud service providers are also exploring setting up their own Data Centers. The Saudi Ministry of Communications and Information Technology (MCIT) is working with local players to develop a network of colocation data Centers in Saudi Arabia, with a strategy to attract $18 Bn from investors by 2030. Furthermore, improvement in network connectivity (6.5% yoy increase in mobile telecom subscriptions), government support, and rapid growth in the adoption of cloud, big data, and IoT services have been strong enablers for the growth of the Saudi Arabian data center industry.