Key Findings
Increase in use of customer self-service (CSS) platforms offers tangible benefits, such as, lenders and collectors can get a single view of each consumer and their payment status, including automated follow-up actions and recommendations to streamline the collection process.
As accounts are processed, they automatically move to the next activity based on defined rules, policies and procedures — while enforcing business rules through robust workflow policies and permissions.
Rise in Digital Collection Techniques:
For decades, the debt collection sector has used a phone-first technique, relying on the customer's availability and willingness to respond to the debt collection action. However, this results in a terrible customer experience. Debt collection companies are resorting to digital collection techniques. This successfully engages customers by removing negative thoughts and emphasizes that the lenders are there to assist them.
Increasing Use of AI and ML for Recovery Predictions:
Artificial Intelligence and Machine Learning are enabling better recovery predictions and ongoing case management. Moreover, AI also helps with regulatory compliance. AI-based collections management software is bound to find higher usage in the coming years.
Distinctive Role of Collection Agents:
As the use of automation increases, the role of collection agents will become more nuanced. Collection agents will have to be adept at gauging consumer situations and providing them with solutions that are feasible, encouraging, and more likely to show results.
The report titled "KSA Debt Collection Market Outlook to FY'2026 – characterized by fierce competition and high growth prospects" provides a comprehensive analysis of the potential of the Debt Collection industry in Saudi Arabia. The report covers various aspects including the current debt collection scenario and status in KSA, market size on the basis of debt collected, number of cases settled and revenue, market share of debt collection companies, Market segmentation by the segments, by type and age of firm, by sub-segmentation of insurance, finance and non-finance segment. Major trends and developments, issues and challenges, government regulations, competition landscape and cross comparison. The report concludes with case studies, analyst recommendations and key market opportunities.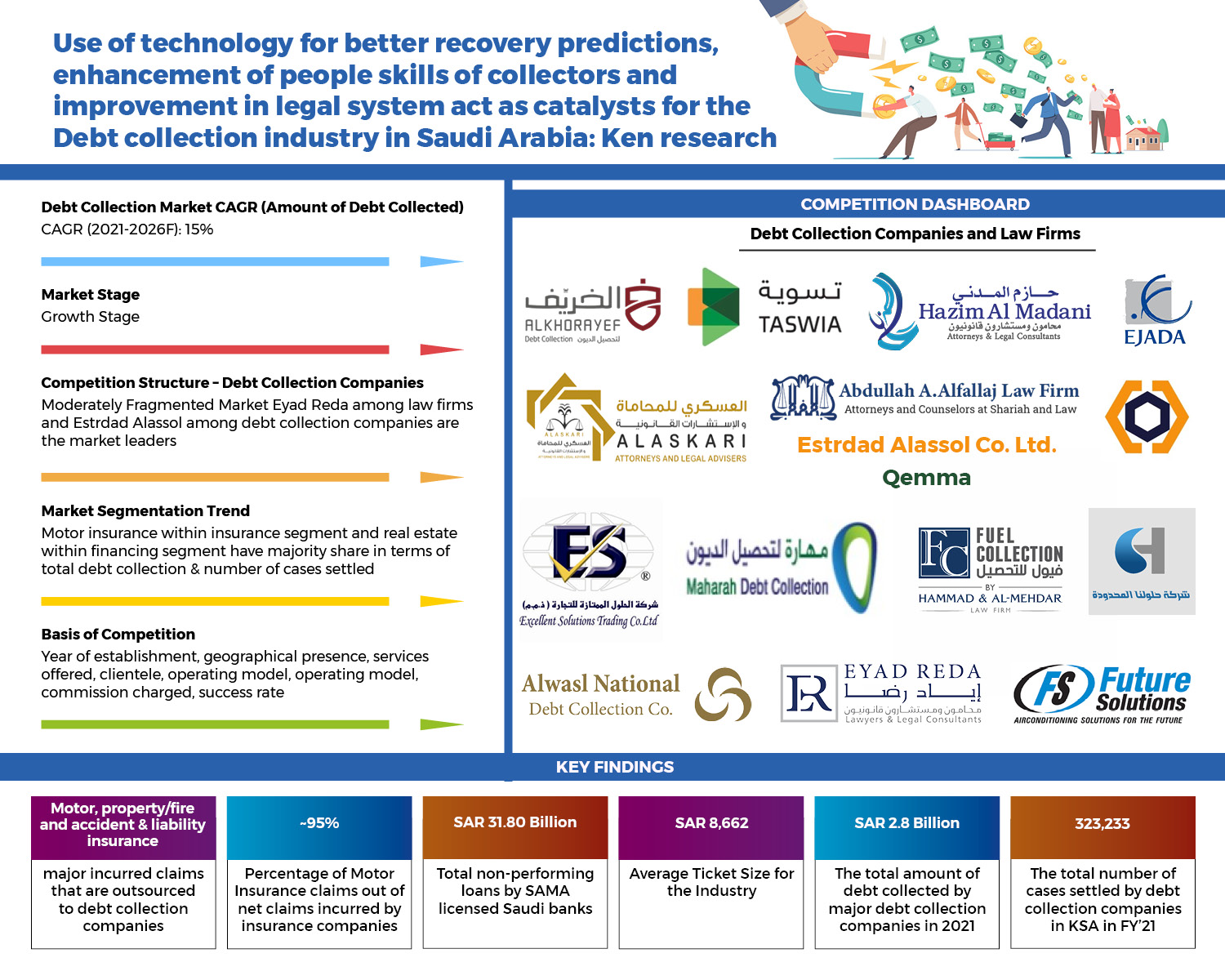 Key Segments Covered in KSA Debt Financing Market:
By Segments

Insurance
Financing
Non-Finance
By Type of Firm

Debt Collection Companies
Law Firm cum Debt Collection Companies
By Age of Firm

2-7 years
7-14 years
12-17 years
By Geography

Riyadh Province
Maddah Province
Eastern Province
Al Baha Province
Al Jawf Province
Northern Borders Province
Qassim Province
Ha'il Province
Tabuk Province
Aseer Province
Jizan Province
Najran Province
By Sub-Segment of Insurance Segment
Motor
Property/Fire
Accident & Liability
Request for Sample Report @
https://www.kenresearch.com/sample-report.php?Frmdetails=NTk2MDk2
By Sub-Segment of Non-Finance Segment
Commercial and Professional Services
Consumer Services
Energy
Food & Beverages
Real Estate Management and Development
Telecommunication Services
Transportation
Utilities
By Sub-Segment of Finance Segment
Real Estate Financing
Retail Real Estate Financing
Corporate Real Estate Financing
Companies Covered
Alwasl National Debt Collection Co.
Alkhorayef Collection
Future Solutions
Taswia
Fuel Collection
Estrdad Alassol Co. Ltd.
Marsoom (Sadad)
Ejada
Maharah Debt Collection
Excellent Solutions Co.
Hololona Company Ltd.
Qemma
Hazim Al Madani Law Firm
Abdullah A. Al Fallaj Law Firm
Eyad Reda
Alaskari Law Firm
Key Target Audience
Existing Debt Collection Companies
Law Firms
Financing Companies
Non-Financing Companies
Insurance Companies
Debt Collection & Management software providers
Government Agencies
Finance Consultants
Others
Time Period Captured in the Report: –
Base Year: 2021
Forecast Period: 2022-2026F
Key Topics Covered in the Report
How is the Debt Financing Market positioned in KSA?
Overview of Insurance, financing and non-finance sector in KSA
KSA Debt Collection Market Ecosystem
Growth Drivers, Trends and Developments in the market
Government Regulations
Porter's Five Forces Analysis for KSA Debt Collection Market
Market Size and Segmentation, 2021-2026F
Competitive Landscape of KSA Debt Collection Industry
Cross Comparison of Major Players using fundamental, operating model, clientele, geography and service offering parameters
Case study & Analyst Recommendations
Research Methodology
For more information on the research report, refer to below links:
Debt Collection Services in Saudi Arabia
Related Reports
Collateralized Debt Obligation Market Research: Global Status & Forecast by Geography, Type & Application (2017-2027)
Contact Us:
Ken Research
Ankur Gupta, Head Marketing & Communications
Ankur@kenresearch.com
+91-9015378249