Saudi Arabia was witnessed to consume around 3,150 million cubic meters of water in the year 2017 as compared to 3,129 million cubic meters of water in the year 2016 thus, registering a limited growth of 0.7% in accordance with the Ministry of Water and Agriculture and General Authority of Statistics, Saudi Arabia.
Women of KSA have been under a strict no-driving ban from the past sixty years which was recently uplifted and led to growth in the total number of cars thereby, supporting mobile car wash and full car wash services in the country.
Analysts at Ken Research in their latest publication "Competition Benchmarking in Saudi Arabia Online Car Wash Market – Saudi Arabia's Desert Conditions, Increasing Car Parc and Strong Demand for Luxury Cars to Collectively offer Opportunities for Car Wash among Online Players in Future)" believed that the car wash services within Saudi Arabia will increase owing to the rising number of smartphone users and internet penetration in the country; adoption of high end car wash service portfolio, technological advancements, rising importance of intensive cleaning and car maintenance services and others.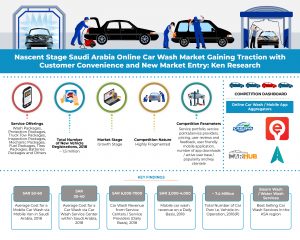 Car wash industry within KSA has been growing along with the rising need for enhanced car wash and car care products, solutions and services. The car wash business has taken off in the Middle East countries owing to the difficult weather conditions in the region including sandstorms thus, leading to significant need for intensive cleaning and car maintenance services. Some of the leading car wash service providers such as Car Hub and Ezhalha provide the service of mobile car washing which refers to on-demand car wash thereby, allowing users to book or schedule a water wash within minutes of using their mobile application. Once, a wash is booked, a trained team of specialists arrive, place the car on the necessary mat and then, perform the selected service. In contrast to 120-150 liters of water being used by stationary car wash process per wash, the mobile car washing segment aids in achieving car cleaning with an average of 3 liters per wash only. Hence, car wash service providers in KSA have started focusing towards mobile car washing. The trend is expected to remain the same in future as well.
The luxury car market of Saudi Arabia is one of the leading markets in the entire gulf region with brands such as BMW and Mercedes-Benz and Lexus among the most popular cars in super expensive range. Some of the other emerging luxurious brands include Rolls-Royce, Jaguar and Bently Motors. The market is majorly driven by rising income levels and surge in total number of HNWIs (High Net worth Individuals). KSA was evaluated with the largest Ultra High Net worth (UNHW) population in the Middle East with a total of 1,495 individuals who collectively account for a wealth of USD 320.0 billion in the year 2015. The trend is further expected to increase in future which will create a positive impact on the KSA's car wash industry. The penetration of car wash services for a luxury car is higher as compared to lower / mid-range car i.e. on daily / weekly basis.
Key Segments Covered
Car Wash Services
Car Wash via Service Center
Mobile Wash Service at Doorstep
Key Target Audience
Independent Car Wash Service Providers
Online Car Wash Service Providers
Mobile Car Wash Service Providers
Car Maintenance and Car Care Service Providers
Car Wash Equipment Players
OEM Service Stations
Multi-Brand Car Outlets
Private Equity and Venture Capitalists
Time Period Captured in the Report:
Market Size – 2018
Companies Covered:
CarSpa
Ezhalha
Car Hub
Morni
Key Topics Covered in the Report
Saudi Arabia Car Wash Market Overview and Size
Saudi Arabia Online Car Wash Market Size By Gross Transaction Value, 2018
Business Model / Operating Model in Saudi Arabia Online Car Wash Market
Competitive Scenario of Major Car Wash Service Providers Operating in the Saudi Arabia Online Car Wash Market
Strengths and Weaknesses of Major Car Wash Service Providers (CarSpa, Ezhalha, Car Hub and Morni) Operating in Saudi Arabia Online Car Wash Market
Company Profile of Major Mobile App Aggregators (CarSpa, Ezhalha, CarHub and Morni) Operating in Saudi Arabia Online Car Wash Market
For More Information click on the below mentioned link:
https://www.kenresearch.com/automotive-transportation-and-warehousing/automotive-and-automotive-components/competition-benchmarking-in-saudi-arabia/276725-100.html
Related Reports
https://www.kenresearch.com/automotive-transportation-and-warehousing/automotive-and-automotive-components/italy-used-car-market-outlook-to-2023/274061-100.html
https://www.kenresearch.com/automotive-transportation-and-warehousing/automotive-and-automotive-components/india-pre-owned-premium-car-market-outlook/254972-100.html
https://www.kenresearch.com/automotive-transportation-and-warehousing/automotive-and-automotive-components/india-premium-car-exchange-market-report/80168-100.html
Contact Us:
Ken Research
Ankur Gupta, Head Marketing & Communications
+91-9015378249