The report titled "Global Drug Abuse Testing Devices Market Outlook to 2025 –By Products (Consumables, Analysers and Rapid Testing Devices), By End Users (Criminal Justice Systems, Workplace and Schools, Hospitals, Research Laboratories and Others) and By Region (United States of America, Canada, China, Germany, Italy, Mexico, France, India, South Africa, Saudi Arabia and Others)" gives an in depth, comprehensive outlook on the drug testing devices market globally. The report covers various aspects including genesis of the market, global drug abuse trends, market size by revenue along with segmentations for four regions (North America, Asia-Pacific, Europe and LAMEA). Country snapshots for major 10 countries (USA, Canada, China, Germany, Italy, Mexico, France, India, South Africa and Saudi Arabia and Others) including segmentation by product, by end users, by rapid testing devices (urine testing devices and oral fluid testing devices) and by production of devices (domestically or imported) are also present. A detailed section on the new technologies used in these testing devices, the challenges faced in the market, company profiles of major players, their strengths and weakness and other competition factors have been covered. The report concludes with the future predictions of the above mentioned sections along with analyst recommendations for each stakeholder in the market.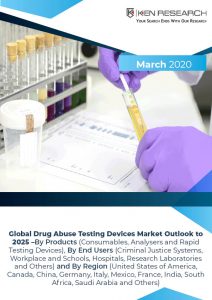 Global Drug Abuse Testing Devices Market Overview and Size
As deaths due to drug overdose have been increasing, a number of countries are introducing strict laws with respect to drug consumption; this has given a push to the market of drug abuse testing devices. Initially, traditional samples such as urine and oral fluid were used the most, however, with time there has been a shift towards more convenient samples such as hair and fingerprint devices which use sweat as its sample to detect the drugs that an individual has consumed.  As more workplaces and schools are introducing random drug testing practices, the demand for drug abuse testing devices has been constantly increasing.
Global Drug Abuse Testing Devices Segmentation
By Region (North America, Europe, Asia-Pacific and LAMEA)
The North American region contributed the highest revenue percentage share in the global market as the USA is a leading exporter of these products to rest of the world. Marijuana is the most commonly used drug in this region. The mean average death due to drugs in Europe was calculated to 39 years in 2018. The use of opioid in treating moderate to severe pain is one of the emerging concerns in Asia Pacific. It has lead to excessive and illegal use of the drug. The MEA region has the lowest contribution in the market as the laws present in this region are extremely strict and drug possession or consumption can lead to severe punishment and penalties.
By Products (Consumables, Analysers and Rapid Testing Devices)
The consumables include all the products such as cotton, syringes, reagents etc. which are a part of drug abuse testing. This product segment hold the highest share in the overall drug abuse testing market in 2019 as most of them  have an extremely short shelf life and cannot be used more than once. The analysers include breath analysers, chromatography analysers and immunoassays. These devices provide extremely accurate results and contributes second largest segment. The rapid testing devices which include urine testing devices and oral fluid testing have the lowest share towards the overall drug abuse testing devices market, as with time, there has been a gradual shift towards new technologies which use different samples.
By End Users (Criminal Justice Systems, Work Places and Schools, Hospitals, Research Laboratories and Others)
The criminal justice systems use these devices on an extremely large scale to keep check on the consumption of different type of illicit drugs in the country. For drugs testing, urine tests were most common used as they provided accurate results, however owing to inconvenience and time taken for the results to come has caused a shift from traditional methods to more technology advanced options. Also a number of countries have made drug abuse testing compulsory before employment. For example, since 2008, the Italian law has prescribed mandatory drug tests for certain jobs which entail safety risks to others, setting out which drugs can be tested for and what procedures are to be followed. The preference for research laboratories for these devices is comparatively less as they use bigger and complex devices for their research. The other end users include customs departments, sports authorities and similar regulatory bodies. As the number of cases of doping has been increasing year on year, the sports authorities also take these tests seriously and demand for these products.
Competitive Landscape in Global Drug Abuse Testing Devices Market
The Global Drug Abuse Testing Devices market has a number of players as the devices have a number of substitutes which are produced by a number of companies. However, the market share is dominated by a few players which include Abbott Laboratories, Danaher Corporation, Quest Diagnostics and Siemens Healthineers. Other companies in this field include Thermo Fisher Scientific, Dragerwerk AG, Bio-Rad Laboratories, OraSure Technologies Inc, Hoffmann-La-Roche AG and many others.
Global Drug Abuse Testing Devices Future Market and Projections:
By 2025, it has been estimated that the market will be driven by innovative technologies with core focus on increasing test accuracy, finding new samples and reducing result turnaround time. Mergers and acquisitions would help large companies to expand into new market segments and industry would experience further consolidation in future. Along with this, the growing awareness among consumers and initiatives taken by the governments of various countries to curb drug consumption is expected to contribute to further growth in the industry.
Key Segments Covered
Global Drug Abuse Testing Devices Market
By Region
North America
Europe
Asia Pacific
LAMEA
By Countries
USA
Canada
Mexico
China
India
Germany
 Italy
France
South Africa
Saudi Arabia
By Products
Consumables
Analysers
Rapid Testing Devices
By End Users
Criminal Justice Systems
Work Place and Schools
 Hospitals
Research Laboratories
By Production of Devices
Domestically Produced
Imported
Key Target Audience
Medical Devices Companies
Government Regulatory Bodies
Medical Research Departments
Healthcare Organisations
Drug Abuse Associations
Criminal Justice Systems
Work places and Schools
Time Period Captures in the Report
Historical Period: 2014-2019
Forecast Period: 2020F-2025F
Companies Covered
Danaher Corporation
 Siemens Group
Thermo Fisher Scientific
Abbott Laboratories
Quest Diagnostics
Dragerwerk AG
Hoffmann-La-Roche AG
Bio-Rad Laboratories
OraSure Technologies Inc
Psychemedics Corporation
Waters Corporation
Key Topics Covered
Global Drug Abuse Market Overview and Genesis
Global Drug Abuse Testing Devices Market Size 2014-2019 (By Revenue)
Global Market Segmentations (By Region, By Products and By End Users)
Country Profiles (USA, Canada, Mexico, China , India, Germany, Italy, France, South Africa, Saudi Arabia and Others)
Competitive Landscape and Strengths & Weaknesses of Major Players (Abbott Laboratories, Danaher Corporation, Thermo Fisher Scientific, Quest Diagnostics, Siemens Healthineers, Dragerwerk, Hoffmann-La-Roche AG, Bio-Read Laboratories, Psychemedics Corporation and Waters Corporation)
Latest Technologies in Global Drug Abuse Testing Devices Market
Issues and Challenges in Global Drug Abuse Testing Devices  Market
Analyst Recommendations for Global Drug Abuse Testing Market
For More Information, refer to below link:
Global Drug Abuse Testing Devices Market
Related Reports
Brazil Medical Device Market Outlook to 2025 – by Type of Device (Reagent for In-Vitro Diagnostics, Materials and Supplies, Laboratory Equipment and Others), Type of Business Activity (Import and Local Production), Channel of Sales (Distributor and Direct), Type of End User (Hospital, Clinics, and Diagnostic Lab Centers and Others) and By Region (South-East, South, North-East, Mid-West, and North)
India Medical Device Market Outlook to 2023 – by IVD Market (Type of Device, Sales Channel, Domestic Manufacturing and Import), by Diagnostic Imaging Market (Type of Device, Domestic Manufacturing and Import) and by Patient Aid Market (Orthopedic Device, Hospital Furniture and Hearing Aid)
Philippines Medical Devices Market Outlook to 2023 – Surge in Demand for Used/Refurbished Medical Equipments and New Healthcare Infrastructure Projects to Maintain Healthy Growth
Contact Us:
Ken Research
Ankur Gupta, Head Marketing & Communications
Ankur@kenresearch.com
+91-9015378249