EXPO 2020 and Dubai Vision 2030 to help the UAE Cold Chain Market to grow at a CAGR of around 7% by 2025, as per the findings by Ken Research
1. Expo 2020 Dubai visit numbers have reached nearly 20 Mn — up almost 1.6 Mn in a week.

EXPO 2020: As UAE is to host the global mega event – EXPO 2020, national and international private investors are attracted not only to the logistics projects related to the event, but also to the UAE logistics industry in general. In June 2019, the National Association of Freight and Logistics (NAFL) announced that Chinese firms will be investing an amount of USD 4 Bn for construction of two large logistics parks- one in Jebel Ali for food processing and the other near the Expo venue for manufacturing and exporting. Another large scale project is to be initiated in Abu Dhabi aimed to boost the trading sector within the UAE.
Interested to Know More about this Report, Request for a sample report
UAE Vision 2021 along with Abu Dhabi Vision 2030 to set the path for Cold Chain market to grow robustly in the coming 5 years.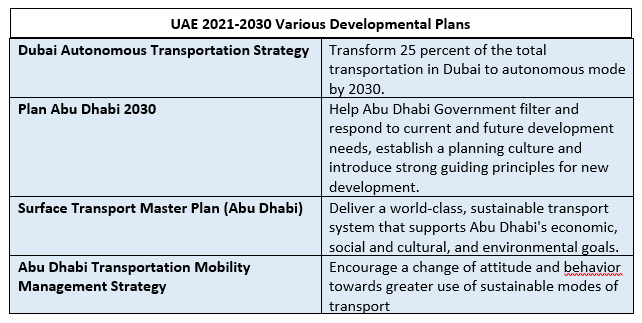 Under the country's economic diversification plans like UAE Vision 2021, Abu Dhabi Vision 2030 and Dubai's Industrial Strategy 2030 aimed at reducing the economy's dependence on Hydrocarbon exports, development of the logistics sector is held as an important strategic goal for sustained long term growth of the economy as UAE becomes a crucial trans-shipment hub for Europe-Asia-Africa trade. The Federal Competitiveness and Statistics Authority expect logistics to contribute 8% of the economy in 2021, rising from the levels of 5.4% in 2017.
Visit this Link :- Request for custom report
Project Modern Silk Route along with Major investments in roads and transport infrastructure has been one of the causes to Smoothening transportation in the UAE.
The Dubai government's investments in roads and transport infrastructure have reached USD 40 Bn (Source: RTA) as of 8th November 2021, which generated economic benefits in terms of time and fuel that would otherwise have been wasted in traffic congestions between 2006 and 2020, about USD 57 bn as reported by the Roads and Transport Authority (RTA) of UAE. Recently, UAE approved the China led cross-continental project, "Modern Silk Route".