Growing Ageing population coupled with Per Capita Health Expenditure and Favorable Government Policy with increasing number of market opportunities for Domestic Manufacturers will positively impact the Pharmaceuticals Market in Brazil
The stabilization and recovery of Economy from Economic Crisis that happened in 2015, will positively impact the Brazil Pharmaceuticals Market as it will increase the healthcare spending of government and per capita health expenditure in Brazil.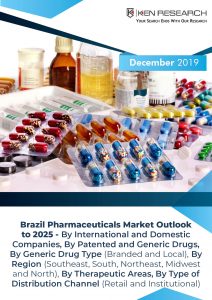 International Companies will account for a larger market share in terms of revenue in future largely due to the amount of investments these companies are making every year in Research and Development so as to launch new patented products and improve their existing production processes.
Institutional Segment Sales in terms of Revenue will grow in Brazil largely due to the manufacturing companies are preferring to make direct sales to the institutional pharmacies due to higher profit margins attached.
Growing Ageing Population: In future, it is anticipated that elderly citizens' population will increase at a CAGR of 4.5% during the period 2018-2025, which will be capturing a larger proportionate share over the years in Brazil. Changing demographics is a key driver of the Brazilian pharmaceutical market, as the growing population will increase the incidence of chronic diseases such as respiratory and digestive problems and some diseases pertaining to lifestyle that include high obesity and type 2 diabetes in future. This will further increase the number of doctor visits and eventually will lead to growing number of medications being prescribed by the doctors or medical professionals. Hence, the ageing population will positively impact in revenue generation of pharmaceutical companies in Brazil.
Growing Alternatives of Generics over Patented Drugs: In Brazil, generic alternatives are available for 95% of pharmaceutical treatments occupied by reference medication. These generic drugs cover treatments of circulatory system diseases, digestive tract/ metabolism, CNS, hormonal and non-hormonal, dermatological anti-inflammatory, respiratory diseases, urinary/sexual system, ophthalmological, helminthes/ parasitic, oncological and contraceptive illnesses, among others. In future, this will positively impact the production volume of Generics Drugs market in Brazil.
Per Capita Health Expenditure: Per Capita Health expenditure in Brazil is increasing over the years majorly due to the growing mortality rate and increasing number of prevalent diseases in the country. In 2018, Total Health Expenditure was about 8% of GDP wherein private spending accounted for 4.4% of GDP and public spending for3.8% of the GDP in Brazil. However, there was a study published in 2018 by the Pan American Journal of Public Health estimated that, with current economic growth projected, Brazil could reach the goal of investing 6% of GDP in public health spending by 2064 which will positively increase the demand of pharmaceuticals in the market.
Analysts at Ken Research in their latest publication "Brazil Pharmaceuticals Market Outlook to 2025 – By International and Domestic Companies, By Retail and Institutional Sales,  By Institutional Sales (Public, Private and Others), By Drug Type (Prescription, Over-The-Counter and Generics), By Generic Drug Type (Branded and Local), By Region (Southeast, South, Northeast, Midwest and North), By Therapeutic Areas" observed that the Pharmaceuticals Market in Brazil will grow positively due to the increasing per capita health expenditure, growing number of Chronic diseases, increasing demand of generic drugs in the market coupled with new market opportunities for Domestic Manufacturers.
The market is expected to register a positive CAGR of 8.4% in terms of revenue during the forecast period 2018-2025.
Key Segments Covered
By Type of Companies
International Companies
Domestic Companies
By Type of Channel
Institutional
Public
Private
Others
Retail
By Drug Type
Prescription
Over-The-Counter
Generics
Branded
Local
By Region
Southeast
South
Midwest
Northeast
North
By Therapeutic Areas
Cardiovascular
Central Nervous System
Respiratory
Oncology
Anti-Infective
Gastrointestinal
Others
Key Target Audience
Pharmaceutical Manufacturing Companies
Pharmacy Retail Outlets
Government/ Regulatory Authorities Venture Capitalist Firms
Health Insurance Companies
Pharmaceutical Products Distributors
Time Period Captured in the Report:
Historical Period: 2013-2018
Forecast Period: 2019F-2025F
Companies Covered:
Major Manufacturers
Ache Laboratories
EMS Pharma
Eurofarma
Sanofi
Novartis
Neo Quimica
Mantecopr Farmasa
Libbs
Biolab- Sanus Farma
Takeda Pharma
Medley
Bayer Pharma
CIMED
Key Topics Covered in the Report
Brazil Pharmaceuticals Market Overview and Genesis (Overview and Genesis, Business Cycle Graph)
Brazil Pharmaceutical Market Value Chain Analysis
Brazil Pharmaceutical Market Size
Brazil Pharmaceuticals Market Segmentation
Regulatory Landscape in Brazil Pharmaceuticals Market
Trends and Developments in Brazil Pharmaceuticals Market
Issues and Challenges in Brazil Pharmaceuticals Market
Brazil Pharmaceuticals Market Competition Landscape
Cross Comparison of 7 Major Players in Brazil Pharmaceuticals Market
Brazil Pharmaceuticals Market Future Projection, 2018-2025F
Future Outlook of Brazil Pharmaceuticals Market Segmentations, 2018-2025F
Analyst Recommendations
For More Information, refer to below link:
Related Reports
APAC Healthcare AI Market Outlook to 2025 – By Applications (Machine/Robot Assisted Medical Procedures, Clinical Trial & Drug Discovery/Development, Preliminary Diagnosis, Administrative Workflow Assistance, Virtual Nursing Assistant, Fraud Detection, Dosage Error Reduction), by Countries, by End Users & by Technologies and Current Investment Scenario
India Medical Device Market Outlook to 2023 – by IVD Market (Type of Device, Sales Channel, Domestic Manufacturing and Import), by Diagnostic Imaging Market (Type of Device, Domestic Manufacturing and Import) and by Patient Aid Market (Orthopedic Device, Hospital Furniture and Hearing Aid)
Global Hearing Aid Market Outlook to 2023 – By Hearing Aid Devices (By Ear and By Canal) and Hearing Implants (Cochlear implants and BAHA implants), By Region (Americas, Europe, Asia-Pacific and RoW), By Type of Distribution channel (Audiology & ENT clinics, Hospitals and Pharmacies)
Contact Us:
Ken Research
Ankur Gupta, Head Marketing & Communications
Ankur@kenresearch.com
+91-9015378249