"The rise in deaths due to drug overdose and anti-drug policies has increased the demand for drug abuse testing devices globally. It is also estimated that around 35 million people globally suffer from drug use disorders while only 1 in 7 people receive treatment in due time"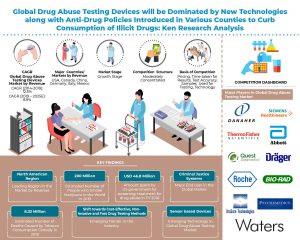 Rising Illicit Drugs Consumption: In the Americas Region, 8.5 million people (1.3% of the population) have used cocaine in 2018, which represented almost half of the users worldwide. Within Europe, the use of drugs is highly common within the southern and western countries. The use of opioids in treating moderate to severe pain is one of the emerging concerns in Asia Pacific and has lead to illegal use of the drug. Owing to rise in cocaine production, Asia Pacific and Africa are also emerging as the hubs for cocaine trafficking and consumption. Owing to the increase of cocaine seizures in Brazil, a paradigm shift toward an increase in users seeking treatment against drugs abuse has also been witnessed, which again has raised the importance of drug abuse testing kits globally. A recent report by United Nations Office on Drugs and Crime (UNODC) also estimates the number of opioid users at around 53 million. Globally, around 11 million people injected drugs in 2017, of whom 1.4 million live with HIV and 5.6 million with hepatitis C.
Government Initiatives: In order to prevent deaths caused by overdose of drugs the governments of a number of countries have funded programs against drug abuse. The US government spent USD 46.8 million in the FY'2018 for screening, brief intervention and referral to treatment for drug usage. Also a number of countries have made it legal for workplaces to test their employees for drugs. Irrespective of what's mentioned in the contract, in countries such as Italy and France, the employers are by law allowed to conduct random drug tests.
Breathalyzers for Drug Testing:  Initially breathalyzers were more common for alcohol tests only as it was incapable for testing the levels of 'Tetrahydrocannabinol' (THC) which are commonly present in illicit drugs. However, technological advancement has led to the development of breathalyzers which are now capable to detect the presence of THCs as well. For instance, The University of Pittsburg used tiny tubes of carbon, 100,000 times smaller than human hair which results in THC molecule, along with other molecules in breath binds to the surface of the nano-tubes and changes their electrical properties. The speed at which the electrical currents recover then signals whether THC is present or not. Nanotechnology sensors are also being used for the same purpose.
The report titled "Global Drug Abuse Testing Devices Market Outlook to 2025 –By Products (Consumables, Analysers and Rapid Testing Devices), By End Users (Criminal Justice Systems, Workplace and Schools, Hospitals, Research Centers and Others) and By Region (United States of America, Canada, China, Germany, Italy, Mexico, France, India, South Africa, Saudi Arabia and Others)" by Ken Research, gives an in-depth and comprehensive outlook on the drug testing devices market globally. The report covers various aspects including genesis of the market, global drug abuse trends, market size by revenue along with segmentations for four regions (North America, Asia-Pacific, Europe and LAMEA). Country snapshots of 10 major countries (USA, Canada, China, Germany, Italy, Mexico, France, India, South Africa and Saudi Arabia) are also included. The market is expected to register a positive CAGR of 8.9% in terms of revenue during the forecast period 2019-2025E.
Key Segments Covered
Global Drug Abuse Testing Devices Market
By Region
North America
Europe
Asia Pacific
LAMEA
By Countries
USA
Canada
Mexico
China
India
Germany
 Italy
France
South Africa
Saudi Arabia
By Products
Consumables
Analysers
Rapid Testing Devices
By End Users
Criminal Justice Systems
Work Place and Schools
 Hospitals
Research Laboratories
By Production of Devices
Domestically Produced
Imported
Key Target Audience
Medical Devices Companies
Government Regulatory Bodies
Medical Research Departments
Healthcare Organisations
Drug Abuse Associations
Criminal Justice Systems
Work places and Schools
Time Period Captures in the Report
Historical Period: 2014-2019
Forecast Period: 2020F-2025F
Companies Covered
Danaher Corporation
 Siemens Group
Thermo Fisher Scientific
Abbott Laboratories
Quest Diagnostics
Dragerwerk AG
Hoffmann-La-Roche AG
Bio-Rad Laboratories
OraSure Technologies Inc
Psychemedics Corporation
Waters Corporation
Key Topics Covered
Global Drug Abuse Market Overview and Genesis
Global Drug Abuse Testing Devices Market Size 2014-2019 (By Revenue)
Global Market Segmentations (By Region, By Products and By End Users)
Country Profiles (USA, Canada, Mexico, China , India, Germany, Italy, France, South Africa, Saudi Arabia and Others)
Competitive Landscape and Strengths & Weaknesses of Major Players (Abbott Laboratories, Danaher Corporation, Thermo Fisher Scientific, Quest Diagnostics, Siemens Healthineers, Dragerwerk, Hoffmann-La-Roche AG, Bio-Read Laboratories, Psychemedics Corporation and Waters Corporation)
Latest Technologies in Global Drug Abuse Testing Devices Market
Issues and Challenges in Global Drug Abuse Testing Devices  Market
Analyst Recommendations for Global Drug Abuse Testing Market
For More Information, refer to below link:
Global Drug Abuse Testing Devices Market
Related Reports
Brazil Medical Device Market Outlook to 2025 – by Type of Device (Reagent for In-Vitro Diagnostics, Materials and Supplies, Laboratory Equipment and Others), Type of Business Activity (Import and Local Production), Channel of Sales (Distributor and Direct), Type of End User (Hospital, Clinics, and Diagnostic Lab Centers and Others) and By Region (South-East, South, North-East, Mid-West, and North)
India Medical Device Market Outlook to 2023 – by IVD Market (Type of Device, Sales Channel, Domestic Manufacturing and Import), by Diagnostic Imaging Market (Type of Device, Domestic Manufacturing and Import) and by Patient Aid Market (Orthopedic Device, Hospital Furniture and Hearing Aid)
Philippines Medical Devices Market Outlook to 2023 – Surge in Demand for Used/Refurbished Medical Equipments and New Healthcare Infrastructure Projects to Maintain Healthy Growth
Contact Us:
Ken Research
Ankur Gupta, Head Marketing & Communications
Ankur@kenresearch.com
+91-9015378249