According to study, "Global Head-up Displays Market Status (2015-2019) and Forecast (2020-2024) by Region, Product Type & End-Use" the key companies operating in the global head-up displays market are Bae Systems, Esterline Technologies Corporation, Continental Ag, Harman International Industries, Delphi Automotive Plc., Elbit Systems, Denso Corporation, Johnson Controls, Garmin, JVC Kenwood Corporation, Honeywell Aerospace. Key manufacturers are integrating several driver assistance tools, for instance augmented reality (AR) and a huge area for visuals for offering a safer driving experience, therefore catalyzing the product demand. Moreover, various automobile companies are also introducing HUDs in mid-range car models to reach the mid & low income consumer base, which is anticipated to create a positive outlook for the market.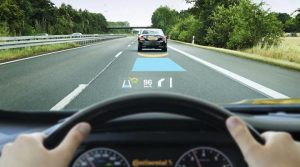 A heads-up display or HUD is an innovative technology, developed to help pilots and drivers to view dashboard data in the user's field of view. HUD was formerly developed with cathode ray tube (CRT) technology, but are currently available using Liquid Crystal Display (LCD) technology, which provides clearer picture to user. It enables users to maintain concentration while flying or driving, thus ensuring their safety. HUD system satisfies the safety, comfort, security, and entertainment requirements of its users. It is widely used in automobiles, commercial & defense airplanes, and gaming applications. In airplanes, it displays information regarding position, flight path, acceleration, radar information, and real time position, which helps pilots to react in timely & rapidly manner. This innovation has gradually made its way into the automotive industry and is currently being considered amongst the projecting driver assistance systems.
Based on type, head-up displays market is segmented into AR-based HUD and conventional HUD. Conventional HUD is further sub-segmented into combiner based HUD and windshield based HUD. Based on component, market is segmented into display unit, video generator, software, projector/projection unit and others. Display unit is further sub-segmented into liquid crystal on silicon (LCoS) technology, digital micro mirror device (DMD) display and liquid crystal display (LCD) technology. LCoS includesFerroelectric LCoS (FLCoS) and NematicsLCoS (NLCoS). Based on technology, market is segmented into light emitting diode, cathode ray tube, micro-electromechanical system and optical waveguide. In addition, based on application, market is segmented into automotive and aviation. Aviation includes military aviation (helicopter and aircraft) and civil aviation (civil helicopter and civil aircraft).
The head-up displays market is driven by increase in awareness about passenger & vehicle safety, followed by growth in demand for connected vehicles, rise in convenience offered by combination of satellite navigation technology & HUD System, increase in augmented reality (AR) and rise in demand for technologically advanced HUDs. However, high cost of advanced HUD systems and growth in requirement of luminance, power, and brightness may impact the market. Moreover, growth in demand for semi-autonomous & electric vehicles, increase in driving experience using AR-based HUDs and rise in screen-less display is an emerging technology in HUD market are key opportunities for market.
Based on geography, the North-American is a leading region in global head-up displays market owing to rise in expenditure on military & civil aviation and increase in awareness about the safety systems to be installed in aircraft and automobile system in the region. The Asian-Pacific and European regions are likely to exhibit substantial growth rate due to growth in demand of luxury & premium cars and SUV's equipped with HUDs systems over the forecast period. In near future, ii is estimated that the market will be reached at rapid pace on account of rise in consumer expenditure capacities, rapid urbanization, along with several technological advancements during the forecast period.
For More Information, refer to below link:-
Global Head-up Displays Market
Related Reports:-
Global Multi-function display Market Size study, by Platforms (Land, Airborne, Naval), by Systems (Electronic Flight Displays, Head-up Displays, Helmet-Mounted Displays, Portable Multi-function Displays), by Technology (LED, LCD/AMLCD, TFT, OLED, Synthetic Vision), by Size (<5, 5-10, 10-15) and by Regional Forecasts 2017-2025
Global Head-up Displays Market Status and Future Forecast 2015-2024
Global Head-up Displays Market Analysis 2013-2018 and Forecast 2019-2024
Contact Us:
Ken Research
Ankur Gupta, Head Marketing & Communications
Ankur@kenresearch.com
+91-9015378249