Regional Players Dominate the Hospital Bed Market, Despite the Presence of ~200 Competitors Comprising a Significant Number of Regional and Country-Niche Players, finds a recent market study on the Global Hospital Bed Market by Ken Research
Hospital beds are those which are maintained on a regular basis and are available for the care of admitted patients. Hospital beds include acute care beds, rehabilitative care beds, long-term care beds, adjustable hospital beds, specialty care beds, and others. Hospital beds are also called in-patient hospital care beds, which are further subdivided into nursing care beds, psychiatric care beds, and others.
Ken Research shares 3 key insights on the competitive landscape of this dynamic market from its latest research study.
Global Players Constitute ~10% of the Total Number of Competitors, While Country-Niche Players Represent ~55% of Total Competitors by Type
Competitive Analysis by the research study found that the Global Hospital Bed Market is highly competitive with ~200 players which include country-niche players, regional players as well as a significant number of globally diversified players, who deal in the manufacturing of hospital beds for hospitals, clinics, ambulatory, and others. The large global players comprise about 10% in terms of the number of companies and hold a strong portion of the market revenue share followed by regional players which account for the majority market revenue share. Most of the players are having their headquarters in the North American region.
Majority Number of Players are Specialist, Manufacturing a Wide Array of Products in the Global Hospital Bed Market.
Detailed comparative analysis of key competitors available within the research study reveals that players have a variety of hospital bed products catering to multiple treatment types such as acute care, long-term care, bariatric care, and others. All leading competitors have a strong presence in the Global Hospital Bed Market. Furthermore, several companies and organizations are aggressively investing in R&D to cater to end-users demands.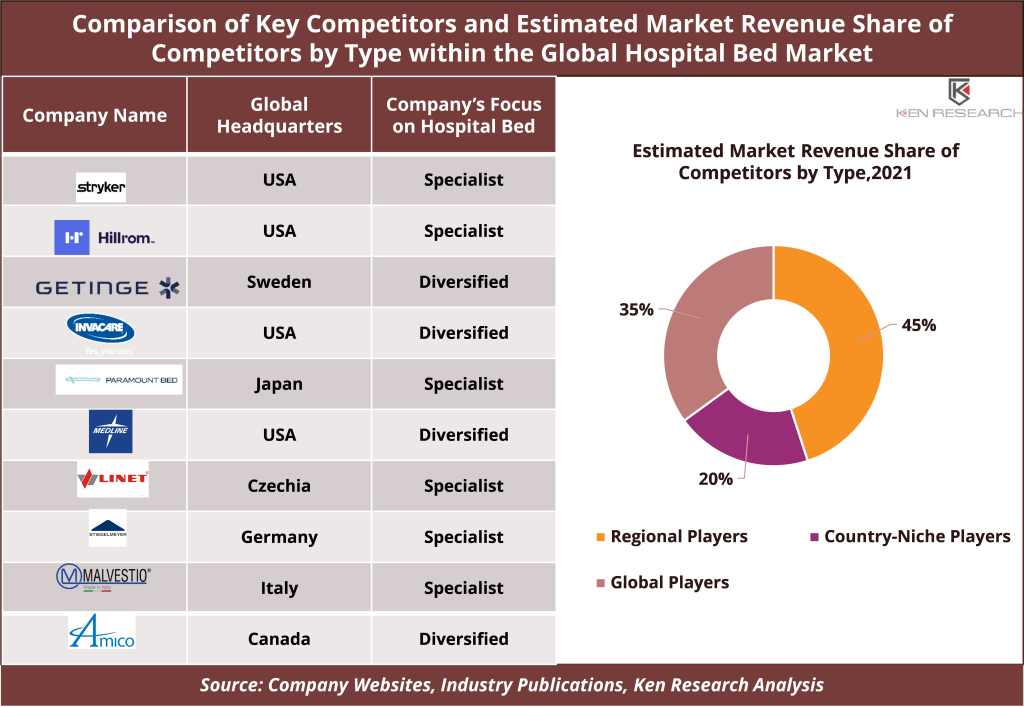 Request For Sample Report @
https://www.kenresearch.com/sample-report.php?Frmdetails=NTk2MDg4
In July 2020, Invacare announced the opening of a new production facility in Albstatd, Germany, to meet the needs of the healthcare environment.
In April 2020, Stryker announced to release of emergency relief beds, a limited-release emergency response bed to quickly aid healthcare providers with efficient care.
Government Initiatives & Programs to Encourage the Expansion of the Global Hospital Bed Market
The Hospital Readmission Reduction Program (HRRP) is a medicare value-based purchasing program that encourages hospitals to improve communication and care coordination to better engage patients and caregivers.
In November 2020, The Centre for Medicare and Medicaid Services (CMS) announced a comprehensive strategy to enhance hospital capacity amid the COVID-19 surge.
As per the Indian Union Budget 2022-23, US$ 675.72 million was allocated to the PM-ABHIM to strengthen India's health infrastructure and to improve the country's primary, secondary and tertiary care services.
In July 2022, the World Bank approved a US$ 1 billion loan for India's Pradhan Mantri – Ayushman Bharat Health Infrastructure Mission
For more information on the research report, refer to the below link:
Challenges in Growth of Hospital Bed Market
Read Also –
3 Key Insights on Nearly $7 Bn Opportunity in the Global Agricultural Pumps Market
Follow Us –
LinkedIn | Instagram | Facebook | Twitter | YouTube
Contact Us: –
Ken Research
Ankur Gupta, Head Marketing & Communications
+91-9015378249