The report titled "Australia Hotel Mattress Market Outlook to 2025 – Hotel Supply Pipeline, New Bedding Technologies and Faster Hotel Refurbishments to Increase Hotel Bedding Spend in Future" by Ken Research suggested that in the overall accommodation segment, growth in demand for mattresses was led by hotels. Heightened concerns about guest comfort, emergence of new technologies and the objective of achieving similar comfort across global hotel properties led to growth in the hotel mattress industry in Australia. The revenue generated from sale of hotel mattresses is projected to grow at a CAGR of 6.3% during the period 2019-2025
The accommodation industry in Australia saw high investor attractiveness, as the country saw a record 45 hotel sale transactions in 2019, generating a transaction value of approximately AUD 2.0 billion. Vibrancy of the sale landscape, simulated frequent hotel refurbishments leading to growth in mattress industry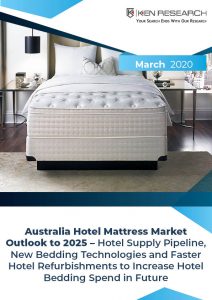 Comfort Layers Preferred: Luxury, 5-star and Up-Scale hotel brands customize their mattress requirement by developing an exclusive bedding product. The mattress developed is generally supported by a spring base, along with 2-3 comfort layers with each having different properties to supplement comfortable sleep. Polyurethane foam is the most common comfort layer used, due to its wider availability and cheaper price. Other comfort layers gaining traction include memory foam, latex and gel-infused memory foam. Mattress manufacturers generally combine different grades of materials together to form multiple comfort fill layers as well.
Emergence of Mattress Recycling: Aiming to reduce the large number of mattresses that are sent to landfills every year in Australia (approx. 1.25 Mn in 2019), organizations such as Soft Landing, Mattress Recycling Australia and Mattress Recycle Australia strive to provide door-to-door mattress collection and recycling services. While hotels are cognizant of the effect that non-recyclable mattresses have on the environment, they are not willing to pay extra for a recyclable mattress. Additionally, they fail to take responsibility for recycling their mattresses and believe it is part of the manufacturer's job to do so.
Predominance of Domestically Manufactured Materials: Mattress Manufacturing Companies promote their products on the basis of their domestic manufacturing base and use it to differentiate their products from low quality imported products. Additionally, GECA (Good Environmental Choice Australia) certified products are promoted, as they are recyclable and are not made up of environmentally-polluting materials. Foam providers including Dunlop Foams, Foamco, and Joyce Foam are GECA-certified and major mattress manufacturers in Australia generally source foam materials from them. Moreover it was witnessed that, companies present in the hotel mattress segment are generally family-owned and exist since more than 50 years in the industry.
Key Segments Covered
By Mattress Size
King and Super King
Queen
Double
Single
By Mattress Comfort Level
Medium
Firm
Plush
By Mattress Support System
Spring
Foam
Latex
Hybrid
Key Target Audience
Mattress Manufacturing Companies
Raw Material Manufacturing Companies
Hotels
Tourism Associations
Accommodation Industry Associations
Time Period Captured in the Report:
Historical Period: 2014-2019
Forecast Period: 2019-2025
Companies Covered in Report:
AH Beard
Sealy
SleepMaker (The Comfort Group)
Comfort Sleep Bedding
Sleepeezee
Slumbercorp
Other Commercial Bedding Mattress Companies
Key Topics Covered in the Report
Major Upcoming Hotel Projects in Australia
Hotel Mattress Procurement Trends- End User Perspective
Mattress Need Differing by Hotel Cadres
Mattress Pricing Analysis
Product Landscape of Major Bedding Industry Players
Complimentary Bedding Products Analysis
Comfort Layer Tech Used in Hotel Mattresses
Why Luxury Hotels Create a Signature Bedding Brand?
AH Beard's Commercial Manager's Take on the Hotel Mattress Industry in Australia
Recommended Market Penetration Strategies
Australia Hotel Mattress Industry Future Outlook to 2025
For More Information, refer to below link:-
Australia Hotel Mattress Market
Related Reports
Australia Mattress Market Outlook to 2023 – By Size (King, Queen, Double, Single), By Type (Spring – Pocket and Inner Spring, Foam & Latex and Others), By Distribution Channel (Retail and Direct), By Price (Mass, Economy and Premium), By Organized and Unorganized Segment
Thailand Mattress Market Outlook to 2023 – By Size (King Size, Queen Size, Twin Size and Single Size), By Type (Spring, Foam, Latex and Others), By Region (Bangkok, Central excluding Bangkok, North, North East, East and South), By Distribution Channel (Retail Sales and Direct Sales)
South Africa Mattress Market Outlook To 2023 – By Size of Mattress (King Size and Super King Size, Queen Size, Double Size and Single and Three Quarter), By Type of Mattress (Spring, Foam and Latex, and Others), By Region (Gauteng, Limpopo, Western Cape, Kwazulu Natal, Free State, Eastern Cape and Others), By Type of Distribution Channel (Retail and Direct Sales), and By Organized and Unorganized
Contact Us:
Ken Research
Ankur Gupta, Head Marketing & Communications
Ankur@kenresearch.com
+91-9015378249