The report covers various aspects including introduction of the Vietnamese real estate market, macroeconomic overview, Vietnam and regional office, hotel, retail and the residential market coverage (including current and future supply, demand, gap analysis, rental and occupancy rate), snapshots for Vietnam industrial and co-working market, major growth drivers, trends and developments, issues and challenges, regulatory landscape and competitive landscape and future outlook of Vietnam real estate market. Major players include Vietcom Bank, Deutsches Haus, Diamond Plaza, Vincom Centre, Rever.vn, Emerge and Ohana.vn.
The Co-working Supply (in NLA) within Vietnam is expected to grow with a CAGR of 23.0% during 2018-2025 therefore, indicating potential of co-working space in Vietnam due to increasing number of international players entering the Market.
Da Nang retail market supply is expected to show the highest growth along with a projected CAGR of 17.0% during 2018-2025, particularly in the districts of Thanh Khe, Hai Chau and Son Tra regions. PropTech is the future technology that will disrupt the Real Estate Market in Vietnam, buy creating a smart ecosystem of connected technology and online real estate services.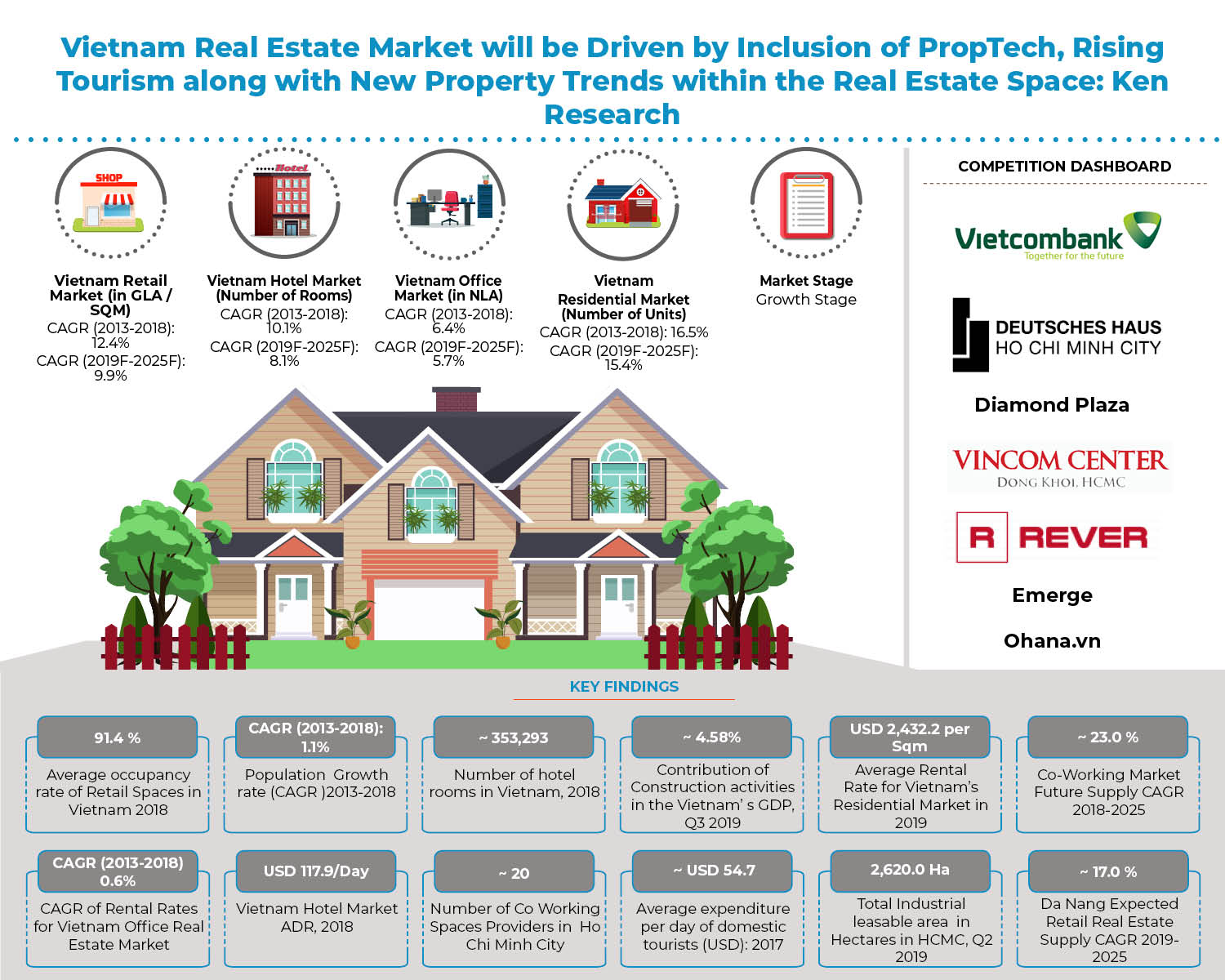 Global Brands Flock to Vietnam Co-Working Market: The co-working business in Vietnam has come under spotlight by global brands and the market is becoming competitive as brands offer service innovations and new revenue streams contained within one property. Recently Vietnam's potential for the Co-Working business has become evident to global brands. Brands such as Toong, Regus, WeWork and others have started entering Vietnam indicating the scope of the Co-Working business. Major Co-working Brands such as Toong offer 7 co-working spaces across Ho Chi Minh City and Hanoi regions; and Regus Co. offers 8 co-working spaces in both cities. Vietnam is expected to have more co-working spaces in the coming future.
Da Nang's Real Estate Market – The Upcoming 3rd Business Centre:  Da Nang region has showcased strong potential over the years and has become a business center in Vietnam. In terms of real estate, the market has witnessed strong growth over the years. Its population size has been rising at a CAGR of 1.8% from 2013-2018 and will become a strong source of demand. The office real estate supply (in NLA) is expected to grow at a CAGR of 8.9% and the retail supply is expected to grow at a CAGR of 17.0% during 2018-2025. Also, the total number of hotel rooms in Danang region was estimated to grow at a forecasted CAGR of 8.5% during 2018-2025. These statistics indicate the potential that Da Nang region has to offer as an upcoming business center in Vietnam.
PropTech, the upcoming Disruptive Technology in the Vietnam: PropTech basically refers to technology that is aimed at the real estate industry and attempts to change the way people buy, sell, finance and manage property. It helps property developers and real estate businesses to make changes and adapt to a new generation of customers via internet, building brands and then directing their products to the right targeted buyers. Technologies used include using 3D / VR in creating floor plans, block-chain in real estate, technology in construction, drones in real estate industry, environmental sensors, property classifieds, co-working spaces, smart cities and others.
The report titled "Vietnam Real Estate Market Outlook to 2025 – By Office Real Estate Market (Grade A, Grade B and Grade C), By Retail Real Estate Market (Retail Podiums, District Centers and Shopping Centers), By Residential Real Estate Market (Apartment, Villas, Condominiums and Others), and By Hotel Real Estate Market (3 Star, 4 Star, 5 Star and Other Hotels)" by Ken Research suggested that the Real Estate Market in Vietnam is growing and carries major potential in each of its sub segments. The government's policies favoring the real estate market such as the Housing Law and the Law on Real Estate Business coupled with the dynamics of global trade causing companies to migrate away from China to Vietnam driven by Vietnam's low cost land and labor forces, will elevate Vietnam's Real Estate Market to greater heights. Vietnam's office market supply (in NLA), retail market supply (in GLA), residential market supply (in units) and hotel market supply (in total number of keys) is projected to grow by a CAGR of 5.7%, 9.9%, 15.4% and 8.1% respectively over the forecast period 2018-2025 thus, showcasing the potential of real estate in Vietnam in the near future.
Key Segments Covered:-
Vietnam Office Real Estate Market
By Type:
Grade A Office
Grade B Office
Grade C Office
By Geography:
Vietnam
Ho Chi Minh
Hanoi
Vietnam Retail Real Estate Market:-
By Location:
CBD (Central Business District)
Non CBD (non central business district)
By Type:
Retail Podium
Department Store
Shopping Center
By Geography:–
Vietnam
Ho Chi Minh
Hanoi
Vietnam Residential Real Estate Market:-
By Type:
Apartments
Condominiums
Villas and Townhouses
By Geography:
Vietnam
Ho Chi Minh
Hanoi
Vietnam Hotel Real Estate Market:-
By Type:
3 Star Hotels
4 Star Hotels
5 Star Hotels
Others (Less than 3 Star Hotels)
By Geography:
Vietnam
Ho Chi Minh
Hanoi
Key Target Audience:-
Real Estate Developers
Independent Investors
Real Estate Consulting Companies
Third Party Real Estate Companies
Independent Architects
Government Associations
Government Agencies
Time Period Captured in the Report:-
Historical Period – 2013 – 2018
Forecast Period – 2019F – 2025F
Case Studies Covered:-
Vietcom Bank
Deutsches Haus
Diamond Plaza
Vincom Centre
Rever.vn
Emerge
Ohana.vn
For more information on the research report, refer to below link:-
Related Reports:-
Saudi Arabia Real Estate Market Outlook to 2025 – By Retail Real Estate Market (Super-Regional Malls, Regional Malls and Community Centre), By Hotel Real Estate Market (3 Star, 4 Star, 5 Star and Other Hotels), By Office Real Estate (Premium Offices Grade A and Grade B) and Residential Real Estate Market (Apartment, Villas, Traditional Houses and Others)
Australia Real Estate Market Outlook To 2023 – By Residential (Apartment & Villas), By Retail (Regional, Sub-Regional, Neighborhood, CBD, Large Format Retail And Others), By Office (Grade A, Grade B And Premium Offices) And By Hotel (3 Star, 4 Star, 5 Star And Other Hotels)
Singapore Real Estate Market Outlook to 2023 – By Residential Market (New Sales, Re-Sales and Sub-Sales), By Retail Market (Private and Public Retail Space), By Office Market (Private and Public Office Space) and By Hotel Market (Gazetted and Non-Gazetted Hotels)
Contact Us:-
Ken Research
Ankur Gupta, Head Marketing & Communications
Ankur@kenresearch.com
+91-9015378249