Global Buy Now Pay Later Market Overview
Globally, there has been a tremendous growth in the e-commerce and online food delivery segment, the primary merchant partner segments to the BNPL service providers.
Europe is currently the market leader in terms of BNPL adoption rates in the e-commerce domain, and Asia Pacific is slated to grow at an optimistic pace. In Europe, Germany and UK are the market leaders in the BNPL segment, with highest number of transactions on E-commerce.
Business Model Analysis of Global BNPL Market
Building Integrated Shopping apps
Quick business are scaling by offering BNPL options integrated to shopping platforms. Larger players such as TMall or Ant Group, have already been monetizing on customer engagement through other offerings such as cross-selling and affiliate marketing, and it has turned as an advantage in BNPL segment.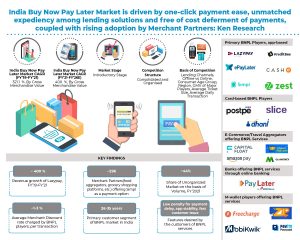 Off-card Financing Solutions
Off-card financing solutions offer consumers to pay a 0% APR for a certain period and then a subsidized Annual Percentage Rate (APR).
These players, while charging EMI, offer lower rates than credit cards, and hence are preferred over them.
Virtual Rent-to-own model
Rent-to-own is an arrangement in which consumers make payments for items with the goal of eventually owning them. This model has a high annual percentage rate (APR), and is typically limited to goods that can be repossessed in case of default.
Card linked instalment offerings
Card-linked instalments offer customer cards which act as credit cards, however, they are interest free for a certain duration, and offer enable merchant-subsidized offers;  they can be offered even by credit cards/ debit cards from banks.
Vertical Focused large ticket players
Targeted merchant partners are approached by BNPL Players in a specific domain.
This model has substantial outreach across the globe, working in a similar way sales financing has worked historically.
India Buy Now Pay Later Market Overview
'India Buy Now Pay later Market' Services (BNPL) are recognized as Proxy lending services by RBI: BNPL companies are proxies between lending partners and customers. As a part of digital lending market, BNPL market has a direct impact by the adoption of digital payments and lending.
Digital Lending Sector Snapshot
Digital lending relative to physical mode is still at a nascent stage in case of banks, whereas for NBFCs, higher proportion of lending is happening digitally. Digital Lending had the lowest impact before pandemic: the pandemic boosted the lending scene in the country, as average income shrunk.
Impact of COVID on Consumer Behavior
Deposits in banks and Cash savings have increased, and with continued rise of Digital payments, every single consumer oriented sector is enabling multiple online payment options.
Research Methodology
Market Sizing Approach-
Hypothesis Creation: The research team first framed a hypothesis about the market through analysis of existing industry factors, obtained from publications from governing authorities, various government ministries and from company's annual report, magazines, journals, online articles, industry associations. We have used both public and proprietary databases to define each market and collect data points about the same.

Hypothesis Testing: The total market size has been calculated via bottoms up approach, analyzing financials of BNPL companies to assess their unsecured loans disbursed throughout the study period. Then the entire GMV of loans was summed and sanity checked via Reports from RBI and C-level interviews. Average ticket size has been calculated by dividing the total GMV of BNPL market by the total number of transactions for FY'21, and modelled for the previous years, sanity checked via secondary and primary sources. Further segmentation is done on the basis of percentages of the total market size on the basis of total GMV of the relevant financial years, obtained through sources such as regulatory associations, C-level interviews, middle management interviews, industry reports, investor presentations .

Future Forecasting via Poll Opinions and Statistical Tools: Time-series analysis along with expert inputs were conducted on the lag variables i.e. on the historical market size of the industry. The forecasting was done using SPSS statistical tools. The variables were checked for biases that could be there in the model. The conclusion from the forecasting was then double checked by conducting poll opinions.
Key Segments Covered in India Buy Now Pay Later Market
Indian Buy Now Pay Later Market Size and Segmentation

Analysis of BNPL market as a part of Digital Lending Sector In India

India Buy Now Pay Later Market Size, By GMV, In INR Crores, FY'19-FY'21

Trend Analysis of Average Value per Transaction, In INR, FY'19 to FY'21

Segmentation, By Mode of Payment (Online vs Offline)

Segmentation, By Lending Channels (such as E-commerce retail, Food aggregators, travel aggregators, etc.)

Segmentation, By Geography

Demand Side Analysis of the Buy Now Pay Later Market in India

Consumer Segmentation of the BNPL Space, By Age Group, FY'21

Cross Comparison of Major BNPL Players across major decision making parameters (such as onboarding process, ease of use, brand image, customer ratings, issueas and praise points by customers)
Request for Sample Report @ https://kenresearch.com/sample-report.php?Frmdetails=NTE1MDY0
Supply Side Analysis of the Buy Now Pay Later Market in India

Market Share (By Gross Merchandise Value Loaned to customers, in INR), and Average daily Transactions (In INR), of Major Buy Now Pay Later Players in India, FY'21

Revenue Growth Analysis of Major Players in the BNPL Space, By Gross Merchandise Value Loaned to customers, in INR, FY'19-FY'21

Investment Analysis of the BNPL Players (Funding Rounds, total investments from FY'16-FY'21, Investors)

Comparative Assessment, By:

Vintage

Office Location

Number of Employees

Holding Company

USP

Merchant Partners

Lending Partners

Case Study of Niche BNPL Players

Case Study 1: EPayLater, the leading B2B BNPL Player in India

Case Study 2: SaveIN, a BNPL Player dedicated to healthcare

Outlook and Projections of the BNPL Market in India, FY'22 – FY'26

Future of Lending Channels of BNPL Space in India

Expected Changes in Regulations as proposed by RBI

Market Size of 'Buy Now Pay Later Market in India' and Projected Ticket Size, by GMV (INR), FY'22-FY'26
Key Target Audience
Scheduled Commercial Banks

Non-Banking Financing Companies

Buy Now Pay Later Companies

E-Commerce Platforms

Payment Gateway Companies

Online Food Aggregator Companies

Online Cab/bus/ flight booking platforms

Online Streaming Services

Healthcare Chains
Time Period Captured in the Report:
Key Topics Covered in the Report
Global E-Commerce and Online Food Delivery Market Snapshot

The Global Buy Now Pay Later Market Overview

Buy Now Pay Later and the Fintech Ecosystem in India

India Digital Lending Sector Snapshot

The Impact of COVID19 in customer behavior

India Buy Now Pay Later Market Ecosystem

Value Chain Analysis of India Buy Now Pay Later Market

Why is the BNPL market picking up traction in India?

Regulatory landscape of BNPL Market

Issues, Challenges and Risks in the Buy Now Pay Later Market in India

SWOT Analysis of the Buy Now Pay Later Market in India

Analysis of BNPL market as a part of Digital Lending Sector In India

India Buy Now Pay Later Market Size, By GMV, In INR Crores, FY'19-FY'21

Trend Analysis of Average Value per Transaction, In INR, FY'19 to FY'21

Consumer Segmentation of the BNPL Space, By Age Group, FY'21

Investment Analysis of the BNPL Players

A look at Investment rounds of Major BNPL Players

Case Study 1: EPayLater, the leading B2B BNPL Player in India

Case Study 2: SaveIN, a BNPL Player dedicated to healthcare

Future of Lending Channels of BNPL Space in India

Expected Changes in Regulation as proposed by RBI
For more information on the research report, refer to below link:
India Buy Now Pay Later Market Report 2026
Related Reports
India EduFin Industry Outlook to FY'2026 – Driven by High Adoption of EdTech sector and Increasing Investments from Venture Capital Firms
Global Small Business Loan Market Research Report with Opportunities and Strategies to Boost Growth- COVID-19 Impact and Recovery
Global Digital Transaction Management (DTM) Market Research Report with Opportunities and Strategies to Boost Growth- COVID-19 Impact and Recovery
India Online Grocery Market: Current Analysis and Forecast (2021-2027)
Follow Us
LinkedIn | Facebook | Twitter | YouTube
Contact Us:
Ken Research
Ankur Gupta, Head Marketing & Communications
Support@kenresearch.com
+91-9015378249