Expansion of Manufacturing Plants:
Companies are setting up manufacturing plants in India. International semiconductor consortium (ISMC), a joint venture between Abu Dhabi-based Next Orbit Ventures and Israel's Tower Semiconductor, plans to invest Rs 22,900 crore ($3 billion) in a chip fab. In May 2022, it signed an agreement with the Karnataka government to set up an Electronics Manufacturing Cluster over 150 acres of land in Kochanahalli Industrial Area.
The Indian Government has been promoting SPECS to help offset the disability for domestic manufacturing of electronic components and semiconductors in order to strengthen the electronics manufacturing ecosystem in the country.
Ease of Market Entry:
There is a lot of scope for new players to enter. This is because of untapped potential, favourable government incentive plans and schemes. It is expected that competition in the market will continue to increase as existing competitors improve or expand their product offerings and as new companies enter the market.
Adoption of 5G network and AI
With increasing internet penetration from 35% in 2016 to ~50% in 2021 and adoption of smart devices are contributing to the semiconductor market growth. The electronics system design manufacturing market is the fastest growing industry in India. Artificial intelligence (AI) is the development of intelligent hardware or software that can copy human activities like learning and problem-solving. Semiconductors are expected to play an important role in the AI opportunity's acceleration.
Demand from end-user Industries:
The huge demand for semiconductors from end-user industries like industrial machinery, automobiles, telecommunication equipment, office automation, among others for computing purposes is expected to accelerate the growth of the semiconductor market in the coming years.
 The publication titled "India Semiconductor Market Outlook to 2027- Driven by increasing demand by end user industries and increasing adoption for smart devices" provides a comprehensive analysis of the semiconductor industry by analyzing historical statistics and corresponding developments in the semiconductor market. The market growth declined during COVID as it impacted the workforce and operations, the operations of the customers, and those of the respective vendors and suppliers. Given the consolidated competition structure in the semiconductor manufacturing industry, analysts have elaborated on competitive landscape of major manufacturing players on the basis of business model and operational parameters. The report also covers a snapshot on the players business model, value chain analysis, growth drivers, Porters 5 forces analysis, impact of COVID-19 and factors governing the future outlook of industry. The report also provides comprehensive insight on the market size and segmentation of the industry. The report highlights the pain points of the semiconductor manufacturing industry along with detailed company profiles of major players in India. The report concludes with projections for future industry market size, market segmentations and analyst take on future market scenario.
Key Segments Covered in Indian Semiconductor Market
By Type of Semiconductors
Intrinsic
Extrinsic
VLSI
Embedded Software
Electronic Design Automation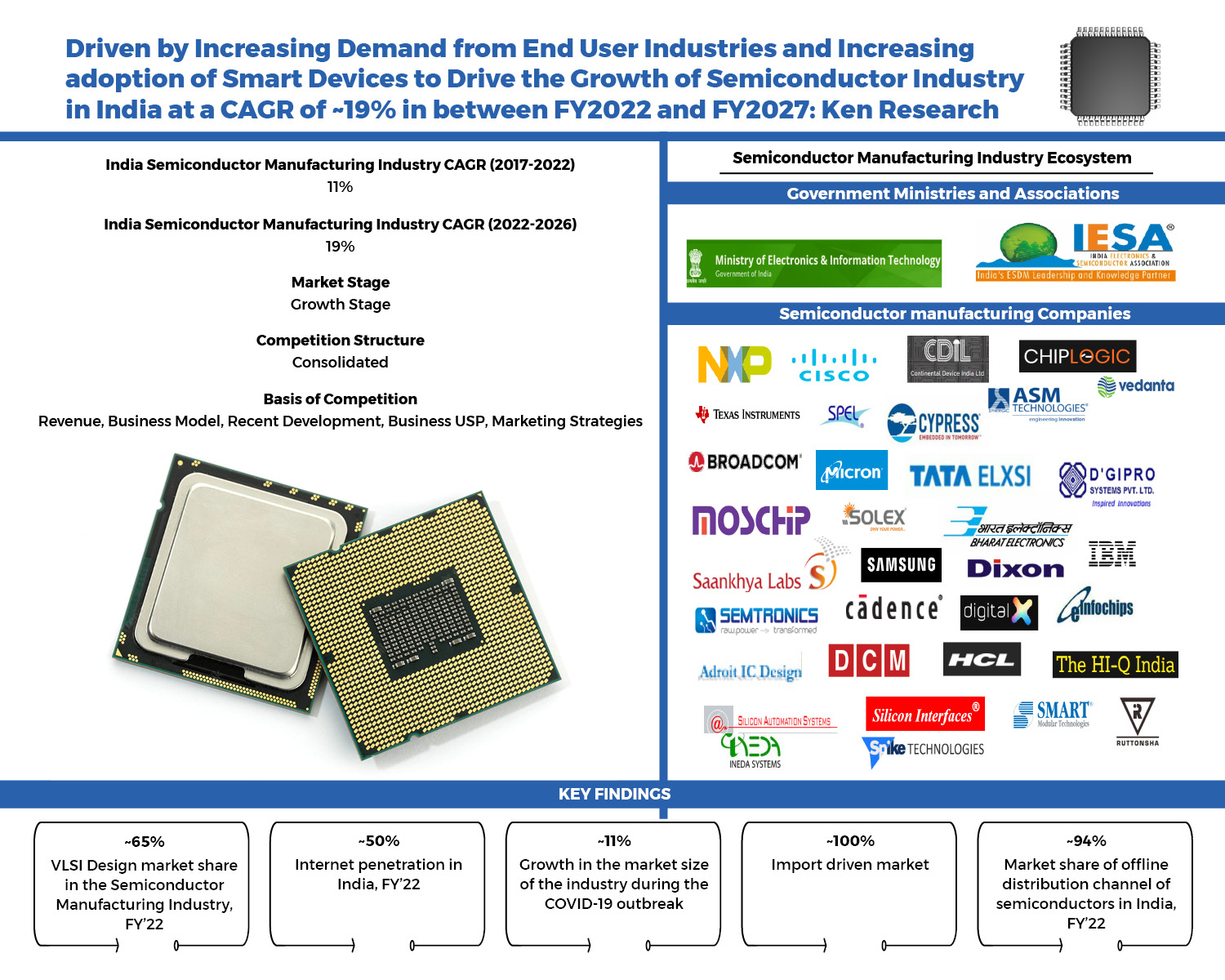 North
South
East
West
Mobile
IT
Automotive
Consumer Electronics
Others
By Type of Distribution Channels
Online
Offline
International
Local
Time Period Captured in the Report:
Historical Period: FY 2017-2022
Forecast Period: FY 2023F-2027F
Semiconductor Manufacturing Industry Players
NXP
Broadcom
Samsung
Moschip
Texas Instruments
Saankhya Labs
Key Topics Covered in the Report
Ecosystem of Semiconductor Industry

Business Lifecycle and Value Chain Analysis Semiconductor Industry

Market Overview of Semiconductor Industry

Market Size of Semiconductor Industry

Market Segmentation of Semiconductor Industry by type of semiconductors, type of design, type of application, type of region, type of distributors, type of distribution channel

Competitive Scenario of the Semiconductor Industry

Issues and Challenges in Semiconductor Market

Trends and Developments in the Semiconductor Industry

Porter's Five Forces analysis of the Semiconductor Industry

Growth Drivers of Semiconductor Industry

Challenges and Restraints in the Semiconductor Industry

Government Rules and Regulations in the Semiconductor Industry

Impact of Covid-19 on Semiconductor Industry

Future Market Size of Semiconductor Industry

Future Market Segmentation of Semiconductor Industry by type of semiconductors, type of design, type of application, type of region, type of distributors, type of distribution channel

Analyst Recommendations

Research Methodology
For more information on the research report, refer to the below link:
India Semiconductor Market Major Players
Related Reports
UAE Data Center and Cloud Services Market Outlook to 2026F – Driven by Rapid Digital Penetration along with Increasing Investments to meet the Rising Demand for Data Storage and Cloud Services
India Social E-Commerce Market Outlook to 2027 (Second Edition): Driven by growing internet penetration rate and consumers shifting preference towards availing digital medium for purchases
Follow Us
LinkedIn | Facebook | Twitter | YouTube
Contact Us:
Ken Research
Ankur Gupta, Head Marketing & Communications
+91-9015378249