May 2022 | Kuwait News
Entry of well-known global players such as KGL and DHL, shifting to an asset-light model thereby encouraging the 2PL and 3PL demand
Government Investment in Logistics Sector: Kuwait logistics and warehousing market has evolved in recent years owing to rising globalization, which has increased trade activities in the country. Kuwait government's plans to invest across strategic sectors under Kuwait Development Plan (KDP) 2015-2020 has positively impacted the market.
Kuwait Warehousing Market Research Report
Strong End User Demand & High Growth Segments: The increasing number of restaurants, fast-food chains, and food delivery apps such as Deliveroo, Talabat and others are enhancing the availability to consumers, resulting in strong growth in the Kuwait food and beverage industry. In Mina Abdullah region, one cannot store the food items as oil companies are located in the nearby region which makes the atmosphere conditions unfavorable to store food and beverage items.
Major Cities emerging as Warehousing Hot Bed: Economically Developed cities of the major warehousing hubs in Kuwait are located in areas such as Mina Abdullah, Sulaibiya, Shuwaikh and Ardiya with Mina Abdullah occupying majority of the total warehousing space. Shuwaikh and Al-Rai are the largest non-oil industrial areas and contains many small workshops, several large plants producing construction materials, as well as various wholesale and retail businesses. The light industries are primarily located in Mina Abdullah, Sulaibiya, Jahra with mainly assembly-type plants, printing presses, food and beverages factories and warehousing.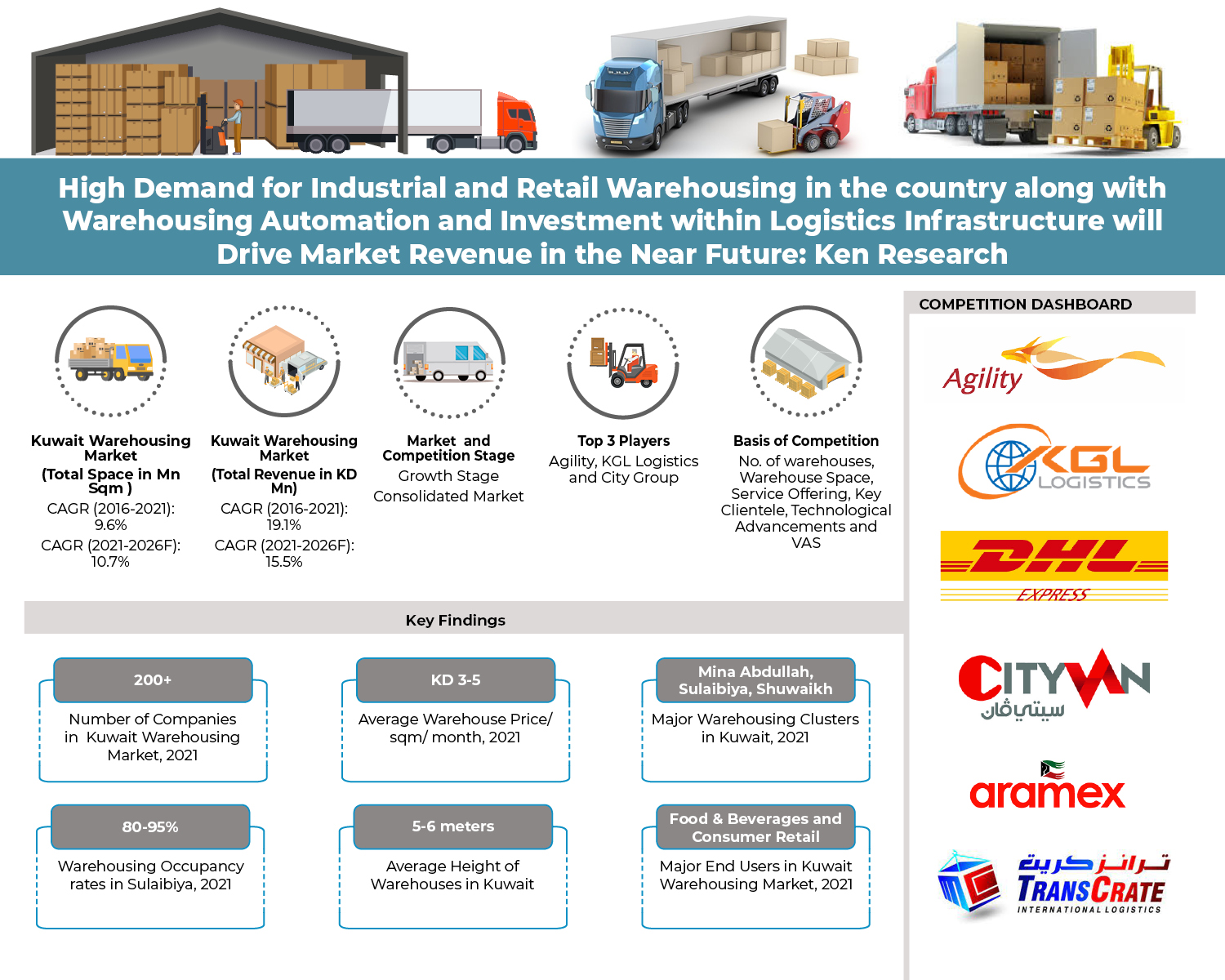 Limited Availability of Warehouses: The country suffers from a shortage of warehousing stores for foodstuffs, pharmaceuticals, building materials, and even consumables. Most of the existing warehouses have a 90-95% occupancy rate. Aramex has selected the Agility Logistics Park (ALP) in Sulaibiya as the location for its new 16,000 SQM e-fulfillment center in Kuwait. Multiple such initiatives by government are also in the pipeline.
The report titled "Kuwait Warehousing Market Outlook to 2026F– "Driven by Rise in Demand for Technologically Advanced Warehouses by Different End Users" provides a comprehensive analysis on the status of the warehousing market in Kuwait. The report covers various aspects including overview of transportation infrastructure, industrial landscape of Kuwait, warehousing market size and segmentations, trends and developments, issues and challenges, regulatory landscape, value chain analysis, competitive scenario and emerging technologies in the industries. The report concludes with market projections for future of the industry including forecasted industry size by revenue and business activity.
Key Segments Covered
By Captive and Logistics Companies
Logistics Companies
Captive Companies
By Licensed and Non Licensed Warehouse
Licensed Warehouses
Non-Licensed Warehouses
By Grade
Grade A
Grade B and others
By Commercial Models
Built to Suit Model
Long Term Leasing Model
Rental Models by 3PL
By Warehouse Type
Dry & Ambient
Cold Storage
Open Yards
Agriculture and Other Warehouses
By End Users
Food & Beverages
Consumer Retail
Healthcare
Automotive and Industrial Equipments
Consumer E-Commerce
Others
By Consumer E-Commerce
E-commerce Delivery Stations
Dark Kitchens/Stores
Others
By Region
Mina Abdullah
Sulaibiya
Shuwaikh
Ardiya
Jahra
Others
Request for Free Sample Report @ https://www.kenresearch.com/sample-report.php?Frmdetails=NTc0NDQz
Companies Covered
Agility Kuwait
KGL Logistics Kuwait
DHL Kuwait
City Group
Aramex
TransCrate Logistics
Key Target Audience
International Domestic Freight Forwarders
Warehousing Companies
Logistics Companies
Logistics Consultants
Time Period Captured in the Report:-
Historical Period – 2016-2021
Forecast Period –2021-2026F
Key Topics Covered in the Report
Executive Summary
Kuwait Country and Logistics Sector Overview
Snapshot of Industrial Market Landscape in Kuwait
Major Regulations for the Warehousing and Logistics Industry in Kuwait
Emerging Technologies in Kuwait Warehousing Market
Key Trends in Kuwait Warehousing Market
Major Challenges in Kuwait Warehousing Market
Competitive Landscape in Kuwait Warehousing Market
Strengths and Weaknesses of Major Warehousing Players in Kuwait
Detailed Analysis on Kuwait Warehousing Market (Market Size, 2016-2021; Market Segmentation; Market Shares; Competition; Future Market Size, 2026F)
Competitive Landscape in Kuwait Warehousing Market
Analyst Recommendations
Related Reports
UAE Cold Chain Market Outlook To 2025 – By Cold Storage (Ambient, Chilled And Frozen Warehousing) And Cold Transport (Land, Sea And Air), By End User (Dairy Products, Meat And Seafood, Pharmaceuticals, Fruits And Vegetables And Others) And By Ownership (Integrated And Contract Logistics)
Turkey Logistics And Warehousing Market Outlook To 2025 – By Domestic And International Freight Forwarding Throughput, Revenue & Flow Corridor (Road Freight And Pipelines, Sea, Air And Rail Freight), By Warehousing (Industrial / Retail, Container Freight / Inland Container Depot & Cold Storage), By 3PL, Courier Express & Parcel, Domestic And Cross Border E-Commerce Logistics
Contact Us:-
Ken Research
Ankur Gupta, Head Marketing & Communications
+91-9015378249