January 2022
"Attractive tourist destinations coupled with experience savvy consumers will drive the restaurant industry in Istanbul"
Tourist Attraction of Istanbul: Istanbul is a unique trans-continental city with a population of 15.5 Mn people residing on both sides of the Bosphorus strait. The European side of the city is highly preferred by tourists due to presence of key tourist attractions in Fatih, Sariyer, Sisli, Beyoglu and availability of 500+ accommodation facilities with 100,000+ beds. The Asian side is known for its calmness, rich cultural history in attraction places of Kadikoy and Uskudar. There is a significant influx of tourist which makes Istanbul a prominent location for food and beverage sector. The number of foreign visitors to Istanbul reached record high of ~14.9 Mn in 2019 before the pandemic took a toll on the tourism sector.
Growing Agro-Food Sector: The location of Turkey and proximity to Europe, Middle East and Africa acts as a key advantage when it comes to trading. Turkey is a key foreign trade player when it comes to the agro-food sector. The exports and imports of Turkey in this sector has been surging at a CAGR of ~10% and ~12% respectively between FY'02 and FY'20. Primarily the agro-food imports comprise of food ingredients which are processed domestically to finally export to partner countries, resulting in trade surplus for Turkey. The major import partners of Turkey include Russia, Argentina, Netherlands, Germany, Ukraine, United States, Brazil while major export countries are Iraq, Germany, Saudi Arabia, Syria, Netherlands, UK; results in netting a trade surplus of $5.5 Bn in 2020
Online Food Delivery Startups: Outbreak of COVID-19, and restrictions with respect to dine-in facilities prompted the shift in customer preference towards online food delivery segment. Restaurants changed their perspective & partnered increasingly with Online Food Delivery Platforms Istanbul. One of the key food delivery player, Yemeksepeti added 32,000+ restaurants in 2020. There is a huge addressable market which resulted players like Fuudy, Tikla Gelsin, Trendyol Yemek, Zomato launching their services in Turkey.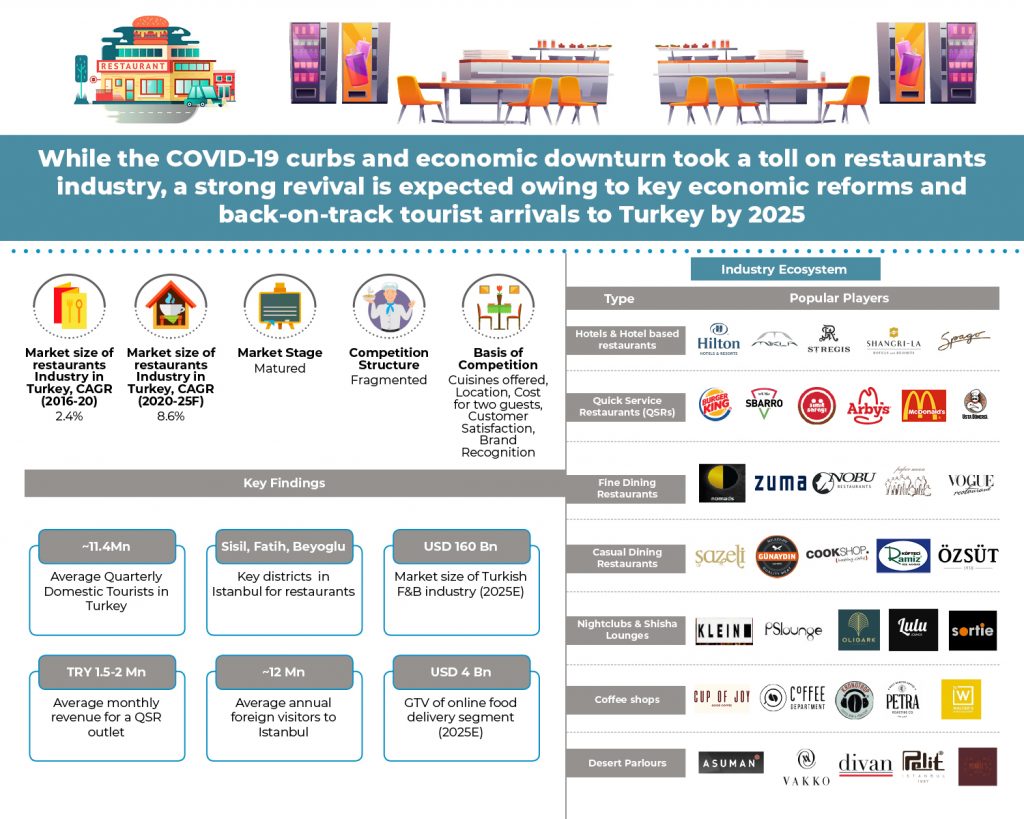 Impact of COVID-19: Similar to other neighbouring countries, Turkey also faced the impact of the pandemic which resulted in imposition of counter measures. Reduction in restaurant dine-in capacity to 50% in the initial phase followed by a closure of all dine-in spaces hampered the industry. Due to the disruptions, food delivery segment led by Yemeksepeti, Getir Yemek and other applications witnessed surge in its transactions. Restauranteurs also started listing themselves on these platforms to fetch orders and ensure business continuity. Additionally, delivery only kitchens or cloud kitchens began to flourish as adoption of food delivery applications from customers started increasing.
The report titled "Restaurant Industry in Istanbul – Outlook to 2025: Driven by changing consumer behaviour and rebound in tourism activity" by Ken Research suggested that the Restaurant Industry in Istanbul is expected to grow further in the near future, with increasing experience savvy consumers and online food delivery ecosystem. The market is expected to register a positive CAGR of ~10.3% in terms of transaction value during the forecast period of FY'21-FY'26.
Key Segments Covered in Restaurant Industry in Istanbul
Market Size of Restaurant Industry in Turkey on the basis of transaction value
Market Size of Restaurant Industry in Istanbul on the basis of transaction value
Segmentation by type of visitor

Domestic visitor
Foreign visitor
Key Target Audience
Restaurants and Hotel Chains
Food Aggregators
Catering Companies
Real Estate Companies
Potential Market Entrants
Time Period Captured in the Report:
Historical Period: 2015-2021
Forecast Period: 2021-2025F
Companies Covered:
Quick Service Restaurants:

McDonald's
Burger King
Sbarro Pizzeria
KFC
Popeye's
Simit Sarayi
Panista
Usta Donerci
Casual Dining Restaurants:

Big Chef's
Midpoint
Happy Moon's
Sazeli
Gunaydin
Cookshop
Emirgan Sutis
Kofteci Ramiz
Fine Dining Restaurants:

Zuma
Paper Moon
Nusr-et
Da Mario
Nobu
Vogue
Spago
360
Sunset Bar & Grill
Lacivert
Hotel based Restaurants:

16 Roof, Swissotel
Mikla
Spago
Tugra
Shang Palace
Toro
Novikov
Middle Eastern Cuisine Restaurants:

Tahin
Hatay Medeniyetler Sofrası
Buuzecedi
Arada Beyrut Cafe
Al Hallab
Arada Endulus
Nomads
Nightclubs:

Sorite
360
Klein
Ulus 29
Oligark
Masquarade
Coffee Shops:

Espresso Lab
Viyana Kahvesi
Petra
Kronotrop
Kahve Dunyasi
Cup of Joy
Coffee Department
Ministry of Coffee
Walter's Coffee
Coffeetopia
Patisserie and Desert Parlours:

Vakko
Baylan
Mendel's
Maia
Divan
Pelit
Asuman
Request For Sample Report @ https://www.kenresearch.com/sample-report.php?Frmdetails=NTA4MDY0
Key Topics Covered in the Report
Socio-Demographic Outlook of Turkey
Economic Outlook of Turkey
Overview of F&B Industry in Turkey
Snapshot on Online Food Delivery Platforms in Turkey
Market Size of Restaurant Industry in Turkey
Socio-Demographic Outlook of Istanbul
Foreign Tourist Arrival in Istanbul
Major District Clusters in Istanbul
Market Size of Restaurant Industry in Istanbul
District Analysis of Istanbul in terms of Location, Ecosystem and Business Operations
Analysis of Categories of Restaurant in terms of Operating Parameters
Analysis of Quick Service Restaurants
Analysis of Casual Dining Restaurants
Analysis of Fine Dining Restaurants
Analysis of Hotel Based Restaurants
Analysis of Shisha Lounges
Analysis of Cuisine Specific Restaurants
Analysis of Nightclubs
Analysis of Coffeeshops
Analysis of Patisserie and Desert Parlours
Business Environment in Turkey
Impact of COVID-19 on Restaurant Industry
Future Outlook of the Industry
Related Reports
Qatar Retail Restaurant Industry Outlook to 2025 – Hosting of FIFA World Cup 2022 is anticipated to Drive Number of Domestic and International Visitors 
Global Mobile Food Services Industry Research Report 2021 Segmented by Major Market Players, Types, Applications and Countries Forecast to 2027
Follow Us
LinkedIn | Instagram | Facebook | Twitter | YouTube
Contact Us:-
Ken Research
Ankur Gupta, Head Marketing & Communications
+91-9015378249