Few Global Players Dominate the Market despite the Presence of about ~500 Competitors Comprising a Large Number of Country-Niche Players and Some Specialist Players, finds a recent market study on the Global Nutraceuticals Market by Ken Research.
Nutraceutical is a broad term used to describe products derived from food sources that provide additional health benefits in addition to the basic nutritional value found in food. These products can be classified based on the natural source, the pharmacological condition, and the chemical composition of the product. Nutraceuticals are most commonly classified into four categories, including dietary supplements, functional foods, medicinal foods, and pharmaceuticals. Nutraceuticals have potential nutritional, safety, and therapeutic benefits. These products are considered a healthy source for preventing life-threatening ailments such as diabetes, kidney, and gastrointestinal ailments, and various other infections.
Ken Research shares 3 key insights on the competitive landscape of this dynamic market from its latest research study.
Global Players Constitute ~10% of the Total Number of Competitors, While Country-Niche Players Dominate Representing ~60% of Total Competitors.
A comprehensive competitive analysis conducted during the Research Study found that the global Nutraceuticals market is competitive with ~500 players, including globally diversified players, regional players, and many country-niche players. The country-niche players comprise about ~60% in terms of the number of companies followed by regional players with ~30% of the total competitors. All the players in the industry are manufacturing dietary supplements, functional food, and functional beverages type of nutraceuticals products in the form of powders, capsules and tablets, gummies, drinks, and others. Nutraceuticals can be extracted from plants, animals, or microbes and are distributed through drug stores/pharmacies, online channels, specialty stores, and hypermarkets/supermarkets.
The Increasing Prevalence Of Metabolic Disorders And a Surge In Sports Activities Are The Factors Expected To Be The Primary Drivers Of The Market
Detailed comparative analysis of key competitors available within the Research Study shows that major players such as Amway Corp, BASF SE, Cargill, Incorporated, Danone SA, DuPont, DSM, and others are highly focused on providing a significant number of nutraceutical products that can be used across multiple end-user industries, including healthcare, food & beverages, pharmaceuticals, and more. Furthermore, several companies and organizations are aggressively focusing on acquisitions and mergers with specialized players to develop different methods used to manufacture nutraceuticals.
Request For Sample Report @
https://www.kenresearch.com/sample-report.php?Frmdetails=NTk2MDk4
In March 2022, Tate & Lyle acquired Quantum Hi-Tech Biological, which is a prebiotic dietary fiber business in China, of ChemPartner Pharmatech for a value of USD 237 million. The strategic acquisition was aimed to strengthen the company's dietary fiber market in China and Asia.
In February 2022, ABF Ingredients, a subsidiary of Associated British Foods acquired Fytexia Group, which is a developer of active ingredients for various dietary supplements. The strategic acquisition was aimed to expand ABFI's product portfolio in the nutritional, pharmaceutical, and food sectors.
In November 2021, ArchiMed acquired SUANFARMA, a key manufacturer and distributor of active nutraceutical ingredients and pharmaceuticals, to outsource their vital products globally, which will boost their sales and profit growth.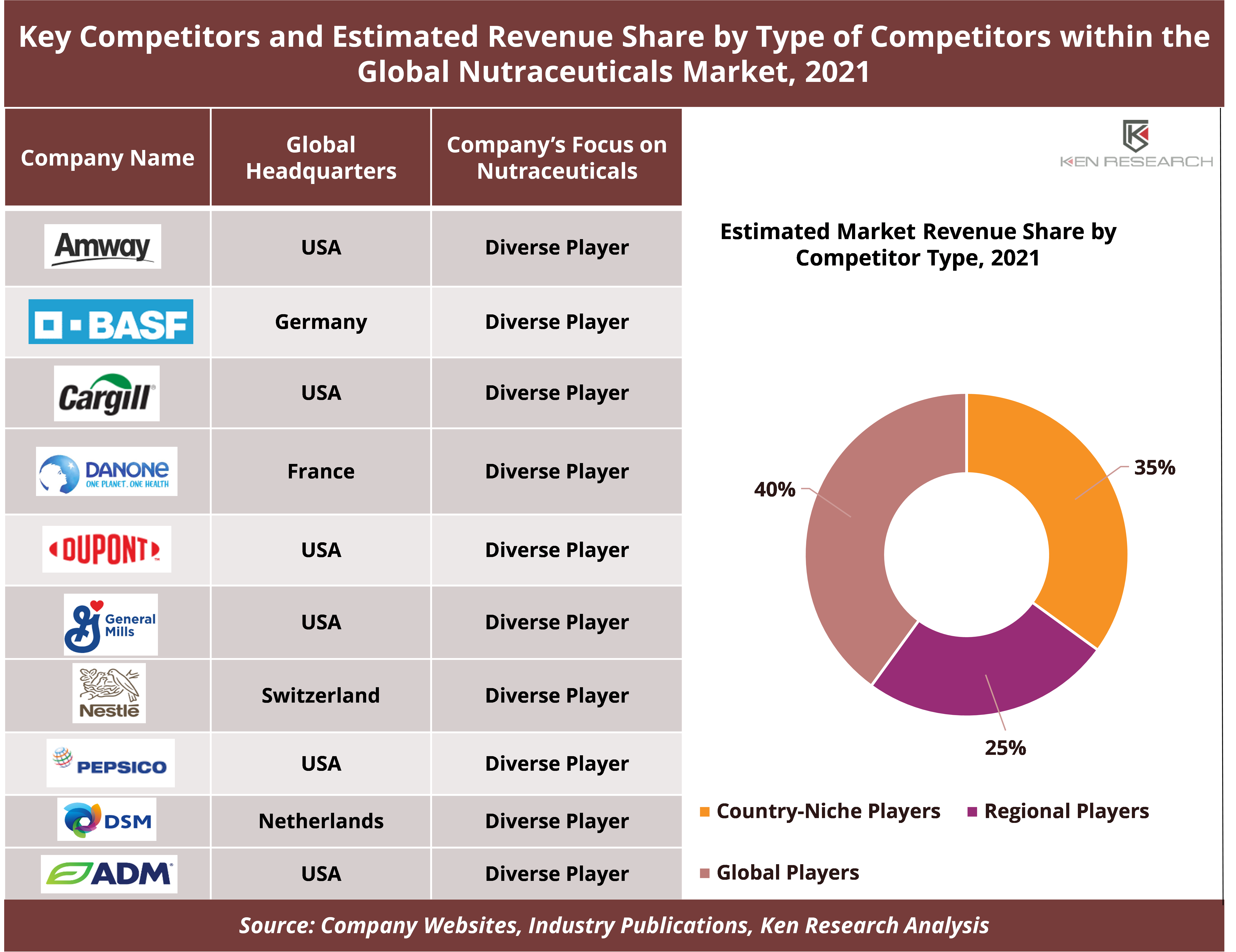 Increased Government Initiatives and New Strategical Investments in the Healthcare and Cosmetics Industry Promoted Supplements Products that Led to Major Industry-Wide Developments, Acquisitions, and Product developments in the industry.
Indian Government launched Food Fortification Initiative (FFI) to explore opportunities to build and strengthen large-scale cereal grain fortification programs. FFI is currently working with four states, Haryana, Madhya Pradesh, Maharashtra, and Rajasthan to support quality assurance, quality control, advocacy, and project coordination in order to establish sustainable environments for wheat flour and rice fortification.
In November 2021, ADM acquired enzymes & probiotics company, Deerland Probiotics & Enzymes. The acquisition between both companies helped in the growth and expansion of the product portfolio related to probiotics.
In August 2022, ADM announced the processing of ultra-high protein (UHP) products with the farm tech company Benson Hill. The company will launch the commercialized product in partnership with Benson Hill by 2023. The product launch will help the company to grow its product portfolio of supplements.
In February 2022, Nestlé announced the acquisition of core brands of The Bountiful Company, including Osteo Bi-Flex, Nature's Bounty, Puritan's Pride, Solgar, Ester-C, and Sundown. The acquisition established the company as the industry leader in herbals, vitamins, minerals, and supplements.
For more information on the research report, refer to the below link:
Demand for Nutraceuticals in Consumer Sector
Read Also –  
3 Key Insights on Competitive Landscape in the Global Hospital Bed Market
Follow Us –
LinkedIn | Instagram | Facebook | Twitter | YouTube
Contact Us: –
Ken Research
Ankur Gupta, Head Marketing & Communications
+91-9015378249