Adoption of Advanced Technology, Integrated Services are contributing to the growth of Facility Management Industry in KSA: Ken Research
Increasing demand for Residential Units: The demand for residential housing units is rapidly increasing in Saudi Arabia. Factors responsible for such growth are growth in the young population, an increase in the immigrant population, rising income levels, and the introduction of a number of recent government reforms to ease access to mortgage finance. The Government policies like 15% VAT exemption on real estate deals, large scale affordable housing program are boosting residential real estate, thereby contributing to the market growth.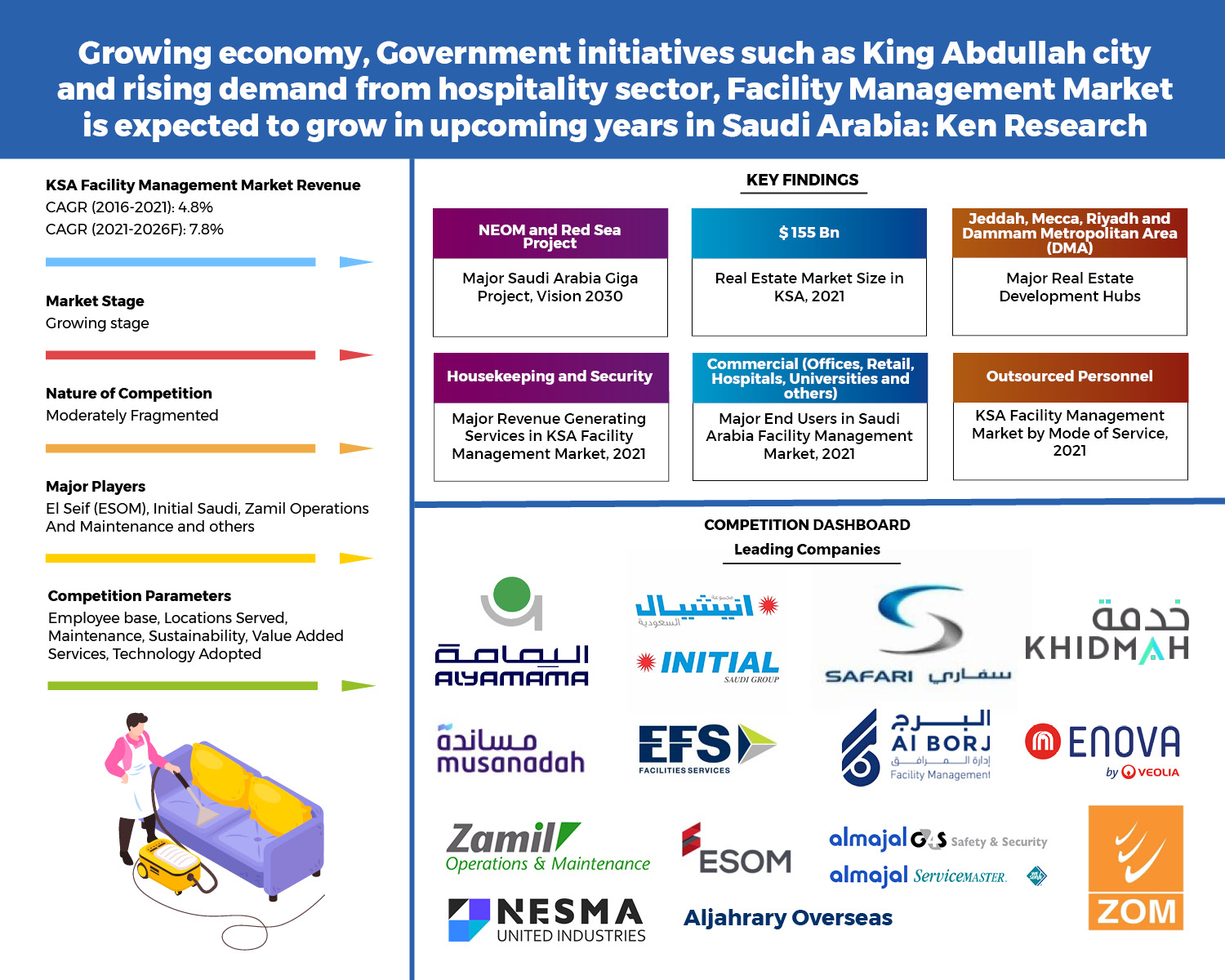 Focus on Tourism Industry: Tourism department signed MOUs with local banks to finance projects valued up to $40 Bn to stimulate tourism investment. In June 2020, the Ministry of Tourism announced plans to start a Tourism Development Fund with an initial $4 Bn investment. The government is promoting tourism in KSA leading to the development of hotels, resorts, shopping complexes, which is increasing the demand for various facility management services.
Saudi Vision 2030: Saudi Vision 2030 is a strategic framework to reduce Saudi Arabia's dependence on oil, diversify its economy, and develop public service sectors.
Under the program, the government has announced to deploy public-private partnerships to glorify its transportation, educational, healthcare, infrastructure projects which is further boosting the demand for facility management services.
Price Sensitivity: Saudi facility management market is highly competitive with many players operating in the country at the similar levels of revenues and margins. High price sensitivity amongst the end users, leading them to prioritize cost of services over quality makes the price competition adverse among the service providers. This is mainly due to the low awareness amongst end users about the benefits of using Facility Management services.
Analysts at Ken Research in their latest publication "KSA Facility Management Market Outlook to 2026F– Driven by the government initiatives to promote Tourism along with Saudi Vision 2030 and infrastructure developments in the country" By Ken Research observed that Facility Management market is an emergent market in KSA at a rebounding stage from the economic crisis after pandemic. The rising government policies and demand for facility services, inclusion in real estate plans along with government initiatives is expected to contribute to the market growth over the forecast period. The market is expected to grow at a 7.8% CAGR during 2021-2026F owing to the rise in economy of the country, increasing consciousness towards looks and new government policies.
Key Segments Covered in the report
KSA Facility Management Market
Soft Services

Hard Services
Housing keeping

Security

Landscaping

Others
Electromechanical Services (including HVAC)

Operations and Maintenance Services

Fire Safety and Security Systems
Integrated facility management (IFM)

Bundled services

Single services
By End User Sector

Commercial (Includes Offices, retail, infrastructural)

Residential

Industrial
Download for Sample Report @ https://www.kenresearch.com/sample-report.php?Frmdetails=NTk2MDY3
Outsourced Personnel

In-House Personnel
Key Target Audience
Factories

Plants and Industries

Hotels

Hospitals

Malls

Companies and offices

Tourism Agencies

Government Bodies & Regulating Authorities

Facility management companies

Real estate companies
Time Period Captured in the Report:
Historical Period: 2016-2021
Forecast Period: 2021-2026F
Companies Covered:
Al Yamama

Aljahrary Overseas

Zahran Operations & Maintenance

Zamil Operations and Maintenance

Almaja G4sl Facility Management

Initial Saudi

Safari

ENOVA

Nesma United

Alborj Facility Managment

Khidmaah

Saudi Emcor (EFS)

Musanadah Facilities Management (MFM) 

El Seif (ESOM)
Key Topics Covered in the Report
Saudi Arabia Real Estate Market Overview, 2021

Major Real Estate Giga Projects in Saudi Arabia

Saudi Arabia Facility Management Market Ecosystem

Business Cycle, Genesis and Timeline of Saudi Arabia Facility Management Market

Value Chain & Vendor Selection Process of KSA Facility Management Market

Business Acquisition Process in Saudi Arabia Facility Management Market

Saudi Arabia Facility Management Market Size, 2021

Saudi Arabia Facility Management Market Segmentation, 2021

SWOT Analysis of Saudi Arabia Facility Management Market

Key Growth Drivers in Facility Management Market in Saudi Arabia

Trends and Developments in Saudi Arabia Facility Management Market

Major Challenges Faced by the Saudi Arabia Facility Management Market

Competition Framework for Saudi Arabia Facility Management Market

Future Outlook and Projections of the Industry, 2021-2026F

Market Opportunities and Analyst Recommendations
For more information on the research reports, refer to below link:
KSA Facility Management Market Outlook to 2026F: Ken Research
Related Reports:
Qatar Facility Management Market Outlook to 2026F- Driven by Rising End-Users Awareness, Improving Technology and Government's Strong Initiatives regarding Infrastructure
Chile Facility Management Market Outlook to 2023 – By Soft Services (Housekeeping, Security, Landscaping and Others); By Hard Services (Electromechanical Services, Operations and Maintenance Services, Fire Safety and Security Systems); By Integrated Services; and By End User Sectors (Industrial and Public Infrastructure, Retail and Commercial, Hospitality and Residential)
Vietnam Facility Management Market Outlook to 2023 – By Single, Bundled and Integrated Services; By Soft Services (Housekeeping, Security, Landscaping and Others) and Hard Services (Electromechanical Services, Operations and Maintenance Services, Fire Safety and Security Systems), By End User Sectors (Commercial, Industrial, Hospitality, Residential, Infrastructure and Others)
Follow Us