The report titled "KSA Online B2B Grocery Market Outlook to 2026F– Driven by Increasing Number of Smartphone Users and Changing Shopping Habits of Bakalas in the Region Due to Convenience and Online Experience" provides a comprehensive analysis of the Online B2B grocery market in Saudi Arabia. The report also covers FMCG market, B2C Grocery Market, B2C online grocery market, B2C offline grocery market and B2C grocery market size by regions and overview and genesis of the industry, market size in terms of number of orders, region wise trends, customer analysis on the basis of type of bakalas and market potential, major growth drivers, tech disruptions and innovations in the Online B2B grocery market. The report finally concludes with competitive landscape including competition scenario, cross comparison, and company profiles of major players including list of services they offer, credit facilities and their plan to procure, business cycle and operating model in Online B2B grocery market in Saudi Arabia. Macroeconomic factors impacting the industry and analyst recommendations are also included in the report.
Detailed Analysis on the Online B2B Grocery Market:
Saudi Arabia, with an Urban Population of 30.4 Mn which accounts for 83% of the total population in the country, which defines the developing stage of the nation. A G20 economy with a young, highly educated population, Saudi Arabia holds exciting potential and opportunity for investors. Saudi Arabia has the largest social media presence in the world with ~39 Mn mobile subscribers amounting to 11% of mobile penetration in MENA region in 2021.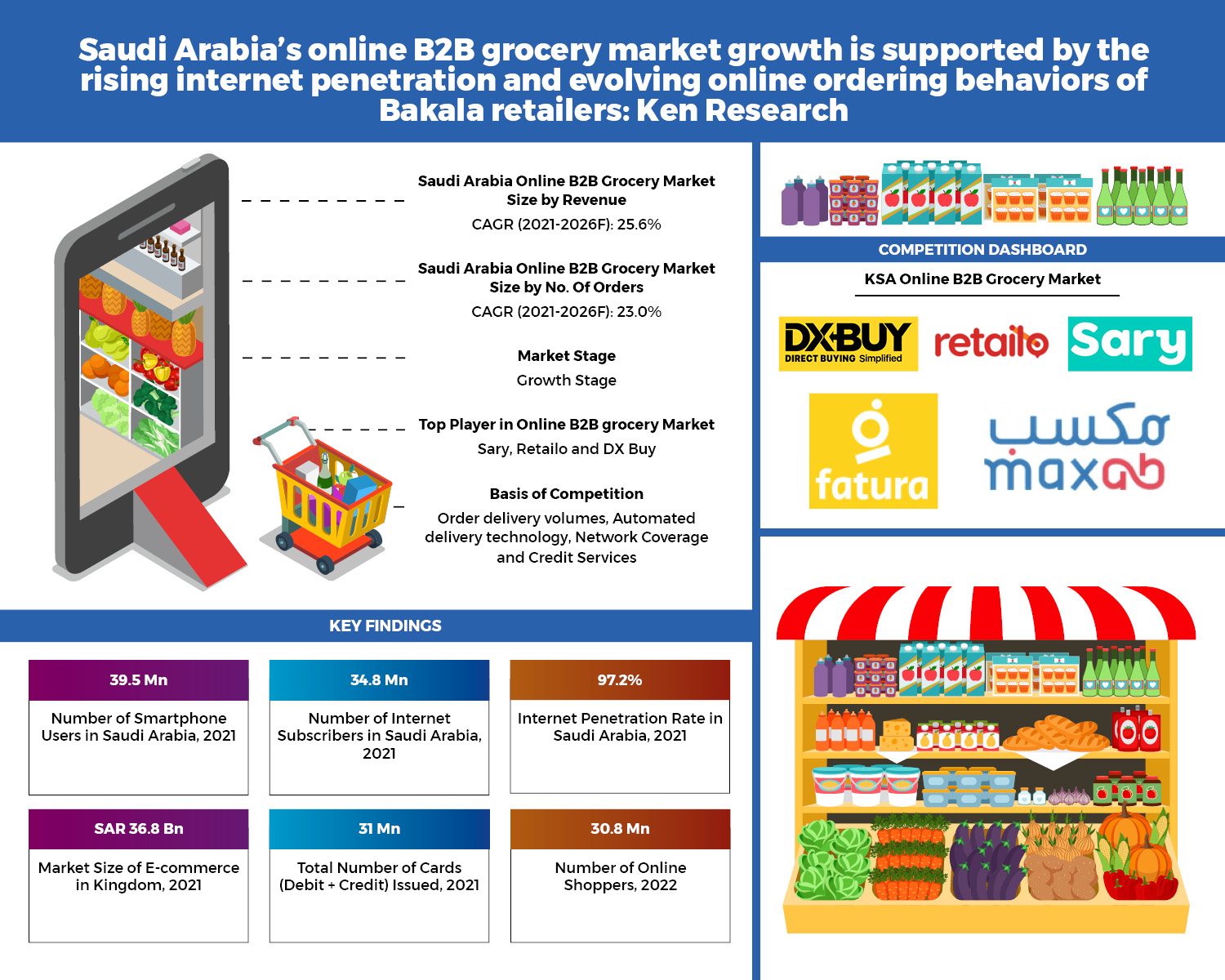 The Online B2B grocery market in Saudi Arabia has been anticipated to continue to grow at a double digit CAGR during 2021-2026F. Given the Rapid digitalization investments by global players, Increasing smartphone and internet penetration, the sector will witness growth in the coming years.
The competition in Saudi Arabia B2B grocery market was observed to be moderately concentrated. Sary acquires majority of the market share in Saudi Arabia with other players includes DX Buy, Fatura, retailo and Max Ab. Advance delivery technologies, Data Analytics and Machine Learning to improve operations in the future and will provide customer experience to the retailers.
KSA Online B2B Grocery Market Segmentation
By Product Category: Oil and dairy products are dominating the market followed by beverages, staples and confectioneries in 2021.
By Mode of Sales: Majority of the revenue is generated through cash on delivery mode in 2021 while other mode of sales are expected to grow in future.
By Point of Sales: Majority of the revenue is generated form Medium grocery stores and HoReCa as adoption rates of online B2B grocery platforms are comparatively higher.
By GMV and By Number of Orders Per Region: Riyadh and Jeddah are generating the highest GMVs followed by Dammam, Mecca and Medina in 2021.
By Number of Orders Per Region: More than 50% of the orders are from Riyadh and Jeaddah due to higher urbanization and large number of small shops in 2021.
Bakala Retailer Customer Analysis: Type of Bakalas: Unorganized bakals are dominating the overall retailers in Saudi Arabia with Riyadh and Jeddah has the highest number of Bakals retailers followed by Dammam and Mecca.
Request for Free Sample Report @ https://www.kenresearch.com/sample-report.php?Frmdetails=NTgxNjU0
Key Segments Covered
Online B2B Grocery Market
By Product Category:
Oil and Dairy Products
Beverages
Staples
Confectionery & Snacks
Fresh Fruits & Vegetables
Others
By Mode of Sales:
Cash on Delivery
Credit sales
Cashless Payment on delivery
Pre-delivery online payment
By Point of Sales:
Medium grocery stores
Horeca
Small grocery stores
Specialty stores
Hypermarkets
Supermarkets
Traditional channels (e.g., large distributors)
By GMV by Regions:
Riyadh
Jeddah
Dammam
Mecca
Medina
Rest of KSA
By Number of Orders Per Region:
Riyadh
Jeddah
Dammam
Mecca
Medina
Rest of KSA
Bakala Retailer Customer Analysis:
Organized
Unorganized
Key Target Audience
B2B Grocery Platforms
3PL Logistics Companies
Grocery Delivery companies
Last Mile Logistics Companies
Quick Commerce Companies
Integrated Logistics Companies
E-Commerce Marketplace Platform
Retail Companies
Logistics/Supply Chain Industry Associations
Market research and Consulting firms
Time Period Captured in the Report:
Base Year: 2021
Forecast Period: 2021–2026F
Companies Covered:
Major B2B Online Grocery Companies
Sary
Retailo
DX Buy
Max Ab
Fatura
Key Topics Covered in the Report
Executive Summary
Saudi Arabia FMCG Market Overview
Saudi Arabia Online B2B Grocery Market
Saudi Arabia Offline B2C Grocery
Saudi Arabia Online B2B Grocery Market Size
Saudi Arabia Online B2B Grocery Market Landscape
Saudi Arabia Online B2B Grocery Market Segmentation
Saudi Arabia Online B2B Grocery Market End User Analysis
Saudi Arabia Online B2B Grocery Bakala Retailers Analysis
Competitive Landscape Saudi Arabia Online B2B Grocery Market
Future Market Size and Segmentations, 2021-2026F
Covid-19 Impact Saudi Arabia Online B2B Grocery Market
Analyst Recommendations
Case Studies
Related Reports
Indonesia Online Grocery Market Outlook To 2026 – Driven By Changing Shopping Habits Of Consumers And Regional Expansion Of Local & International Players In The Archipalego
Vietnam Online Grocery Market Outlook To 2026 – Market Driven By Increasing Smartphone Penetration, Changing Shopping Habits Of Consumers And Regional Expansion Of The Online Grocery Players
Contact Us:-
Ken Research
Ankur Gupta, Head Marketing & Communications
+91-9015378249