January 2022 | KSA News
Saudi Arabia has been putting efforts towards diversifying its economy away from oil, thus embarking on an ambitious path to become the go-to logistics hub for the region.
Rise in 3PL: 3PL Companies through dedicated software's are solving major challenges in customer deliveries such as small drop size, city traffic and high logistics cost. The companies offer a wide range of logistical services including cross docking for shipping and skipping the warehouse thereby reducing costs, minimizing damage and saving time.
Expanding Freight Aggregator Market: Presence of 0.7-0.8 Mn trucks on road in 2021 is creating a massive opportunity for truck aggregators to expand and onboard carriers. Digital truck aggregator platforms have a large shipper and trucker base and offer services such as freight listing, freight brokerage and online transactions to earn revenue. Trukkin and Trukker are the major digital truck aggregator market of KSA headquartered in Riyadh having different types of fleets to serve esteemed clients.
Growing Warehousing Market: KSA Warehousing Market is rapidly growing @2.4% CAGR (2015-2020) owing to Surge in manufacturing activities, burgeoning international trade, rising domestic consumption and ease in government regulation. Majority of the warehousing space, i.e., 65% of total space comes under the organized state due to strict government regulation regarding licensing and certifications. Increased automation due to rising investment in newer technologies is driving the demand for modern warehouses in KSA.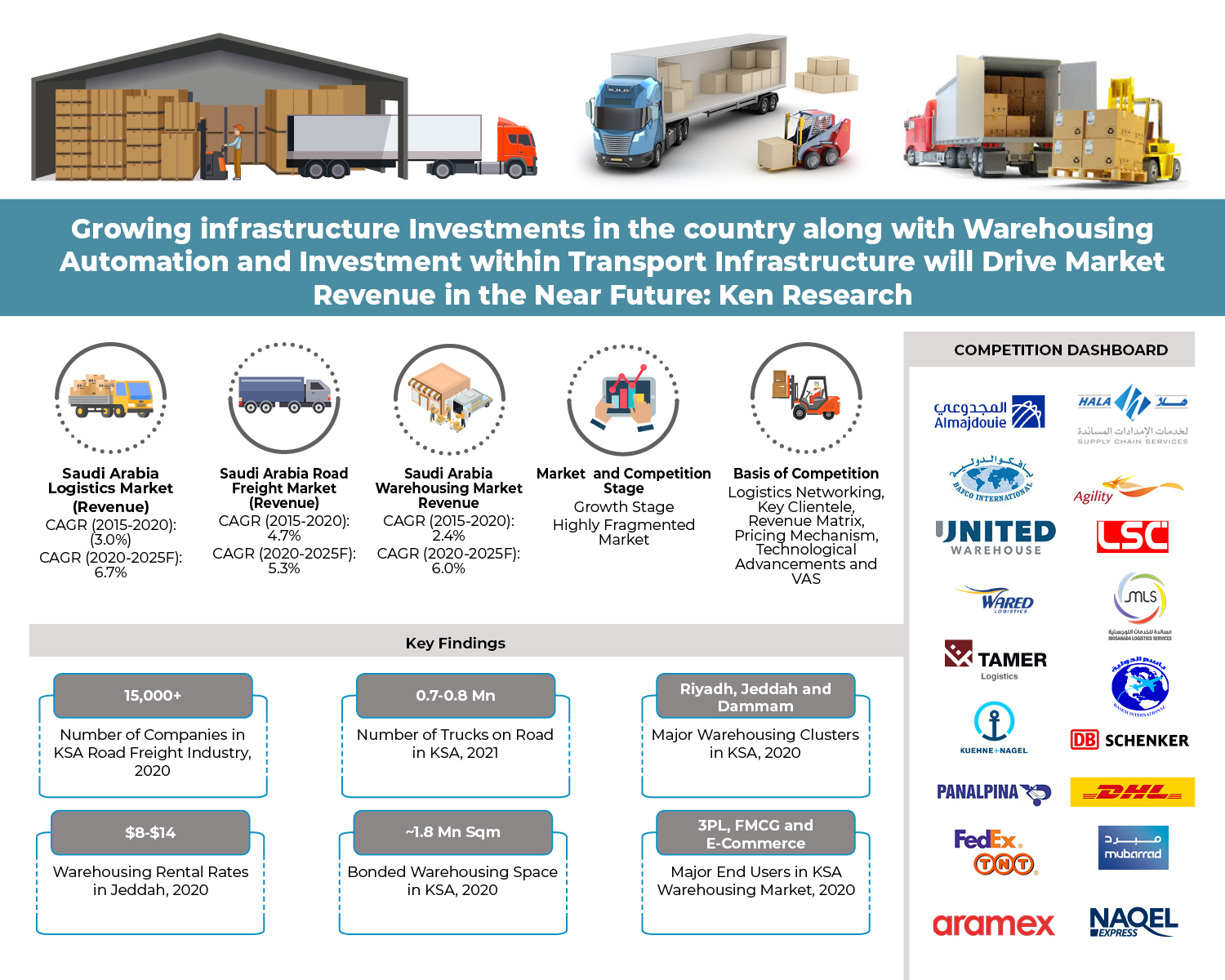 Major Cities emerging as Warehousing Hot Bed: Economically Developed cities of Jeddah and Riyadh in KSA account for largest warehousing supply in 2020 with Dammam having the highest rental rates. Majority of Warehousing space is concentrated in Al Khomra followed by remaining share in Qwaizah, Al Nakhil, Al Kawthar, Al Nuzha & Al Manar. Warehousing in other regions such as Burdaiah, Abha and Medina are underdeveloped with presence of majorly Grade-B warehouses in each city.
The report titled "KSA Logistics and Warehousing Market Outlook to 2025F– Driven by Warehousing Automation and Investment within Transport Infrastructure to Drive Market Revenue" provides a comprehensive analysis on KSA Logistics Market. The report covers various aspects including the current market size and warehousing space, its segmentations viz, by Fleet Operators, FTL/LTL, End Users, Warehousing Business Model, End Users and Regional Analysis, major trends and development, issues and challenges, government regulations and competition benchmarking. The report concludes with market projections for future of the industry including forecasted industry size by revenue and warehousing space.
Key Segments Covered
KSA Road Freight Market Segments
By Type of Fleet Operators
Small Fleet Operators (SFO's)
Medium Fleet Operators (MFO's)
Large Fleet Operators (LFO's)
Food and Beverage
Retail
Oil and gas
Automotive and Spare Parts
Pharma
Others
Request For Sample Report @ https://www.kenresearch.com/sample-report.php?Frmdetails=NTA3NzEz
KSA Warehousing Market Segments
By Business Model
Industrial / Retail Warehouses
Container Freight / ICDs
Cold Storage
Agriculture and Others
Grade A Warehouses
Grade B and others
3PL
FMCG
E commerce
Retail
Automotive and Engineering
Manufacturing
Others
Companies Covered
Almajdouie
Hala Supply Chain
BAFCO Logistics
Agility
United Warehousing Co
LSC warehousing
Wared Logistics
Mosanada Warehousing
Tamer logistics
Basem International Shipping & Logistics Co. Ltd.
Kuehne + Nagel
Panalpina
DB Schenker
DHL
Fedex-TNT
Mubarrad (Saudi Transport & Investment Co.)
Aramex
Naqel Express
Key Target Audience
International Domestic Freight Forwarders
Warehousing Companies
Logistics Companies
Logistics Consultants
Time Period Captured in the Report:-
Historical Period – 2015-2020
Forecast Period –2020-2025F
Key Topics Covered in the Report
Executive Summary
Saudi Arabia Country Overview and Major Economic Zones
Saudi Arabia Logistics Industry Market Size, 2015-2025
Saudi Arabia Road Freight Market
KSA Transportation Market Size, 2015-2025
Overview of Trucking Industry in Saudi Arabia
Commercial Models in KSA Transportation Market
KSA Freight Aggregator Market  Overview
Price Models and Costing Analysis for Trucking Industry in Saudi Arabia
Genesis and Overview of KSA EV Market
Comparison of EV's Capacities with Traditional Vehicles
KSA Warehousing Market Size, 2015-2025
KSA Warehousing Split by Business Model and End Users
Market Trends and Development
Market Issues and Challenges
Government Rules and Regulations
KSA Logistics Market Future Outlook
Upcoming Technologies in KSA Logistics Market
Related Reports
India Logistics Market Outlook To FY24–Driven By Government Infrastructure Push, New Age Logistics Startups, And Technology Innovation
UAE Cold Chain Market Outlook To 2025 – By Cold Storage (Ambient, Chilled And Frozen Warehousing) And Cold Transport (Land, Sea And Air), By End User (Dairy Products, Meat And Seafood, Pharmaceuticals, Fruits And Vegetables And Others) And By Ownership (Integrated And Contract Logistics)
Contact Us:-
Ken Research
Ankur Gupta, Head Marketing & Communications
+91-9015378249