Overall Logistics Market Revenue in the KSA is expected to generate over USD 25 Bn by 2025, owing to Growing infrastructure investments in the country, as per the findings by Ken Research
1.Saudi Arabia is Emerging as a Logistics Hub Due to Its Proximity to 3 Major Regions Having Competitive Cost Advantage Due to Favorable Geographical Location.
Saudi Arabia is at cross roads of International Trade Routes between 3 major regions; Asia, Europe, Middle East & Africa. Furthermore, Saudi Arabia resides directly on Asia-Europe Trade route, with nearly 12% of total container trade moves annually. In addition, Saudi Arabia is a key distribution (transhipment) region to markets of Middle East, Egypt and East Africa; with GCC being the major market for Re Export.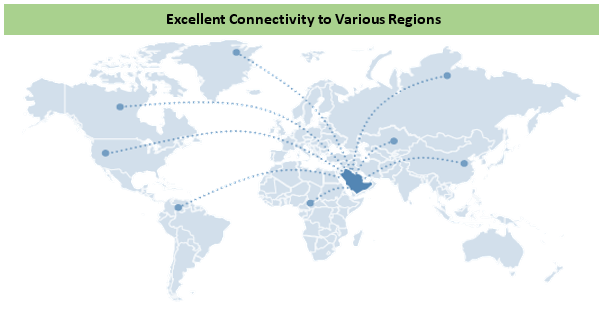 Interested to Know More about this Report, Request for a sample report
2.Sea-based transport is the integral part of Saudi Arabia's international and domestic trade networks with Jeddah Islamic seaport and King Abdulaziz Seaport being the major cargo dealing seaports.
Imports are mainly made through commercial ports including Jeddah, Dammam, Jizan, Jubail and Yanbu ports and exports from industrial ports including Jubail and Yanbu during 2020. Furthermore, SAGIA plans to invest $30 Bn in upgrading facilities that will enable Saudi ports to compete at an international level. An additional investment of $42 Bn has been set aside for developments within King Abdullah Port.
Visit this Link :- Request for custom report
3.KSA is dominated among GCC countries in terms of Length of Roads with leading road networks Al Riyadh, Najran, Aseer, Eastern Region & Al Baha collectively accounting for a total length of almost 1,200 kms.
Various infrastructure projects worth around $150 Mn are being implemented to construct more bridges & tunnels across Jeddah region to ensure smooth traffic flow. Some of them include:
Between King Abdulaziz Street and Ismail Abu Dawood intersection
Prince Majid and Makkah streets
Intersection between Palestine and Andalus Streets.
The Ministry of Transport (MoT) is considering the use of a public-private partnership (PPP) model for new road projects for wider privatization of transportation projects.