Focus on increasing demand of E-commerce sector and rapid integration of automation technology, emergence of new logistics players and Saudi Vision 2030 has supported the market growth.
Influx of Foreign Direct Investment: The country undertook economic diversification and opened doors to industrial, retail and logistics players by allowing 100% FDI ownership in the year 2018. Majority of the international players who are seeking industrial premises in the kingdom requires large warehousing space however, owing to a limited supply of state-of-the-art warehousing facilities. They prefer leasing land and constructing facilities in accordance with their needs and preferences. These factor has led to growth in KSA warehouse automation industry.
Integration of Smart Drones:  The use of Smart drones will disrupt the traditional business models as they are more advance and efficient. For instance, these drones would fly over the warehouse and photograph the aisles to check if the products were misplaced on the shelves or if they ran out, effectively reducing the labor-intensive process of checking stocks around the warehouse. These drones can also be deployed in the stores, where the drone would retrieve a product from a non-public stock room and fly it over to a delivery area where the staff can retrieve the item. Hence, making it a smart and more efficient option for warehouse automation.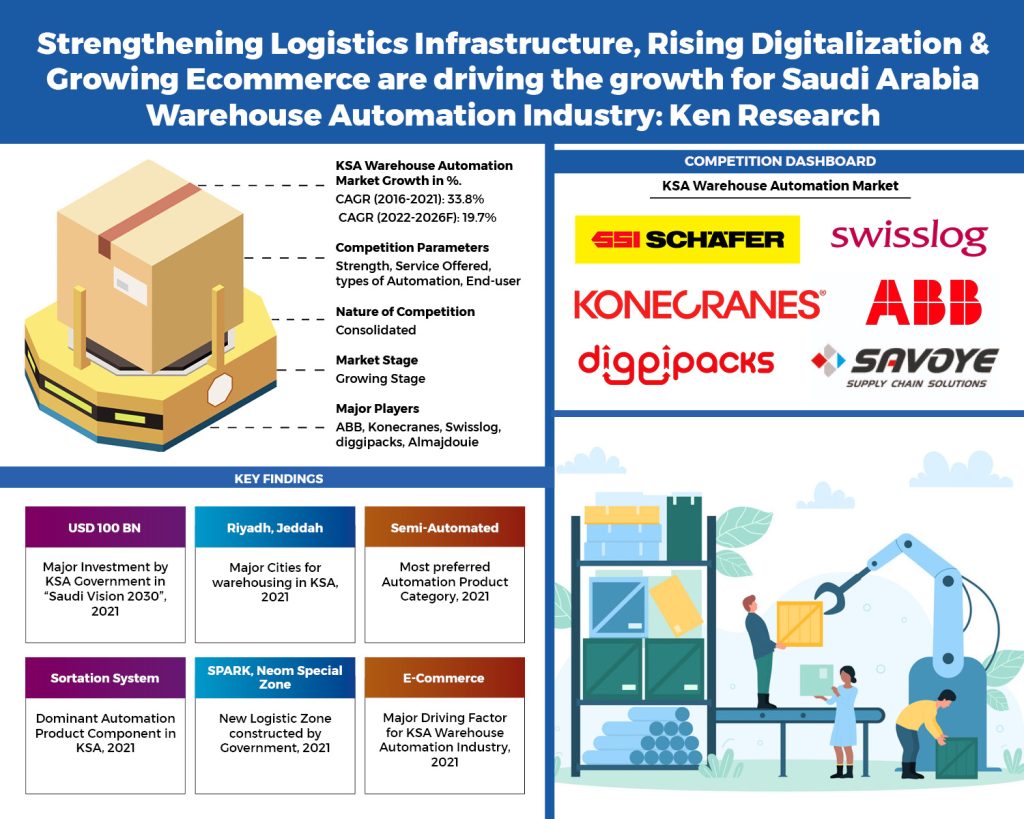 For more information, Request a Free Sample Report
Increasing Focus on Digitalization: The increasing digitization is paving way for automated warehousing technologies, ASRS and several other advanced techniques of warehousing in the country. Automation has allowed companies for more accurate tracking, forecasting and stock replenishment which has helped them to meet the ever-growing customer expectations and improve operational efficiencies, and making it easier to integration the Autonomous Mobile Robots (AMRs) by retailer and e-commerce companies. These robots (AMRs) are used to pick, transport, and sort items within the distribution facilities without any manual intervention which makes it easy to manage and cost efficient, thus fueling the growth in Warehousing automation industry of KSA.
Analysts at Ken Research in their latest publication "KSA Warehousing Automation Market Outlook to 2026F – Driven by Bolstering Ecommerce Industry & Ambitious Government Plans for Digitalization" by Ken Research observed that KSA Warehouse Automation market is in the growing phase. The emergence as transhipment hub, rising number of logistics players, influx of new investments, Saudi vision 2030 and increasing focus on digitization are some of the factors that has contributed to the KSA Warehouse Automation market growth. It is expected that KSA Warehouse Automation market will grow at a CAGR of ~19.7% for the 2021-2026F forecasted period.
Key Segments Covered
KSA Warehouse Automation Market:
By Product Category (by Revenue), 2021P & 2026F:
Semi-Automated
Fully Automated
By Product Component (by Revenue), 2021P & 2026F:
Conveyor System/ Sortation System
Automatic Identification and Data Capture (AIDC)
Automated Storage & retrieval System (AS/RS)
Warehouse Management System
AMR/AGV
Others (Pick-to-Light and Put-to-Light Systems and automated packaging: wedging, volume reduction, personalization and more)
Visit A link Request for Custom Report
By Automated Technology (by Revenue), 2021P & 2026F:
Hardware
Software
By End-User (by Revenue), 2021P & 2026F:
E-Commerce
Retail (Supermarkets, Hypermarket, Consumer Durables & More)
3PL/Logistics
Others (Health & Beauty, Pharma, Furnishing)
Key Target Audience
International Domestic Freight Forwarders
Warehousing Companies
Logistics Companies
Logistics Consultants
Government Bodies & Regulating Authorities
Time Period Captured in the Report:
Historical Period: 2016-2021
Base Year: 2022
Forecast Period: 2022 – 2026F
Companies Covered:
Savoye
Konecranes
ABB Ltd.
SSI Schaefer
Swisslog
Diggipacks
Key Topics Covered in the Report:
Country Overview
Ecosystem of KSA Warehousing Automation Market
Business Cycle and Genesis of KSA Warehousing Automation Market
Commercial Models in KSA Warehousing Market
Demand Supply Scenario of KSA Warehousing Automation Market
Growth Drivers of KSA Warehousing Automation Industry
Trends and Developments of KSA Warehousing Automation Industry
SWOT Analysis of KSA Warehousing Automation Industry
Impact of Covid-19 on KSA Warehouse Automation Industry
Challenges in the KSA Warehousing Automation Industry
Warehousing Automation Ecosystem in KSA
Government Warehouse Rules and Procedures
Technological Innovations in Warehousing Automation Market
Porter's Five Force Analysis of the KSA Warehouse Automation Industry
KSA Warehousing Automation Market Size
KSA Warehousing Automation Market Segmentation
KSA Warehousing Automation Market Future Overview
Competition Scenario
Cross Comparison between major players in the Market (Inception, Headquarter, Location, Strength, Service offered, No of Employees, types of Automation, End-User, recent Developments)
Analyst Recommendation
For more information on the research report, refer to below link:
KSA Warehouse Automation Market
Related Reports By Ken Research:
KSA Warehousing Automation Market Outlook to 2026F
Global Warehouse Automation Market Research Report