Kuwait Logistics and Warehousing Market Growth Strategy
Kuwait is one of the fastest-growing markets, which is driven by a strong purchasing power vested in Infrastructural projects, the retail industry, and a strong trading and oil industry. Kuwait's transport infrastructure sector is expected to see a more rapid return to growth in 2021 in comparison with the energy and utilities infrastructure and construction sectors.
The Kuwait warehousing industry is in the growing stage and is undergoing radical changes as warehouses are becoming increasingly sophisticated. Kuwait Warehousing Market is currently undersupplied with well-known players such as Agility, KGL Logistics and City Group establishing themselves as regional leaders. Warehousing firms initially gained a foothold by serving US military personnel in Kuwait, however it is diversifying away from public sector contracts and increasingly catering to businesses and households.
Government initiatives are expected to expand Kuwait's warehousing capacity, presenting sizeable opportunities for warehousing and warehousing related value-added services. However, lack of storage areas in ports, difficulty in demand forecasting, insufficient storage space and technology adoption are some of the major challenges in the industry. Advanced sortation systems, Drones, IoT and Automated guided vehicles are some of the emerging technologies in the Kuwait warehousing ecosystem.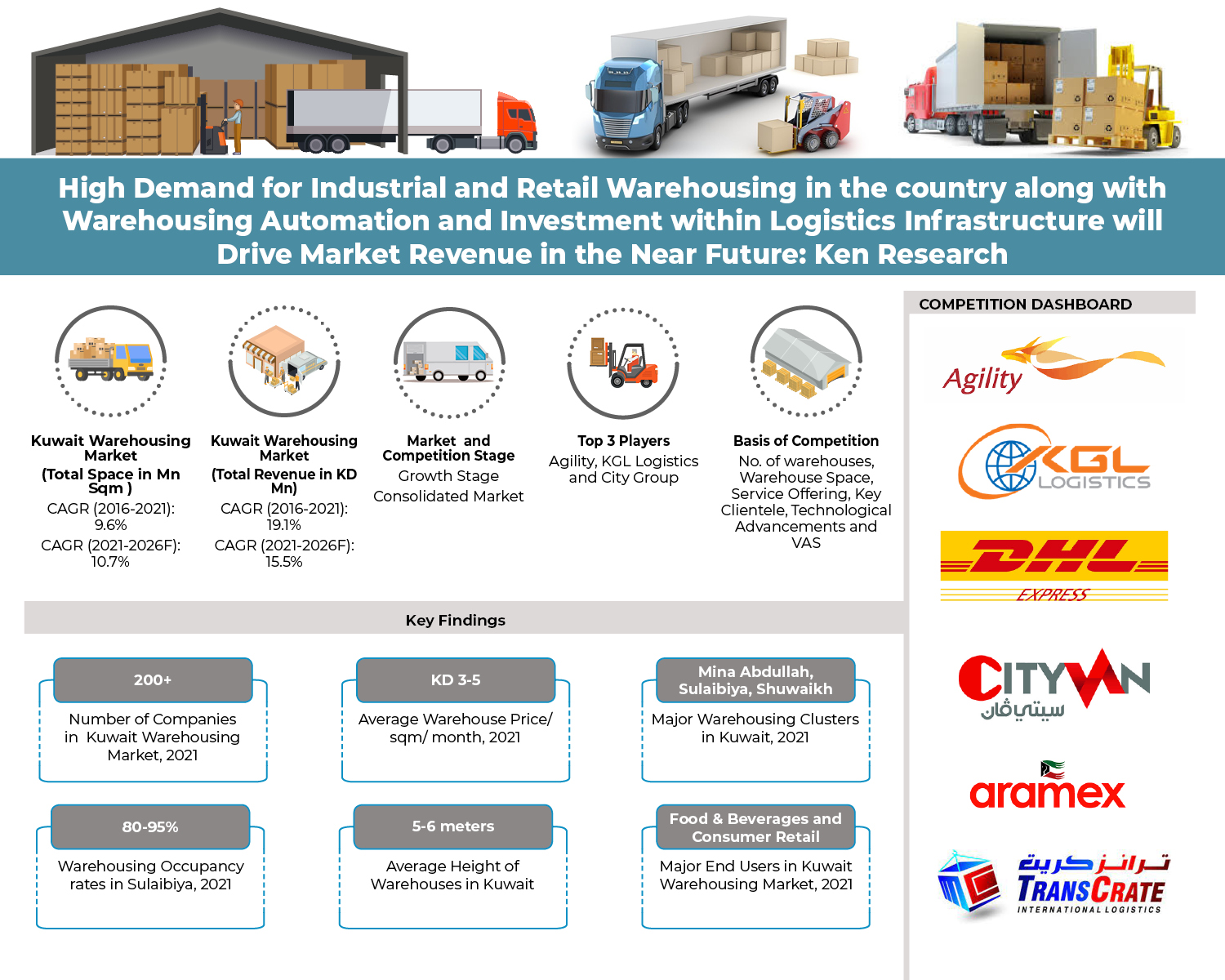 Kuwait Logistics and warehousing Market Segmentation
Market Overview:
Kuwait warehousing market has been continuously growing @ 9.6% CAGR (2016-2021) owing to surging logistics volume, rising imports, trend of logistics outsourcing and government efforts to enhance the logistics infrastructure.
By Captive and Logistics Companies: In Kuwait, logistics companies capture majority of the space with few companies such as Alghanim and The Sultan Center having their own captive space.
By Licensed and Non Licensed Warehouse: Kuwait Warehousing market is a highly regulated industry with majority of the warehouses having proper licenses and certifications issued from the concerned authority or department.
By Grade A/B/C Warehouse: Grade A Warehouses contribute majority of the market space in the industry. As the demand for sophisticated storage and distribution facilities increases, owing to the expanding volume of e-commerce, Grade A warehouses are expected to grow at a phenomenal rate in the future.
By Commercial Models: Real estate developers and end users opting for warehousing in Kuwait usually look for longer lease tenures and lock-ins to ensure rental yields from properties. Majority of the logistics companies prefer the leasing model or built to suit model over the rental model since discounts are offered in terms of pricing.
By Region: The major Industrial zones in Kuwait are located in areas such as Mina Abdullah, Sulaibiya, Shuwaikh, Ardiya Shuaiba, Subhan and Al Ahmadi. The major warehousing hubs in Kuwait are located in areas such as Mina Abdullah, Sulaibiya, Shuwaikh and Ardiya with Mina Abdullah occupying majority of the total warehousing Space in 2021.
Request for Free Sample Report @ https://www.kenresearch.com/sample-report.php?Frmdetails=NTc0NDQz
Kuwait warehousing Market (excluding Captive)
Kuwait Warehousing market is rapidly growing owing to Surge in Food and Beverage, Manufacturing and FMCG Sector along with burgeoning international trade, thereby generating KD ~ Mn in 2021.
By Type of Warehouses: Dry and ambient warehouses dominated the Kuwait warehousing market in 2021 due to rise in the industrial, F&B and retail sectors in the country. Cold storage warehousing has inclined over the years with the rising requirement of temperature controlled products majorly (pharmaceuticals, sea food and frozen foods).
By End Users: Kuwait is one of the fastest-growing markets, which is driven by a strong purchasing power vested in Infrastructural projects, the retail industry, and a strong trading and oil industry.
Comparative landscape in Kuwait warehousing market
Kuwait's warehousing market is moderately concentrated with top 3 players accounting for ~80% of the market space and companies are concentrated to Sulaibiya, Shuwaikh and Mina Abdullah regions. Companies in Kuwait have been focusing on providing data oriented solutions and other services for operational excellence, timely customer support, thus providing customer satisfaction and retention of customers.
Kuwait warehousing market outlook and projections
The growth of local companies within the logistics sector points to widening industry potential in the country with total warehousing space growing @10.7% CAGR (2021-2026F). Strong leasing momentum is likely to continue throughout the year; 3PL and e-commerce players are expected to drive demand for logistics space. Key factors which are expected to drive demand across the country: consolidation and expansion by existing players and entry of new players. Increasing adoption of warehouse automation technologies such as EDI, RFID, Human Centric Designs and Drones are expected to improve operational efficiency.
Key Topics Covered in the Report
Executive Summary
Kuwait Country and Logistics Sector Overview
Snapshot of Industrial Market Landscape in Kuwait
Major Regulations for the Warehousing and Logistics Industry in Kuwait
Emerging Technologies in Kuwait Warehousing Market
Key Trends in Kuwait Warehousing Market
Major Challenges in Kuwait Warehousing Market
Competitive Landscape in Kuwait Warehousing Market
Strengths and Weaknesses of Major Warehousing Players in Kuwait
Detailed Analysis on Kuwait Warehousing Market (Market Size, 2016-2021; Market Segmentation; Market Shares; Competition; Future Market Size, 2026F)
Competitive Landscape in Kuwait Warehousing Market
Analyst Recommendations
Related Reports
UAE Cold Chain Market Outlook To 2025 – By Cold Storage (Ambient, Chilled And Frozen Warehousing) And Cold Transport (Land, Sea And Air), By End User (Dairy Products, Meat And Seafood, Pharmaceuticals, Fruits And Vegetables And Others) And By Ownership (Integrated And Contract Logistics)
Turkey Logistics And Warehousing Market Outlook To 2025 – By Domestic And International Freight Forwarding Throughput, Revenue & Flow Corridor (Road Freight And Pipelines, Sea, Air And Rail Freight), By Warehousing (Industrial / Retail, Container Freight / Inland Container Depot & Cold Storage), By 3PL, Courier Express & Parcel, Domestic And Cross Border E-Commerce Logistics
Contact Us:-
Ken Research
Ankur Gupta, Head Marketing & Communications
+91-9015378249