"Introduction of government policies (ELV and EEV) coupled with growing customer confidence and user convenience has driven the Malaysia Used Vehicle Market"
Increasing Number of Inspection Checks: The growing number of inspection checks performed by a dealer before keeping a used car in stock has built the customer confidence with respect to the used vehicle they are looking forward purchase. The dealership outlets have started focusing on providing inspection reports at a price which is affordable by the buyer. Valuation services for used car have helped the seller in computing the resale price at which a used vehicle can be sold to the right buyer and at the right price. It has also helped the seller in deciding upon the negotiation margin in the valuation price of the vehicle.
Increasing Replacement Rate: The replacement rate of used vehicle in Malaysia is growing over the years largely due to the high resale value a seller gets on replacing a vehicle between 3-5 years of vehicle age. The dealership outlets keep replacing the cars with the fast moving models so as to ensure higher margins on the sale of such vehicles. The replacement rate is also increasing (higher replacement frequency) with respect to the government initiatives that are promoting to dispose of a vehicle before a certain specified age.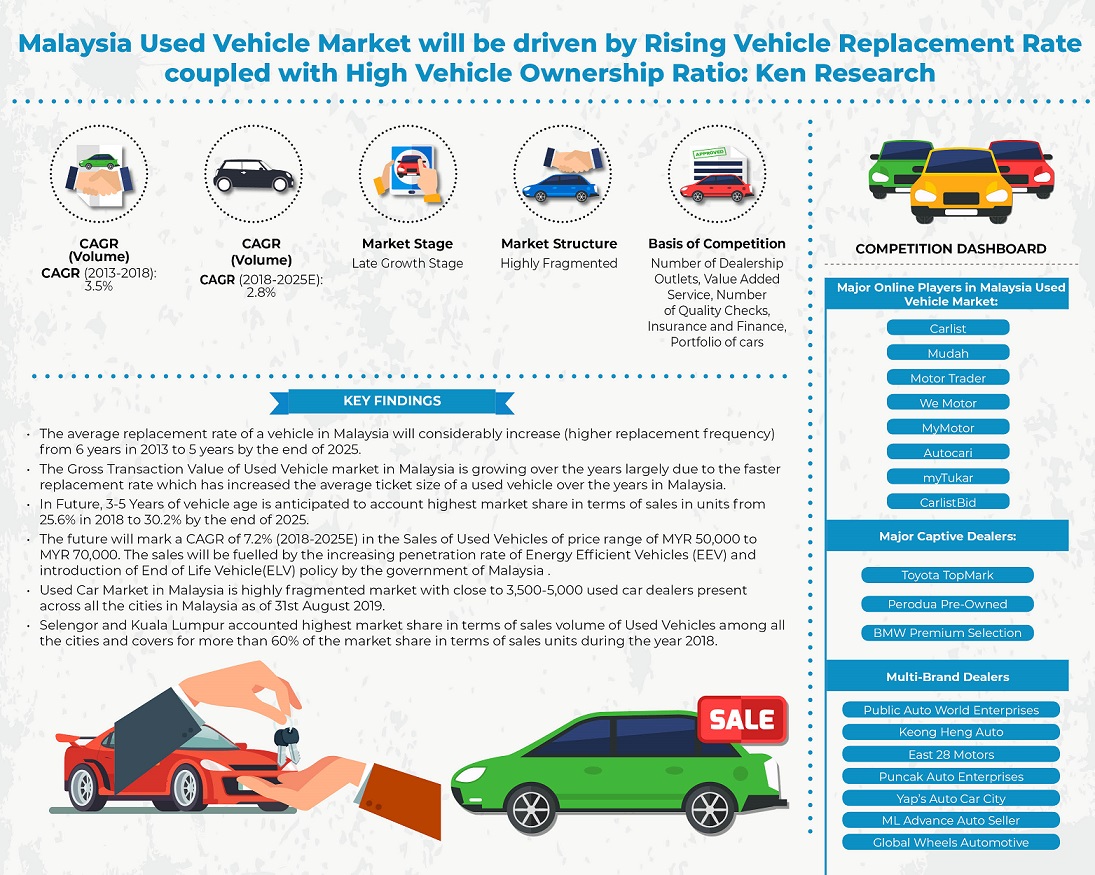 Strong Presence of Online Platforms: The online platforms has provided high user convenience to the buyers who are looking forward to purchase a vehicle as it provides the detailed description of all the listed used vehicles. The detailed description of a used vehicle has helped the buyer to make a cross comparison of the vehicle on the basis of factors such as model, price, mileage, body type and brand.
The report Titled "Malaysia Used Vehicle Market Outlook to 2025 – By Type of Distribution Channel (Organized and Unorganized Dealers), By Mode of Selling (Online and Dealership Walk-Ins), By Type of Vehicle (Sedans, Hatchback, SUVs, MPVs, LCV and others), By Vehicle Age(0-3 years, 3-5 Years, 5-8 Years and More than 8 years), By Brand(Perodua, Toyota, Honda, Proton, Nissan and Others)" by Ken Research suggested that the Malaysia Used Vehicle Market has been increasing due to increasing urban population and high car ownership ratio coupled with faster car replacement period and introduction of government policies such as EEV and ELV. The market is expected to register a positive CAGR of 2.8% in terms of sales volume during the forecast period 2018-2025E.
Key Segments Covered:-
By Distribution Channel
Organized Dealers
     Multi Brand Retailers
     Direct Dealership Sales Agent
Unorganized Dealers
By Mode of Selling
Online
Dealership Walk-Ins
By Type of Vehicle
Sedans
Hatchback
4WD/SUVs
MPVs
LCV
Others
By Vehicle Age
0 – 3 Years
3 – 5 Years
5 – 8 Years
More than 8 Years
By City
Kuala Lumpur
Selengor
Johor
Perak
Others
By Price Range
MYR 0 – MYR 30,000
MYR 30,000 – MYR 50,000
MYR 50,000 – MYR 70,000
MYR 70,000 – MYR 90,000
More than MYR 90,000
By Brand
Perodua
Toyota
Honda
Proton
Nissan
Others
Key Target Audience
OEM'S Companies
Multi Brand Dealers
Captive Dealers
Venture Capitalist Firms
Government/ Regulatory Authorities
Online Auto-Classifieds
Time Period Captured in the Report:-
Historical Period: 2013-2018
Forecast Period: 2019E-2025E
Companies Covered:
Major Online Players in Malaysia
Carlist
Mudah
Motor Trader
We Motor
MyMotor
Autocari
myTukar
CarlistBid
Major Captive Dealers:
Toyota TopMark
Perodua Pre-Owned
BMW Premium Selection
Multi-Brand Dealers
Public Auto World Enterprises
Keong Heng Auto
East 28 Motors
Puncak Auto Enterprises
Yap's Auto Car City
ML Advance Auto Seller
Global Wheels Automotive
Key Topics Covered in the Report:-
Malaysia Used Vehicle Market Introduction (Overview, Genesis, Business Cycle)
Malaysia Used Vehicle Market Ecosystem
Malaysia Used Vehicle Market Business Model
Used Vehicle Market Size Malaysia
Malaysia Used Vehicle Auto Finance
Malaysia Used Vehicle Market Segmentation
Trends and Developments in Malaysia Used Vehicle Market
Issues and Challenges in Malaysia Used Vehicle Market
Malaysia Used Vehicle Market Regulations
SWOT Analysis Malaysia Used Vehicle
Buying Decision Parameters in Malaysia Used Vehicle Market
Malaysia Used Vehicle Market Competition Scenario
Malaysia Used Vehicle Market Future Projection, 2018-2025E
Future Outlook of Malaysia Used Vehicle Market Segmentations, 2018-2025E
Analyst Recommendations
For More Information on The Research Report, refer to below link:-
Related Reports by Ken Research:-
China Used Vehicle Market Outlook to 2022 – by Type of Vehicle (Sedans, SUVs, Micro Vans, MPVs, Trucks, Buses, Cross Type Vehicles, Trailers, Motor Cycles and Low Speed Trucks), by Vehicle Age, by Distribution Channels, by Region, by Price of Vehicle
Indonesia Used Car Market Outlook to 2023 – Rising Popularity of Online Platforms and Reduction in Average Ownership Period to Drive Used Car Sales
UAE Used Car and Auto Classified Market Outlook to 2022 – By Revenue Streams (Commission, Paid Listings, Banner Advertisement), By Export and Domestic Sales
Contact Us:-
Ken Research
Ankur Gupta, Head Marketing & Communications
+91-9015378249