Regional Players Dominate the Market Constituting ~45% of Number of Participants However Few Global Players Hold Largest Market Share finds a recent market study on Global Natural Fiber Reinforced Composites Market
Natural fiber composites (NFCs) are a type of composite material in which at least the reinforcing fibers are generated from renewable and carbon dioxide-neutral fiber types like plants or wood. The product is being increasingly adopted by industries like Aerospace, Automotive, Building & Construction, Electrical & Electronics, Furniture, and other industries.
Ken Research shares 3 key insights on this high opportunity market from its latest research study.
Regional Players Constitute 45% of the Market Participants Followed by Country Niche Players Which Constitute 35% of Competitors, But Few Global Players Hold Largest Market Revenue Share
A comprehensive competitive analysis conducted during the Research Study found that the global natural fiber reinforced composites market is highly competitive with ~150 players which include globally diversified players, regional players, as well as a large number of country-niche players having their own niche in natural fiber, reinforced composites tech advancement for multiple industries.
Composite materials have drawn a lot of interest because of their adaptable qualities, which enable numerous applications in a vast array of sectors. The rigidity and strength of the composite materials relative to their normally low weight are their main advantages over conventional bulk materials. Numerous industries, including aerospace, automotive, building and construction, sports, electrical and electronics, and other ones, are increasingly adopting these materials.
The regional players comprise about 45% in terms of the number of companies followed by country niche players which account for ~35% of the market share.
According to the research, large global players held the dominant position in the market with ~45% of market share in 2021 and is followed by regional players which held ~35% in 2021.
The Share of Revenues From Natural Fiber Reinforced Composites Forms a Major Chunk of the Overall Companies' Revenues for Specialist Players
With numerous global corporations and small producers conducting their companies through a variety of products and a vast distribution network, the market is considerably competitive by nature. From product manufacturing to final product distribution to multiple places, the enterprises in the sector have a high degree of integration.
The players which specialises in the field earn high percentage of revenue from natural fiber reinforced composites products. Key players have a significant presence in various end-user industries like aerospace, automotive, building and construction, electrical and electronics, sports, and various others. Not just key players but also the emerging players are expanding in different industries with natural fiber reinforced composites products and are also investing in marketing strategies like collaborations and technological development to compete in the industry.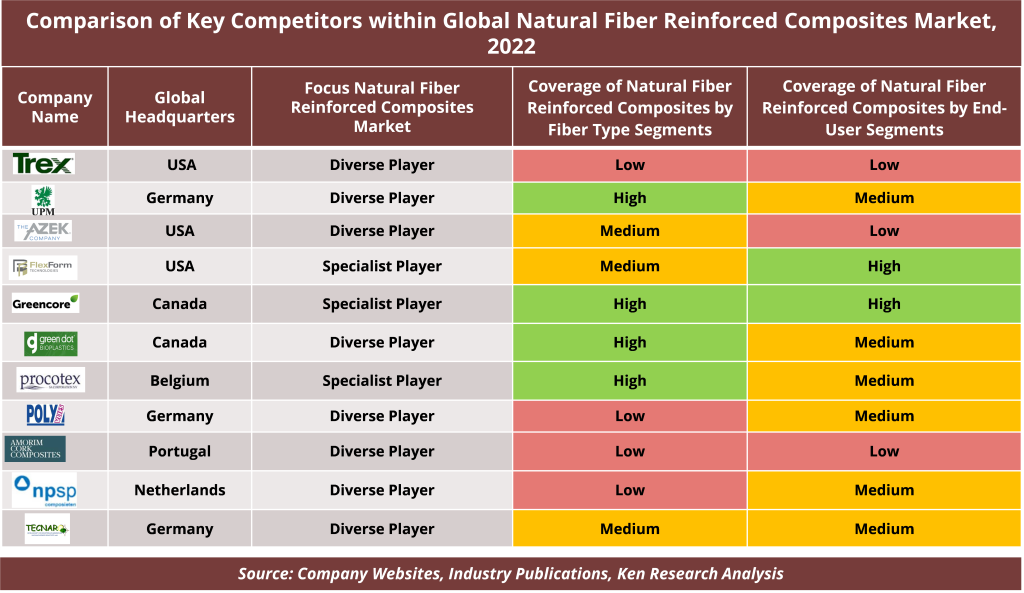 Request For Sample Report @
https://www.kenresearch.com/sample-report.php?Frmdetails=NTk1OTkx
Post-Covid Pandemic, the Trend of Launching Products with Wider Sustainability is Being Adopted
Lockdowns and increased limitations throughout the world in 2020 and 2021 disrupted the supply chain, making it challenging for manufacturers to compete in the market for natural fiber-reinforced composites. The market for natural fiber reinforced composites is quickly regaining its pre-COVID levels, and over the forecast period, a strong growth rate is predicted, driven by the economic recovery in the majority of emerging as well as industrialized countries as well as increasing environmental concerns
The Indian Jute Mills Association's chairman said, "Around 0.2 million tonnes of jute product manufacturing with an estimated value of USD 156 million had been lost as a result of COVID in India. Only 5 to 10 percent of the employees at some mills that were able to restart were employed there". The gradually changing circumstances and increased product demand is reshaping the market in a positive manner.
Increased Adoption of Natural fiber Reinforced Composites in Various Parts of the World leading to Major Industry-Wide Developments, Acquisitions, and Deal-Wins
On September 22, The Aura concept car, which was funded by the Office for Zero Emission Vehicles (OZEV) through the Niche Vehicle Network (NVN), was handcrafted with the goal of developing a low-emission, long-range electric vehicle (EV) with sustainability at its core. The car's bodywork has been reinforced using natural fiber composites to save weight and improve manufacturing sustainability.
On May 10, it was revealed that Formula Seven and Bercella s.l.r. had teamed together to create an innovative seat for Formula SAE single-seaters utilizing only 100% natural fiber composite materials, such flax fiber. Bercella s.l.r. produces huge and sophisticated composite constructions. Flax fibers are a sustainable material that are also corrosion, impact, and UV resistant, according to Bercella. Additionally, the material isolates from electricity and heat while absorbing vibrations, making it perfect for uses like the seating for Formula SAE race vehicles.
April, 2022, in order to produce non-crimp fabrics (NCFs) with flax fibers for the marine and sports and leisure markets, Saertex and Terre de Lin have started working collaboratively. The two businesses' collaboration intends to bring together Terre de Lin, key provider of sustainable flax fibers, and Saertex's knowledge of reinforcement materials.
In October 2021, Lanxess introduced a brand-new, totally biodegradable material based on flax and polylactic acid, to its Tepex line of continuous-fiber-reinforced thermoplastic composites. The substance blends polylactic acid made from biomaterials with natural flax fibers.
In October 2021, Green Dot Bioplastics Inc. and Mayco International have collaborated to produce a sustainable solution for waste generated during the manufacturing of automobile components by recovering trim and scrap fibers for Natural Fiber Reinforced Plastic (NFRP).
For more information on the research report, refer to below link:
Major Companies in Natural Fiber Reinforced Composites Market
Read Also –
5 Key Insights on US$12 Bn Opportunity in Global Natural Fiber Reinforced Composites Market
Follow Us –
LinkedIn | Instagram | Facebook | Twitter | YouTube 
Contact Us: – 
Ken Research
Ankur Gupta, Head Marketing & Communications
+91-9015378249