According to study, "Global Neuropathy Pain Treatment Market 2019 by Company, Regions, Type and Application, Forecast to 2024" the key companies operating in the global neuropathy pain treatment market are Pfizer Inc., Eli Lily and Company, Johnson & Johnson Services Inc., GlaxoSmithKline PLC, Sanofi SA, Bristol-Myers Squibb and Company, Biogen Idec Inc., Baxter Healthcare Corporation. The key vendors are progressively focusing on the development of drugs to address this unmet medical need. These developments in diabetic neuropathy are projected to drive the growth of the global neuropathy pain treatment market during the forecast period.
Neuropathic pain is a chronic type of pain occurs due to nerve injury and is associated with a sensory-motor system. Neuropathy pain treatment is a treatment of neuropathic pain. Different medications have been used in an attempt to treat the pain. Some of the usual medications are anticonvulsants (neuroleptic medications), anesthetics, and antidepressants (tricyclic antidepressants).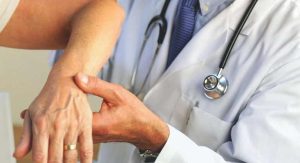 Based on type of neuropathy, neuropathy pain treatment market is segmented into peripheral neuropathy, post traumatic neuropathy, entrapment neuropathy, trigeminal neuralgia, phantom limb pain, Post Herpetic Neuralgia (PHN), and others. Based on indication type, market is segmented into diabetic neuropathy, post-herpetic neuralgia, trigeminal neuralgia, chemotherapy-induced peripheral neuropathy and others. Based on treatment type, market is segmented into multimodal therapy and medication. Medication type segment is further sub-segmented into anticonvulsants, nerve blocks type, Nonsteroidal anti-inflammatory drugs (NSAIDs)type, antidepressant drugs type and others. Nerve blocks type includes local anesthetics, steroids, and others. NSAIDs type includes Naproxen, Ibuprofen, and others. Additionally, antidepressant drugs include Serotonin Noradrenaline and Tricyclic Antidepressants.Based on drug class, market is segmented into serotonin-norepinephrine reuptake inhibitors (SNRIs), calcium channel alpha 2-delta ligands, Tricyclic antidepressants and opioid analgesics. Based on distribution channel, market is segmented into online pharmacies and retail pharmacies & drug stores. In addition, based on end-user, market is segmented into research organizations and hospital & clinics.
Theneuropathy pain treatment market is driven by rise in cases of nerve pain, followed by increase in the diabetic population, rise in circumstances of neuropathic pain due to chemotherapy and trauma from injury or accidents with nerve damage, and growth in penetration by market players. However, lack of health infrastructure & budgets in emerging countries and high cost of neuropathy pain treatment may impact the market.Moreover, increase in healthcare expenditure by various government & non-governmental organizations in research is a key opportunity for market. Furthermore, emergence of innovative pain treatment methods for instance stem cell procedures, use of electrical stimulation devices, and others is a major trend for market.
Based on geography, the North-American region holds major share in neuropathy pain treatment market owing to well-developed healthcare infrastructure and rise in geriatric population in the region. Whereas, the Asian-Pacific and European regions are anticipated to exhibit higher CAGR due torise in demand for NSAIDs and antidepressants drug productsand increase in research on developing herbal supplements to subside the side effects over the forecast period. In near future, it is predicted that the marker will be reached at rapid pace on account of rise in cases of cancer patients opting for chemotherapy during the forecast period.
For More Information, refer to below link:-
Global Neuropathy Pain Treatment Market
Related Reports:-
Global Neuropathy Pain Treatment Market Status (2015-2019) and Forecast (2020-2024) by Region, Product Type & End-Use
Neuropathy Pain Treatment Market Research: Global Status & Forecast by Geography, Type & Application (2015-2025)
Global Neuropathy Pain Treatment Market Analysis 2013-2018 and Forecast 2019-2024
Contact Us:
Ken Research
Ankur Gupta, Head Marketing & Communications
Ankur@kenresearch.com
+91-9015378249