Driven by Rising Development in Innovative and Efficient Delivery Methods such as Drone Delivery, and Others for Healthcare Products, the Healthcare E-Commerce Market in North America is Forecasted to Cross $340 Bn by 2027 says Ken Research Study.
Healthcare E-Commerce is increasingly gaining popularity across North America as a way to provide easy access to healthcare services and products to the end-users and to improve patient care services. The rising adoption of new and advanced technologies in the healthcare e-commerce industry to streamline the delivery of healthcare products is propelling the growth of the healthcare e-commerce market. Furthermore, increased spending or investments in digital technologies to offer convenient and quality care services are also expected to fuel the growth of the market.
According to Ken Research estimates, the North America Healthcare E-Commerce Market – which grew from around US$ 110 Bn in 2019 to nearly US$ 150 Bn in 2021 – is expected to grow further into a more than US$ 340 Bn opportunity by 2027.
North America has Seen Rapid Growth in Healthcare E-Commerce after the COVID-19 Pandemic Ignited the use of E-commerce Services.
The North America healthcare e-commerce market is expected to witness strong growth during the forecast period, due to the change in purchasing patterns among end-users and the rising adoption of e-commerce services for the purchase of medical products including drugs and medical devices, especially after the COVID-19 pandemic. The COVID-19 pandemic ignited telehealth and e-commerce services as it forced consumers to try e-commerce and rely on product reviews and ratings, which resulted in a boost of confidence in the consumers to make purchases of healthcare products online. Moreover, healthcare providers are also forced to opt for a tech-enabled, customer-centric approach and to offer their services via an online platform.
The pandemic has also increased the demand for digital strategies such as AI, Sensor-based, and others in the healthcare e-commerce industry to successfully operate the healthcare business in this demand-supply mismatch environment caused by the pandemic disruptions. These digital strategies have been of great use in streamlining the supply chain, which has further fueled the adoption of digital strategies by the market players. For instance, In July 2020, Deutsche Post AG announced to invest more than US$ 70 million to build additional specialized warehousing infrastructure and adopt new technologies to support its pharmaceutical and medical device customers in North America.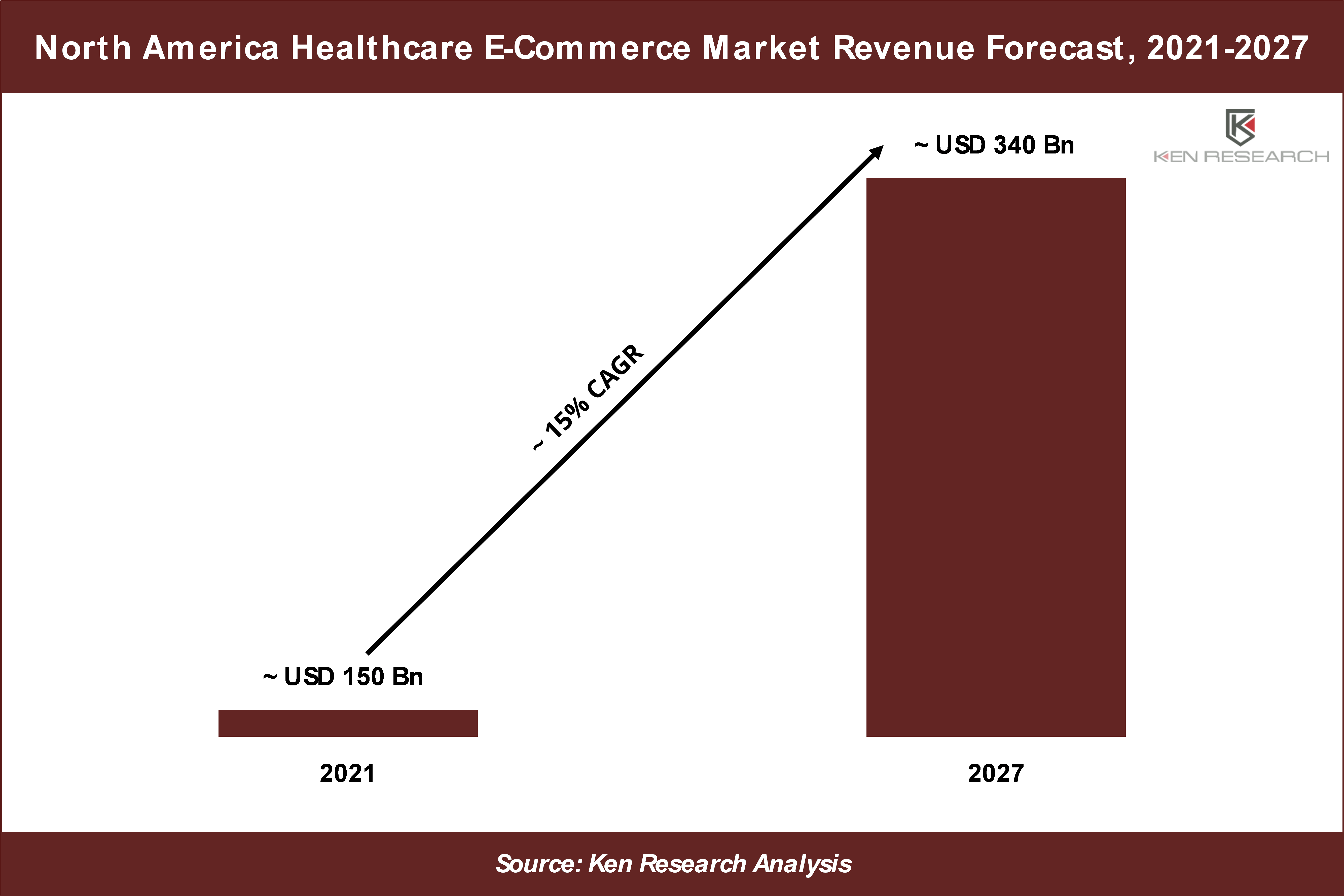 Technological Improvements in Healthcare E-Commerce Platforms and Increasing Investments by Key Players Are Major Growth Drivers for North America's Healthcare E-Commerce market.
Healthcare e-commerce players see great potential in technologies such as blockchain, artificial intelligence (AI), sensor-based technology, and others and are adopting these technologies to improve their healthcare supply chain. For instance, in September 2020, FedEx launched SenseAware ID, a sensor-based logistic device that offers precision tracking. Moreover, companies in the healthcare e-commerce industry are deploying new technologies in the supply chain to deliver quality and cost-improved healthcare services. In addition, key players are investing heavily in digital technologies to transform their traditional supply chains into digital supply chains, which is anticipated to augment the growth of the market.
In February 2022, CVS Health planned to invest US$ 3 Bn in digital features to enhance the e-pharmacy site experience. The company aims to connect consumers in more places and in more ways with its digital-first technology forward approach and planned to offer an enhanced omni channel health experience.
Data Security Issues Coupled with Increasing Data Breach Cases in the Healthcare Industry are the Most Significant Barrier to Widespread Healthcare E-Commerce Adoption.
Security concerns over data of medical history, customer or patient data, and others have been major impediments to the growth. The data must be secure, encrypted, and confidential at all times, failure in securing health data could lead to a heavy fine by the governmental authorities or legal complications. The governmental bodies have also laid stringent regulations for the protection of healthcare data and compliance complications with those regulations are expected to hinder the growth of the market. Moreover, cyber incidents can have a significant financial impact on the healthcare industry and the protection of healthcare data from cyber incidents is a major challenge for the market.
In 2020, according to IBM, the healthcare sector faced a maximum number of data breach cases and the global average cost of a data breach in the healthcare industry stood at US$ 7.1 million.
Hence, an increasing number of data breach cases in the healthcare industry coupled with the growing concern regarding the data security issue in e-commerce networks is expected to hinder the growth of the market.
Medical Consultation holds the Major Share in the Application Segment and is Expected to Maintain Dominance During the Forecast Period.
Among the application segments, medical consultation remained the dominant segment during the 2017-2021 period contributing to largest market revenue share. Further, the Research Study found that this segment is likely to retain dominance even by 2027. Their dominance is owing to an increase in the demand for e-commerce platforms to ease access to healthcare services for patients. Furthermore, medical facilities are always burdened by the shortage of staff issue but the pressure could be easily alleviated with the integration of e-commerce into the healthcare sector, which is expected to fuel the growth of this market.
In 2021, according to Bloomberg, 16% of the hospitals had critical staffing shortages in the U.S.
Hence, the increasing critical staff shortage in healthcare facilities had increased the demand for medical consultation through e-commerce platforms as well as the online delivery of drugs or medical devices has eased healthcare access for the patients.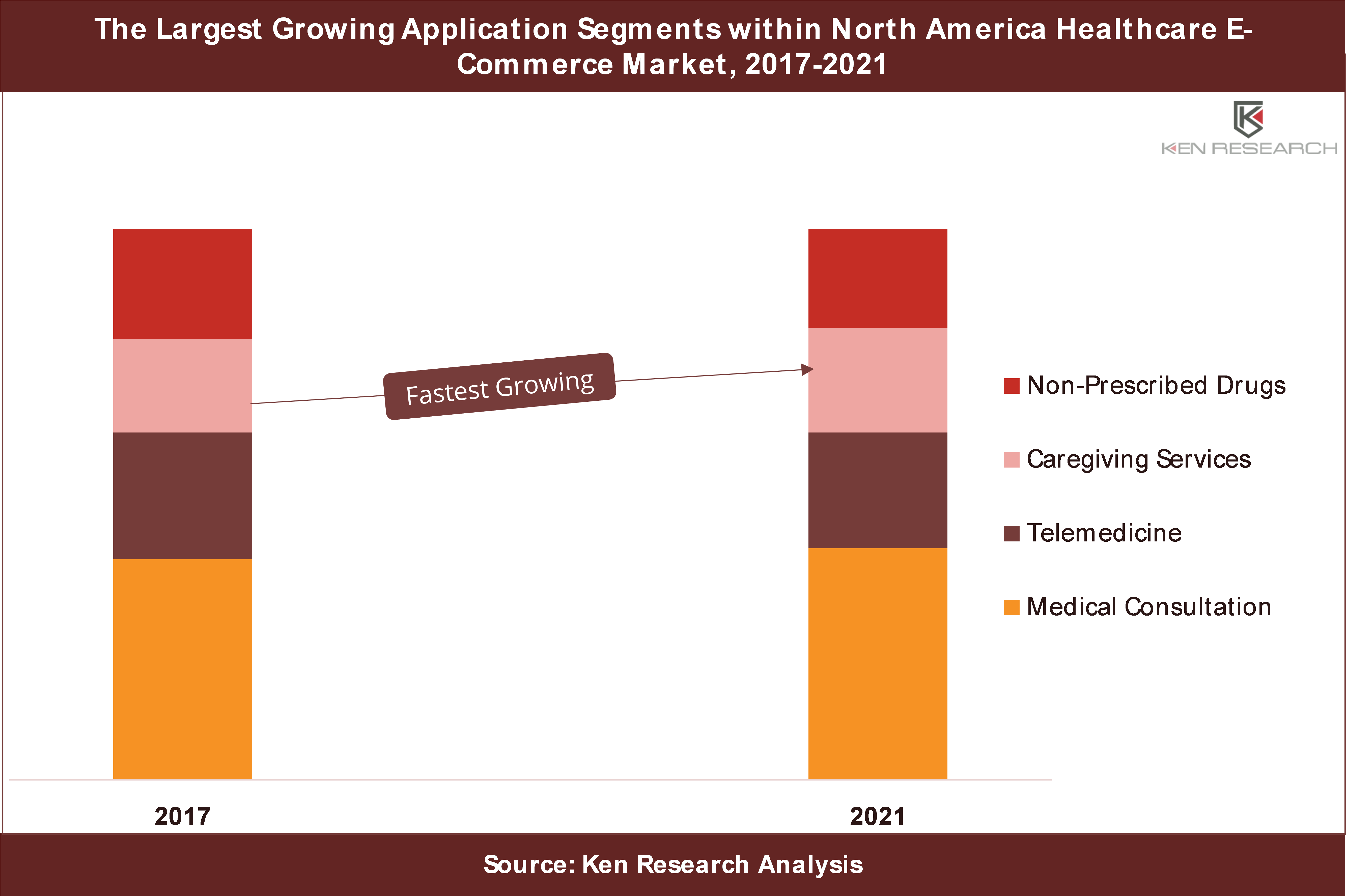 Diverse Global Players Dominate the Market with Majority of the Revenue Share Despite the Presence of a Large number of Local Players
The North America Healthcare E-Commerce industry is highly fragmented in nature comprising global players (having presence in 2 or more continents), regional players (having presence in multiple countries within North America), and Country-Niche Players (presence limited to just 1 country or very niche presence in the value chain). Some of the Country-Niche's players are constantly engaged in the developments for the healthcare e-commerce market and are investing heavily to transform their healthcare supply chain.
However, The Research Study found that few major players, such as Amazon.com, Inc., The Kroger Co., and Walmart Inc., are involved in strategic partnerships for introducing new services for healthcare products delivery and adopting new technologies to enhance the delivery process to gain a lion market share. In addition, several other players are implementing several strategies to strengthen their position in the healthcare e-commerce market, including introducing new pharmacy services, geographical expansion, and collaborations.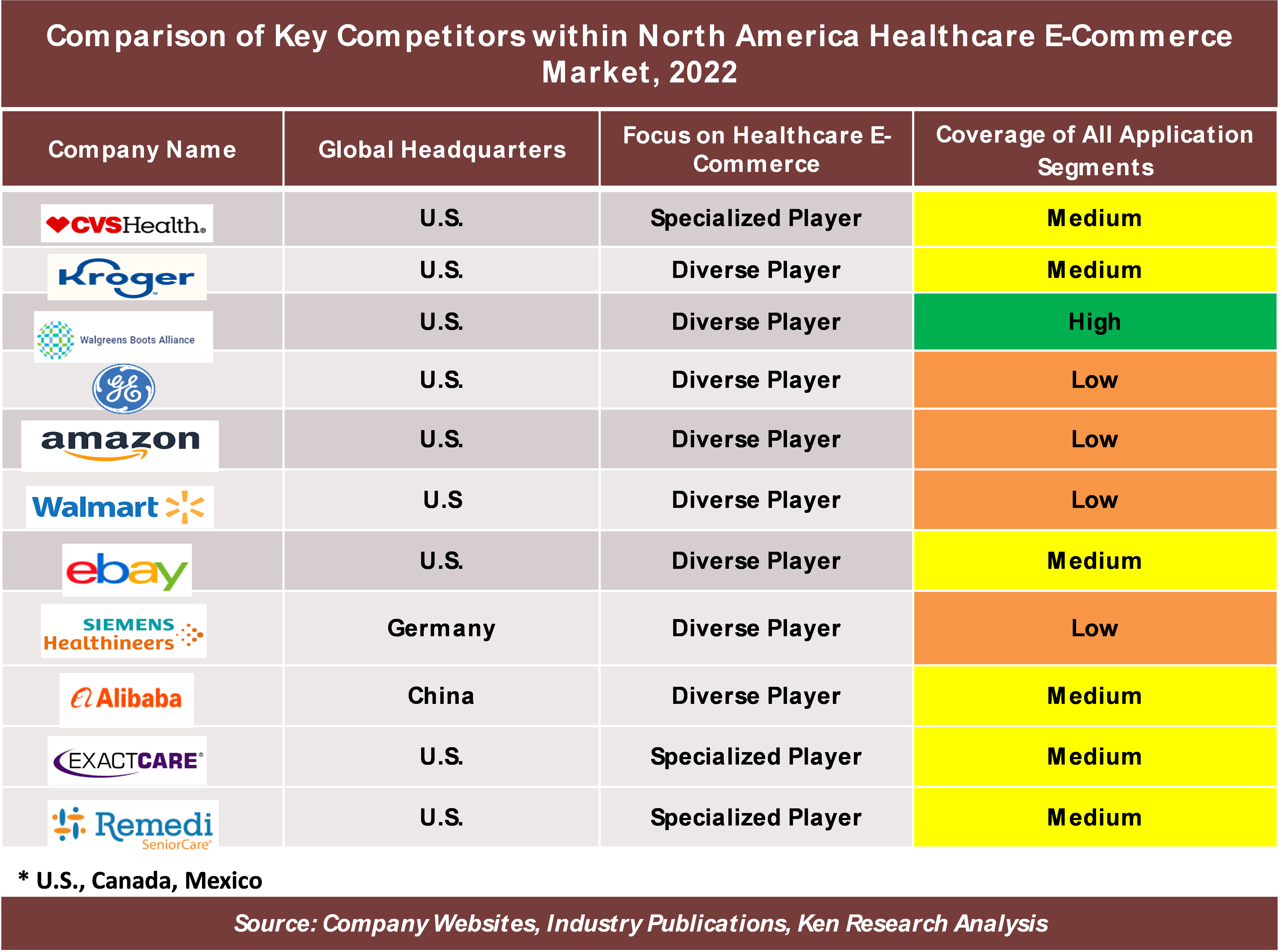 For more information on the research report, refer to the below link:
North America Healthcare E-Commerce Market: Ken Research
Follow Us
LinkedIn | Instagram | Facebook | Twitter 
Contact Us: –
Ken Research
Ankur Gupta, Head Marketing & Communications
+91-9015378249