The report titled "Thailand Ophthalmology Market Outlook to 2025 By Type of Consultation (Eye Strain/Aesthenopia, General Check-Up, Decreased/Reduced Vision, Allergic Reaction, Deformities of Eye/Eyelids), By Type of Surgery (Cataract, Refractive Error, Glaucoma, Retina Related Diseases and Others), By Region (Bangkok, Central, South, North-East and North) and By Type of Hospital (Single-Specialty and Multi-Specialty)"provides a comprehensive analysis on the status quo of the ophthalmic healthcare in Thailand. The report covers various aspects including the ophthalmic disease penetration in the country along with the ophthalmology infrastructure present, government initiatives, market size for Ophthalmology in Thailand, major segments for ophthalmology, key trends for ophthalmology in the country, comparison of Thailand's ophthalmology landscape with other South-East Asian countries, comparison of multi-specialty and single-specialty hospitals providing ophthalmic care, major eye surgeries & consultations, technological innovations in the space, patient pain points, ophthalmic challenges, investment model for new entrants, medical tourism in the country, competition landscape, COVID-19 impact, future landscape of ophthalmology in Thailand and recommendations for new entrants and existing players.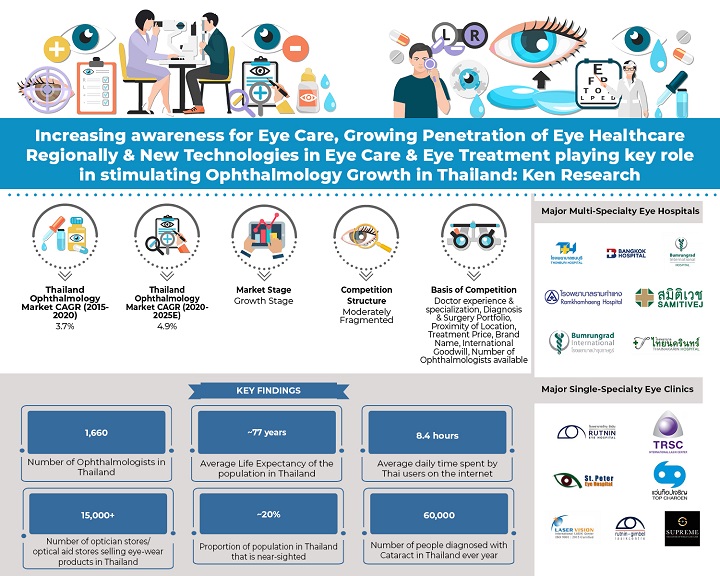 Thailand Ophthalmology Market Overview and Size:
Ophthalmology in Thailand is in the growing phase with the presence of more than 220 hospitals and clinics providing ophthalmic care. Number of eye consultations has been increasing at a CAGR of 3.9%, while number of eye surgeries has been growing at 3.3% over 2015-2020. Overall Ophthalmology Market revenues have been growing at a CAGR of 4.9% over 2015-2020. There has been a growth in the number of ophthalmologists in the country, which has stimulated growth in ophthalmology market revenues. There has also been an increase in the number of eye ailments over the years, which has also led to growth in the ophthalmic care market.
Thailand Ophthalmology Market Segmentation
When it comes to type of eye consultations, check-ups related to Aesthenopia/Eye-Strain and a General Check-Up dominated. In terms of surgeries, Cataract surgery and Refractive Surgery were identified as the most popular surgeries, one due to the high incidence rate of cataract in Thai population and two the high demand for LASIK surgeries among Thais and foreign tourists. In terms of high density regions for ophthalmology, Bangkok, Central Thailand and Southern Thailand were identified to be dominant, due to high population density and strong ophthalmic healthcare infrastructure in the regions. In terms of hospital type, multi-specialty hospitals were identified to dominate ophthalmic care in Thailand, in terms of consultations, surgeries and revenues.
Competitive Landscape of Thailand Ophthalmology Market
The ophthalmology space in Thailand is moderately fragmented with the top 6 players holding 41% share of the market in terms of revenues. Multi-Specialty Hospitals dominate the ophthalmic care providers space due to their vast number of branches, while single-specialty eye clinics/hospitals have fewer branches.
Thailand Ophthalmology Market Future Outlook & Projections
The ophthalmology market is expected to grow on the back of advance treatment technology, increased regional penetration of ophthalmic care in the country and enhanced awareness about eye care among the population. The number of eye consultations is projected to grow at a CAGR of 4.1% from 2020-2025, while the number of ophthalmic surgeries is expected to grow at a CAGR of 3.4% over the same period. Overall market revenues for ophthalmology are expected to increase at a CAGR 4.9% over 2020 to 2025. Growth in pediatric ophthalmology, LASIK surgeries and check-ups are expected to drive market growth in the future.
Key Segments Covered
Type of Consultation (Eye Strain/Aesthenopia, General Check-Up, Decreased/Reduced Vision, Allergic Reaction, Deformities of Eye/Eyelids)
Type of Surgery (Cataract, Refractive Error, Glaucoma, Retina Related Diseases and Others)
By Region (Bangkok, Central, South, North-East and North)
Type of Hospital (Single-Specialty and Multi-Specialty)
Hospitals and Clinics Covered
Rutnin Eye Hospital
TRSC International LASIK Center
Bumrungrad Hospital
Bangkok Hospital
Samitivej Hospital
Thonburi Hospital
Metta Pracharak Hospital
Vichaiyut Hospital
Thainakarin Hospital
Top Charoen Eye Center
Key Target Audience
Single-Specialty Hospitals and Clinics
Multi-Specialty Hospitals
Ophthalmologists
Ophthalmology Associations
Medical Universities and Colleges
Health Ministry of Thailand
Time Period Captured in the Report:-
Historical Period: 2015-2020
Forecast Period: 2020-2025
Key Topics Covered in the Report
Ophthalmology Healthcare Infrastructure in Thailand
Government Initiatives to Promote Superior Eye Care in Thailand
Revenue Sources for an Ophthalmology Facility
Ophthalmology Business & Operating Landscape of SEA Countries: Comparison with Thailand
Regional Analysis of Ophthalmology in Thailand
Common Eye Ailments & Surgeries in Thailand
Technological Innovations in the Ophthalmology Field in Thailand
Infrastructural & Ophthalmological Ecosystem Challenges & Solutions
Mapping the Impact of the Pandemic on Ophthalmology in Thailand
Investment Model for Setting up an Ophthalmology Clinic in Thailand
Competition Landscape
Projected Clinic Landscape for Ophthalmology in Thailand
Optimizing Existing Ophthalmological Healthcare in Thailand
Launching an Ophthalmology Facility in Thailand
Potential Risk Factors for New Entrants & Existing Players
For More Information on the Research Report, Refer to Below Link:
Related Reports
Philippines Ophthalmology (Eye Centers, Clinics and Hospital Chains) Market Outlook to 2023 – Investment Potential by Region and by Ailment Type (Cataract Surgery, Glaucoma Surgery, Refractive Error Surgery, Other Retina Related Surgeries and Others), Lasik & Aesthetics Centers
Indonesia Ophthalmology Market Outlook to 2023 – By Ailment Type (Cataract, Myopia, Glaucoma, Conjunctivitis and Others) and by Regions (DKI Jakarta, West Java, Central Java, North Sumatra and Others)
Vietnam Ophthalmology Market Outlook to 2023 – By Diseases (Cataract, Myopia, Glaucoma, Retina related Diseases, Blindness with Poor Eyesight, Conjunctivitis and Others), By Regions and By Hospitals (Single Specialty Eye Hospitals and Multi Specialty Hospitals)
Contact Us:
Ken Research
Ankur Gupta, Head Marketing & Communications
+91-9015378249