Philippines News
Government is planning to increase infrastructure expenditure reaching approximately 7% of GDP by 2022. This is projected to positively impact road network for cold transport services.
Most cold storages in Philippines are NMIS accredited. However, an uptake in the ISO and LEED certifications for cold storages is projected during the period 2021 to 2026 for several cold storage companies.
Major cities apart from Metro Manila such as Cebu, Davao and Navotas are emerging as a hot bed for frozen warehousing since most of the industrial regions are also located nearby.
Philippines Cold Chain Logistics Market Analysis:
Adopting Automation and Modern Technologies: Technological advancement is expected to play a major role and new facilities are being built to improve the efficiency of food supply storage and its distribution. Examples include IoT sensors that monitor food temperature and communicate the data to cloud-based analytics dashboards. Artificial Intelligence (AI) is then used to correlate data from various sources such as power cost, weather, distribution logistics, cooling capacity and schedules to provide the optimum storage and distribution infrastructures.
Expanding Cold Chain Market: Infrastructural development by the government, increasing number of food businesses and inclining number of cold transport companies propelled the market.   Moreover, the rapid shift of distribution of food products from traditional markets toward supermarkets and convenience stores is increasing the need for reefer trucks as major distributors hire 3PL for shipping via insulated trucks.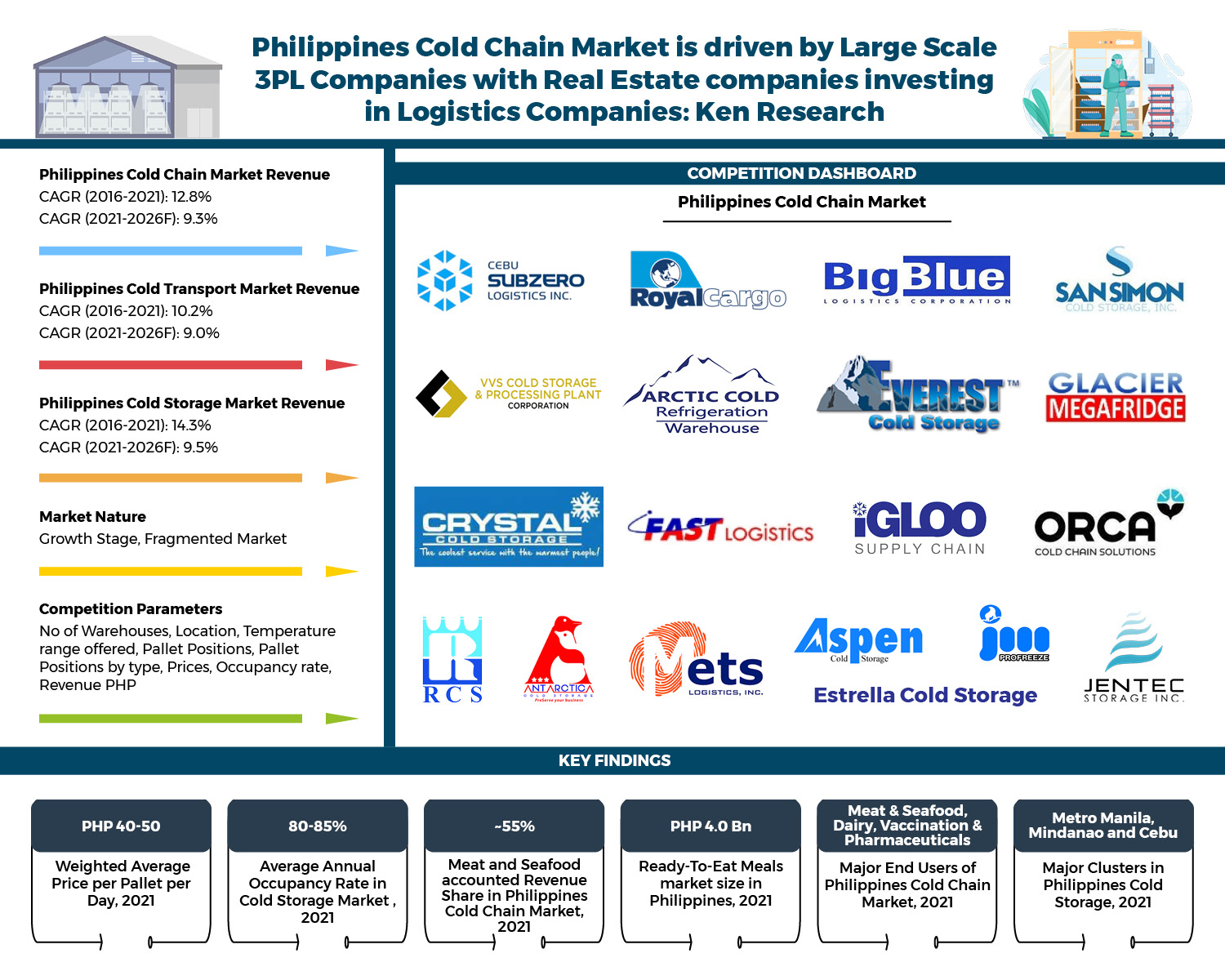 Increase Tie-ups with Various End-User Companies: Cold chain companies are collaborating with the producers of temperature-sensitive products such as meat and seafood, fruits and vegetables, dairy products, bakery and confectionery, pharmaceuticals and others, in order to build long-term associations with them and procure bulk orders. Additionally, improving lifestyle, modernization and growing young population, the frozen food service industry is expected to grow at a robust CAGR during the forecast period of 2021 to 2027, thereby augmenting cold chain companies' demand.
Analysts at Ken Research in their latest publication "Philippines Cold Chain Market Outlook to 2026F: Driven by Rising Meat and Seafood Consumption Owing to Growing Millennial Population Albeit Infrastructure Challenges" by Ken Research observed that the market is highly fragmented and is home to 100+ cold transportation & storage players enabling the market to transform over the years. The market is currently in the growth stage owing to rising domestic consumption of meat and seafood along with increasing government initiatives and investments in the sector, is expected to contribute to the market growth over the forecast period. The Philippines Cold Chain Market is expected to grow at a CAGR of 9.3% over the forecasted period 2021-2026F.
Key Segments Covered
Philippines Cold Chain Market
Cold Transport
Cold Storage
Meat and Seafood
Dairy Products
Processed Frozen Foods
Vaccination and Pharmaceuticals
Fruits and Vegetables
3PL Cold Chain Facilities
Owned
Request for Free Sample Report @ https://www.kenresearch.com/sample-report.php?Frmdetails=NTkyNDgz
Philippines Cold Transport Market
By Truck Type
Reefer Vans/Trucks (1 to 10 Tons)
20 foot reefers (10 – 20 Tons)
40 foot reefers and others (more than 20 tons)
By Mode of Transportation
Land
Sea
Air
By Location
Domestic
International
Inter-city
Intra-city
By End User
Meat and Seafood
Dairy Products
Vaccination and Pharmaceuticals
Processed Frozen Foods
Fruits, Vegetables and others
Philippines Warehousing Market
By Type:
By Industrial Freight/Retail
By Inland Container Depots
By Cold Storage
By Agriculture
Philippines Vegetables Cold Storage Market
Philippines Cold Storage Market
By Temperature range (by number of pallets)
Frozen
Chillers
Ambient
By Automation (by pallets)
Automated Pallets
Non-automated Pallets
By End User
Meat and Seafood
Dairy Products
Vaccination and Pharmaceuticals
Processed Frozen Foods
Fruits, Vegetables and others
By Region
Metro Manila
Cebu
Mindanao
Others
Key Target Audience
Cold Storage Companies
Cold Chain Companies
Cold Transport Companies
Captive Cold Storage Companies
Captive Cold Chain Companies
Logistics Companies
Non-captive Companies
Cold Chain Associations
Logistics Associations
Private Equity Firms
Venture Capitalists
Time Period Captured in the Report:
Historical Period: 2016-2021
Forecasted Period: 2021-2026F
Companies Covered:
Jentec Cold Storage
Royal Cargo
Glacier Megafridge
Royale Cold Storage
Big Blue Logistics
Mets Logistics
ORCA Cold Chain
Fast Logistics Group
Igloo Supply Chain
Arctic Cold Storage
 VVS Cold Storage (Vifel)
Antarctica Cold Storage
Crystal Cold Storage
JM Processing
San Simon Cold Storage
Estrella Cold Storage
Cebu Subzero Logistics
Everest Cold Storage
Aspen Cold Storage
Key Topics Covered in the Report
Executive Summary
Research Methodology including market definitions, market size and modeling
Industry Value Chain for Philippines Cold Chain companies
Philippines Cold Chain Market size (by revenue)
Philippines Cold Chain Market Segmentation (by Cold Storage & Cold Transport, by End User Application, by Ownership)
Landscape on Philippines Warehousing Market
Snapshot on Philippines Cold Storage Market
Snapshot on Philippines Cold Transport Market
Industry Analysis for Philippines Cold Chain Market
Issues and Challenges in Philippine Cold Chain Market
SWOT Analysis of Philippines Cold Chain Industry
Competitive Landscape in Philippine Cold Chain Market
Philippines Cold Chain Market Future Market size and predictions
Analyst Recommendations
Related Reports:
Philippines Frozen Storage Market Outlook to 2025-Driven by Growing Meat and Seafood Consumption and Insufficient Pallet Capacity to Tackle Food Wastage
UAE Cold Chain Market Outlook To 2025 – By Cold Storage (Ambient, Chilled And Frozen Warehousing) And Cold Transport (Land, Sea And Air), By End User (Dairy Products, Meat And Seafood, Pharmaceuticals, Fruits And Vegetables And Others) And By Ownership (Integrated And Contract Logistics)
South Korea Cold Chain Market Outlook To 2023 – By Cold Storage (Ambient, Chilled And Frozen Warehousing) And Cold Transport (Land, Sea And Air), By Application (Dairy Products, Fruits And Vegetables, Meat And Seafood, Pharmaceuticals And Others) And By Ownership (Integrated And Third Party Logistics)
Contact Us:-
Ken Research
Ankur Gupta, Head Marketing & Communications
+91-9015378249