Captives & NBFC's are expanding their auto loan portfolios at an increasing rate. Many Automobile OEM's, especially luxury brands like BMW, Audi etc. have started providing loans with 0% down-payments to increase the sale of their vehicles. This has proved very effective for these companies and has driven the sale of these dealerships.
Competition in the Qatar automobile market is expected to intensify as the market moves towards maturity. That means pricing wars will drive transaction prices down and lead to constant readjustment of after sales package prices (regular maintenance and servicing, parts etc.) in line with competition.
The cost of vehicle ownership in Qatar is low compared to other countries globally, due to a favorable tax structure. Availability of attractive insurance and financing options also makes it convenient to own a car for a Qatari. Moreover, the lack of public transport system means that the availability of alternative means of transportation is limited which results in higher penetration of vehicle ownership in the country.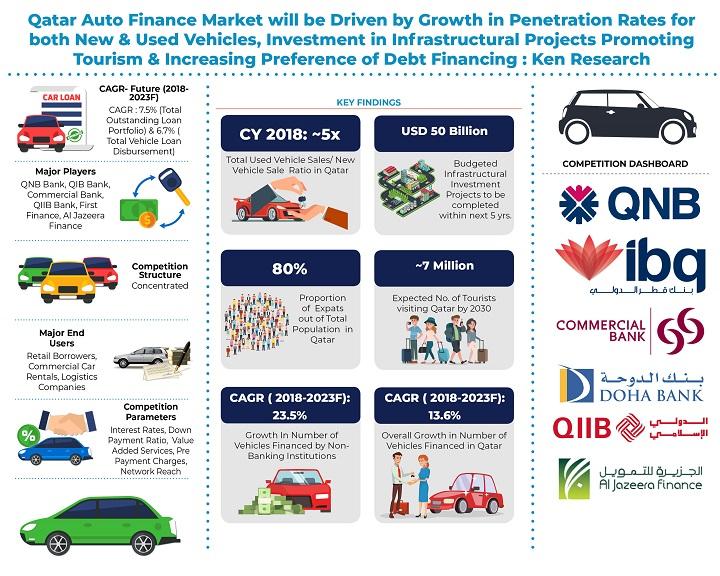 Increase in Competition: The auto finance market in Qatar is dominated by Banks, however Captives and NBFCs are increasing their presence in the Qatar auto finance market in the past few years. As a result, Banks are now forced to rethink their lending strategy to address their declining market share. The market is expected to be highly competitive in the future with lenders competing on interest rates or monthly repayment offered. Moreover, with the sales of used vehicles growing continually, lenders will be competing to capture this space as well with attractive financing options for new customer acquisitions.
Increasing Convenience by Digitization: With the number of millennial car purchasers increasing and increasing ease of digital interactions; digitalization and technology is set to play an important role in the Qatar auto finance industry in future and with technologies such as fin-tech and cloud services coming to the landscape, the loan process is on its way from being extremely complicated and time consuming to being increasingly streamlined and super-fast.
Increasing Penetration Rate: Increasing online marketing and customer acquisition capabilities of dealers and lenders, the proportion of people who finance the purchase of a vehicle will increase. Dealerships partnering with online lead generation companies will help the stakeholders in the market to carefully target and expand their total addressable market. The used vehicles segment will see an increase in the penetration ratio in term of number of units and NBFCs & OEM captives are expected to capture majority of the share in auto financing requirement of consumers in this segment.
Analysts at Ken Research in their latest publication "Qatar Auto Finance Market Outlook to 2023 –By Banks, Non-Banking Financial Companies and Captives, By New and Used Vehicles, By Type of Vehicle Financed (Motor Bikes, Cars and Light Commercial Vehicles) and By Loan Time Period" believe that the Qatar Auto Finance market demand is likely to follow a growth trend in the near future due to increasing penetration rates in used vehicles financing, increasing preference of debt financing & rising new vehicles sales. Some positive factors expected to impact the market, are the introduction of digitalization based lending models, the spread of customized loan products and a further rise in the penetration rate of both new & used vehicle finance. The market is anticipated to register a positive CAGR of 7.5% in terms of Loans Outstanding & CAGR of 6.7% in terms of Credit Disbursed during the forecasted period 2019-2023.
Key Segments Covered
By New and Used Vehicle
New Vehicle
Used Vehicle
By Type of Vehicle
Motor Bikes
Cars
Light Commercial Vehicles
By Lender Category
Banks
Captives
Non-Banking Financial Companies
By Loan Tenure between New and Pre-Owned Motor Vehicles
One Year
Two Years
Three Years
Four Years
Five Years or More
Key Target Audience
Existing Auto Finance Companies
Banks
Non-Banking Financial Companies
New Market Entrants
Government Organizations
Investors
Automobile Associations
Automobile OEMs
Time Period Captured in the Report:
Historical Period: 2014-2018
Forecast Period: 2019F-2023F
Key Companies Covered:
Banks
Qatar National Bank
Doha Bank
Commercial Bank
International Bank of Qatar
Qatar Islamic International Bank
Qatar Islamic Bank
Masraf Al Rayan
Non-Banking Financial Companies
First Finance Company (Barwa Bank)
Al Jazeera Finance
Key Topics Covered in the Report
Executive Summary
Research Methodology
Qatar Vehicle Finance Market Overview and Genesis
Qatar Vehicle Finance Market Size, 2014-2018
Qatar Vehicle Finance Market Segmentation, 2014-2018
Major Trends and Development in Qatar Vehicle Finance Market
Regulatory Framework in the Qatar Vehicle Finance Market
A Snapshot on Digitalization of Auto Finance in Qatar
Customer Perspective in Qatar Vehicle Finance Market
Competitive Landscape containing Company Profiles in the Qatar Auto Finance Market
Qatar Vehicle Finance Market Future Outlook and Projections, 2019F-2023F
Analyst Recommendations for the Qatar Auto Finance Market
For More Information on the research report, refer to below link:
https://www.kenresearch.com/banking-financial-services-and-insurance/loans-and-advances/qatar-auto-finance-market-outlook-to-2023/274062-93.html
Related Reports:
https://www.kenresearch.com/banking-financial-services-and-insurance/loans-and-advances/us-vehicle-finance-market-outlook/252780-93.html
https://www.kenresearch.ae/banking-financial-services-and-insurance/loans-and-advances/vietnam-auto-finance-market/180197-93.html
https://www.kenresearch.ae/banking-financial-services-and-insurance/loans-and-advances/thailand-auto-finance-market/179514-93.html
https://www.kenresearch.com/banking-financial-services-and-insurance/loans-and-advances/philippines-auto-finance-market-outlook/227542-93.html
Contact Us:
Ken Research
Ankur Gupta, Head Marketing & Communications
+91-9015378249