Saudi Arabia Online B2B Grocery Market Overview:
The Online B2B Grocery Market in Saudi Arabia has seen significant growth in last few years supported by increased precautionary buying due to COVID which fueled the grocery market. The entry of emergent players into the market is also fuelling the online B2B grocery industry in KSA.
The availability of a large selection of SKUs and online B2B grocery platforms in KSA is empowering friendly neighbourhood shops by relieving them of the burdens of inventory and cash flow. This makes retailing easy and stress-free for them. Also, the adoption of online channels is very high among Bakalas, coupled with high stickiness to the new channel. The digital retailers (Bakalas) are maturing, and decision criteria is moving towards experiential factors and away from value proposition factors.
The Online B2B Grocery Market in Saudi Arabia is segmented on the basis of total number of orders and the revenue with a CAGR of ~% over the period 2016-2021 with total Revenue generated ~% in USD Bn.
KSA Online B2b Grocery Market Segmentation
Saudi Arabia Online Grocery Market is at growing stage and has a high potential with growth opportunities like digital transformation, and growing trend of online bulk ordering.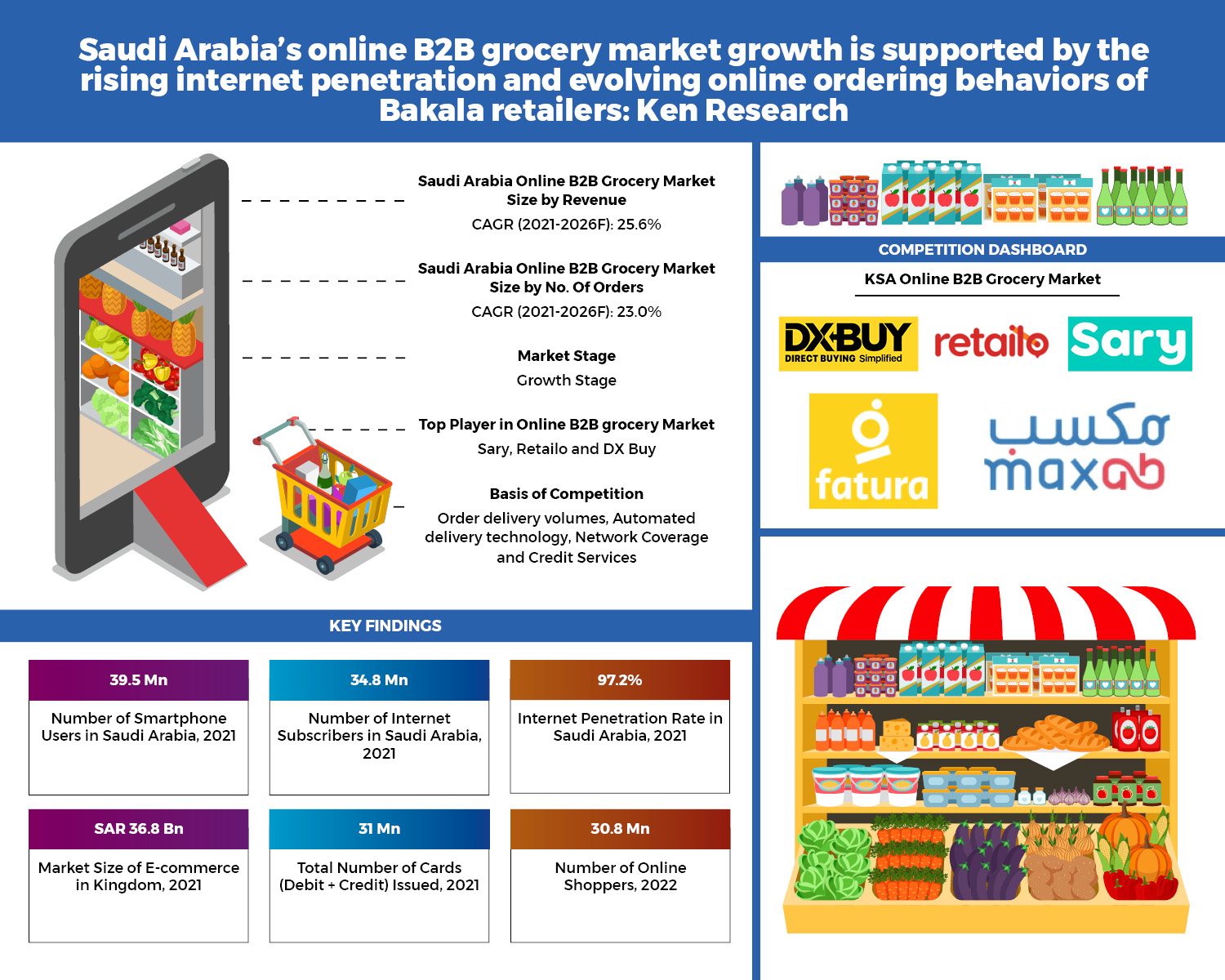 By Product Category: Oil and dairy products are dominating the market followed by beverages, staples and confectioneries in 2021.
By Mode of Sales: Majority of the revenue is generated through cash on delivery mode in 2021 while other mode of sales are expected to grow in future.
By Point of Sales: Majority of the revenue is generated form Medium grocery stores and HoReCa as adoption rates of online B2B grocery platforms are comparatively higher.
By GMV and Number of Orders on the basis of Region: Riyadh and Jeddah are generating the highest GMVs followed by Dammam, Mecca and Medina in 2021.
By Number of Orders per Region: More than 50% of the orders are from Riyadh and Jeddah due to higher urbanization and large number of small shops in 2021.
Request for Free Sample Report @ https://www.kenresearch.com/sample-report.php?Frmdetails=NTgxNjU0
Bakala Retailer Customer Analysis:
Unorganized bakals are dominating the overall retailers in Saudi Arabia with Riyadh and Jeddah has the highest number of Bakals retailers followed by Dammam and Mecca.
Snapshot of FMCG and Grocery Market
The KSA's FMCG market is largely concentrated in the three cities – Riyadh, Jeddah, and Dammam. Internet has facilitated a convenient mode to increase a company's reach
Saudi Arabia FMCG Market Size
The FMCG market in Saudi Arabia is fueled by due to the country's large population and rising purchasing power of the workforce with largely concentrated in the three cities – Riyadh, Jeddah, and Dammam in 2021.
Saudi Arabia B2C Grocery Market Size
KSA grocery market combines both offline and online B2C grocery market driven by a rising population, improving education and changing shopping habits, with increased demand driven by precautionary buying are some factors boosting the KSA Grocery market.
Saudi Arabia Offline B2C Grocery Market Size
The offline grocery market in Saudi Arabia is growing rapidly led by the Bakalas in the region and driven by rising willingness to pay a premium.
Competition Landscape of Saudi Arabia online b2B Grocery Market
The competition in Saudi Arabia B2B grocery market was observed to be moderately concentrated. Sary acquires majority of the market share in Saudi Arabia with other players includes DX Buy, Fatura, retailo and Max Ab.
Companies in Saudi Arabia Online B2B Grocery market are competing based on Order delivery volumes, Delivery Time, Track and tracing, Network Coverage, Terms of credit target customers and automated delivery technology
Saudi arabia online b2B Grocery Market Future Outlook and Projections
The Online B2B Grocery Market is expected to grow at a double digit ~% CAGR on the basis of Revenue and ~% on the basis of number of orders. With the market at rebound stage, factors such as digital economy, easy financing option from platforms and tech-enabled value services by companies will drive the online B2B grocery market in the near future.
Key Target Audience
B2B Grocery Platforms
3PL Logistics Companies
Grocery Delivery companies
Last Mile Logistics Companies
Quick Commerce Companies
Integrated Logistics Companies
E-Commerce Marketplace Platform
Retail Companies
Logistics/Supply Chain Industry Associations
Market research and Consulting firms
Key Topics Covered in the Report
Executive Summary
Saudi Arabia FMCG Market Overview
Saudi Arabia Online B2B Grocery Market
Saudi Arabia Offline B2C Grocery
Saudi Arabia Online B2B Grocery Market Size
Saudi Arabia Online B2B Grocery Market Landscape
Saudi Arabia Online B2B Grocery Market Segmentation
Saudi Arabia Online B2B Grocery Market End User Analysis
Saudi Arabia Online B2B Grocery Bakala Retailers Analysis
Competitive Landscape Saudi Arabia Online B2B Grocery Market
Future Market Size and Segmentations, 2021-2026F
Covid-19 Impact Saudi Arabia Online B2B Grocery Market
Analyst Recommendations
Case Studies
Related Reports
Indonesia Online Grocery Market Outlook To 2026 – Driven By Changing Shopping Habits Of Consumers And Regional Expansion Of Local & International Players In The Archipalego
Vietnam Online Grocery Market Outlook To 2026 – Market Driven By Increasing Smartphone Penetration, Changing Shopping Habits Of Consumers And Regional Expansion Of The Online Grocery Players
Contact Us:-
Ken Research
Ankur Gupta, Head Marketing & Communications
+91-9015378249