Key Findings
Expansion in internet services (~98% internet penetration in 2021) coupled with increasing number of women drivers have collectively given a boost to development of Used Car industry in KSA.
Number of used car sold in KSA increased from 2021 to 2026, owing to KSA's increasing disposable income, internet infrastructure, increased online presence of used car dealers and advancement in technology is going the drive the market in the future.
Saudi Arabia Used Car Market Growth
Growth of Online Platforms: The last decade has witnessed the entry of various online auto classified platforms in the country such as Carnab and Motary. The internet penetration in the Kingdom stood at ~98% in January 2021, highlighting the growing presence of consumers online. The majority of the leads for offline dealerships were also observed to be generated online. The traction towards online platforms has led to brands & local dealerships partnering with these platforms to list their used car inventory online.
Central & Western Region Dominating Sales: The central & western regions, particularly the cities of Riyadh & Jeddah were observed to account for the majority of the used car sales in the country. These regions also account for a large proportion of the working and ex-pat population in the country and act as a business hub. Most large brand-authorized dealers have multiple showrooms in these regions.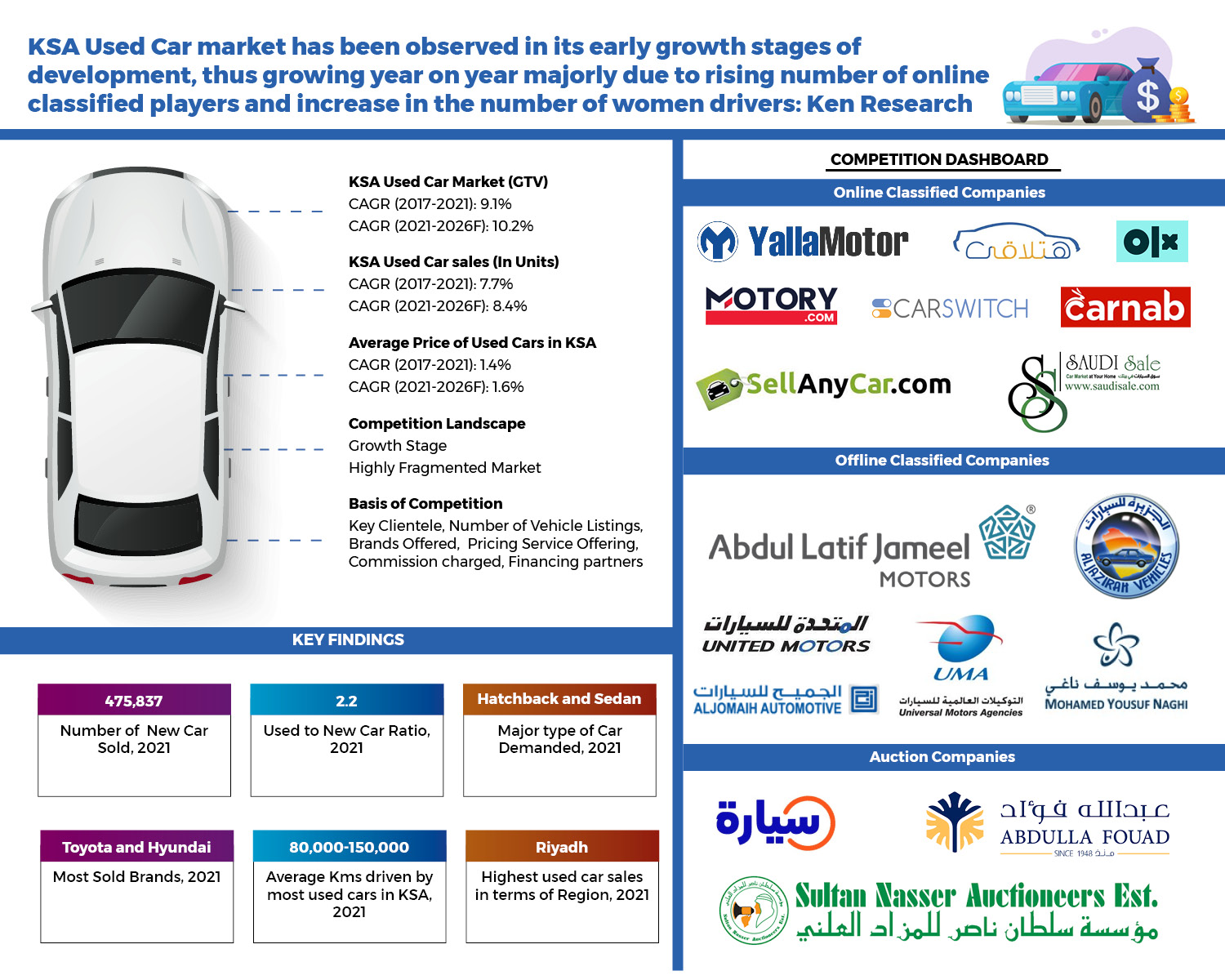 Impact of COVID-19 on Used Car Sales Market: COVID-19 has severely impacted the automotive industry in Saudi Arabia, including the used car sales market. During the months from April-June, 2020 the footfall in showrooms declined by ~80%. Job losses among ex-pats and restricted international travel led to a surge in the supply of used cars from rental companies. Sale of Used Cars expected to increase mainly from tier 2 and 3 cities as consumers prefer to have their own vehicle as compared to travelling in Public Transport System. Companies are expected to increase their presence online to boost their pre-owned car sales.
Analysts at Ken Research in their latest publication "Saudi Arabia Used Car Market Outlook to 2026F- Driven by Boom in Online Platforms and Increase in Internet and Smartphone Penetration" observed that post pandemic, Saudi Arabia will be in a growth phase in the used car market in Middle East region. Moreover, the rise in the online platforms and increasing penetration of internet has resulted in higher demand of used cars through online platforms in the country. Therefore, industry is expected to demonstrate strong growth in the future led by growth of online used car platforms that provide convenience to both buyers and sellers and makes the entire process smoother. The Saudi Arabia Used Car Market is expected to grow at a CAGR of 10.2% on the basis of GTV over the forecast period 2021-2026F.
KSA Used Car Market
By Market Structure
Organized Sector
OEM Certified Dealers
Multi-Brand Non-Franchise Dealerships
Auction Companies
Unorganized Sector
C2C
Local Dealers
By Type of Car
Sedan and Hatchback
Suv
Pickup trucks
Luxury
By Manufacturer
Toyota
Hyundai
Ford
Chevrolet
GMC
Nissan
Kia
By Kms Driven
<50,000
50,000-80,000
80,000-150,000
>150,000
By Age of Vehicle
<1 year
1-2 years
3-5 years
>5 years
By City
Northern
Southern
Central
Western
Eastern
By Age of the Consumer:
18-34
35-54
55+
By Age of the Consumer:
Female
Male
Request for Free Sample Report @ https://www.kenresearch.com/sample-report.php?Frmdetails=NTg4ODYy
Key Target Audience
Used Car Companies
OEMs
Multi-Brands
Online Used Car Portals
Used Car Financing Companies
Government Bodies
Investors & Venture Capital Firms
Used Car Dealerships
Used Car Industry
Used Car Manufacturing Companies
Used Car Distributors
Used Car Auction Houses
Used Car Associations
Time Period Captured in the Report:
Historical Year: 2017–2021
Base Year: 2021
Forecast Period: 2021–2026F
Companies Covered:
Online Auto-Classified
Expatriates
Expat
Haraj
Opensooq
Mourjan
YallaMotors
Motory
SellAnyCar
Syarah
CarsSwitch
Carnab
OLX
Saudisale
Halta2ee
Major Auction Companies
Abdulla Fouad Company of Public Auctions Car Sales
Sultan Nasser Auctioneers Est
AutoWorld (AKA Al Jazira Equipment Co.Ltd)
Saud Qahtani Auction Company
Motory
Syarah
Mozayada
budgetsaudi
Mazadhala
KSA Used Car Market Finance Companies
Alinma Bank
Riyad Bank
ANB Leasing Bank
Emirates NBD Auto Lease Bank
Al Rajhi Bank
National Commercial Bank
Saudi Investment Bank
Bank Albilad
Al Yusr
Taajeer Finance Company
Abdul Latif Jameel
Al-Tayseer Car Finance
Major Finance Institution
Abdul Latif Jameel
Aljomaih Automotive Company
Al Jazirah Vehicle
Mohamed Yousuf Naghi
United Motors Company
Universal Motors Agencies
SAMACO Automotive
Petromin Stellantis
Key Topics Covered in the Report
KSA Automotive Market Overview
KSA Used Car Market Overview
KSA Online E-commerce Used Car Market
Market Ecosystem
Value chain Analysis
Customer Buying Journey in KSA
Decision Making Parameters for Customers
Offline and Online Business Models
Detailed Analysis on KSA Used Car Market (Market Size, 2021; Market Structure; Market Segmentations; Competition; Future Market Size, 2026; Future Trends and the Way Forward
Snapshot on Online Used Car Platforms in KSA
Snapshot of Used Car Auction House in KSA
Snapshot of Used Car Finance Market in KSA
Business Opportunity (Customer Profile Analysis)
Recommendations (Sales and Marketing Strategies, Positioning Strategies, Business Framework)
Related Reports
Egypt Used Car Market Outlook To 2026 – Driven By Shift In Consumer Demand Along With Growth Of Online Used Car Platforms And Availability Of Financing Options
Philippines Used Car Market Outlook To 2026 (Third Edition): Driven By The Pandemic Incited New Opportunities For Used Car Dealers And Increased Penetration In The Online Space For Used Car Transactions
Vietnam Used Car Market Outlook To 2026 (Second Edition): Driven By Growing Disposable Income And Shifting Consumer Preference From Two-Wheelers To Four-Wheelers
Contact Us:-
Ken Research
Ankur Gupta, Head Marketing & Communications
+91-9015378249