South Africa's Cold Chain Market is driven by the Rising Domestic Consumption of Citrus Fruits, Growing Urbanization, and Expansion of Existing Cold Storage: Ken Research
Driven by rising meat, seafood & fruit, and vegetable consumption, owing to growing population and infrastructural development, South Africa's cold chain market has ample growth opportunities with its increase in revenue.
Expansion of Existing Cold Storages: South Africa's Cold Chain industry is in a growth phase, with growing cold chain warehouses and cold transport. Players such as Maersk, Precool Cold Storage and CCS Logistics are taking note and expanding current cold storage infrastructure to accommodate the boom in demand for fresh fruits and vegetables, which is driving the market growth.
Growing Urbanization and Rising Domestic Consumption of Citrus: The change in lifestyle and urbanization led to rising domestic consumption of processed food. The demand for frozen ready-to-cook meals has surged in South Africa due to the country's fast-paced lifestyle and rising per capita income. Change in consumption patterns post-Covid-19, people have become more health conscious. Also, logistics 4.0 which has been defined as machine-to-machine communication and the Internet-of-Things that make factories resemble something like a smart home, with various appliances and machines working together to create a unified system and cold chain companies are looking forward to incorporating such technologies and building an ecosystem for growth.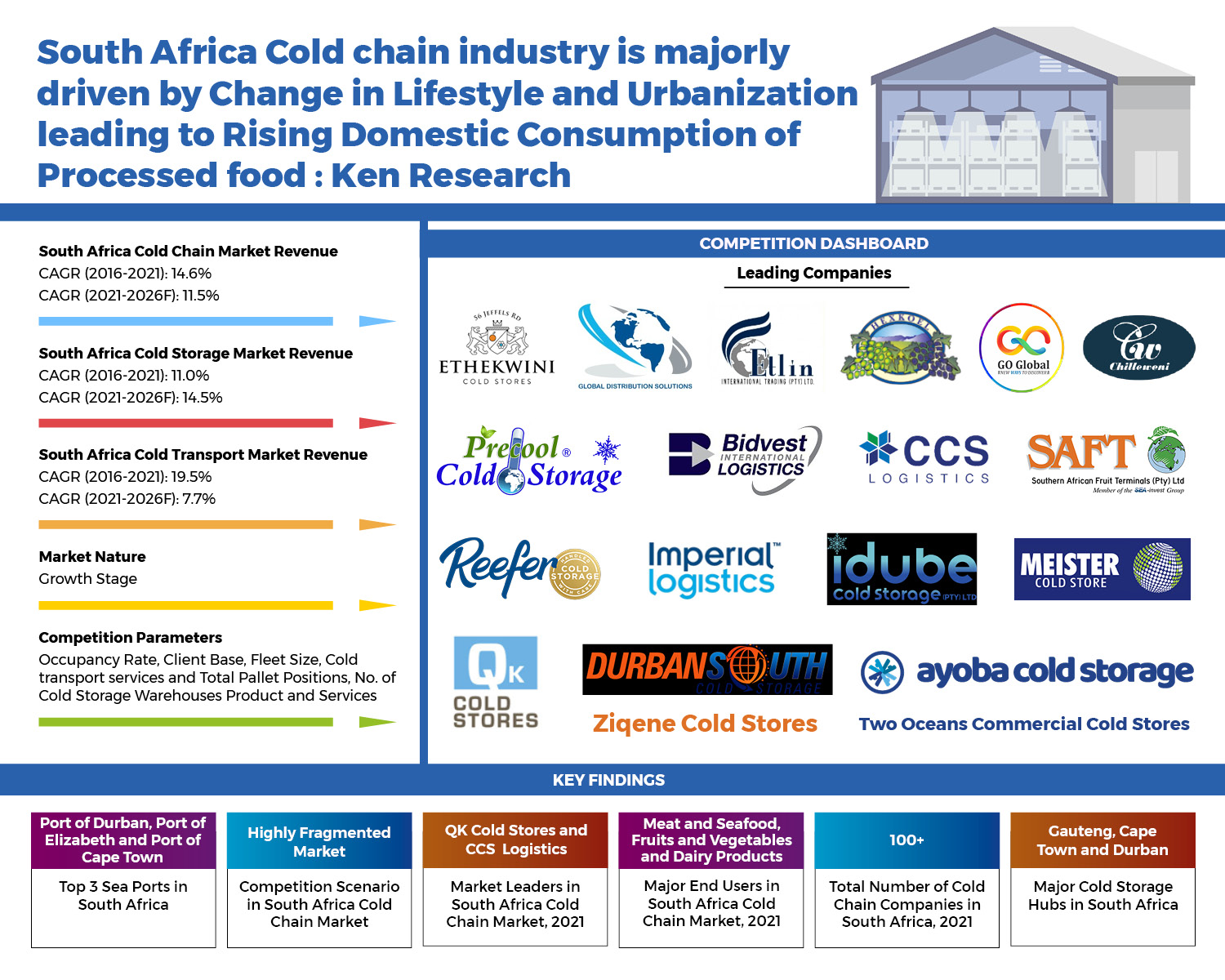 Government Initiatives revamping the demand: In South Africa, SARDA is an organization aiming at connecting all sectors in the cold chain industry including suppliers of equipment and services used by those companies that form the cold chain. The Perishable Products Export Control Board (PPECB) is an independent service provider of quality certification and cold chain management services for producers and exporters of perishable food products.
High Cost Associated with Logistics and Energy Crisis increasing: The high cost associated with operations of the cold chain market and the high crime rate such as theft, loot, etc. are increasing the cost of cold transport in the country and posing a major threat to the cold chain market of South Africa.
Analysts at Ken Research in their latest publication "South Africa Cold Chain Market Outlook to 2026F: Driven by Rising Meat and Seafood & Fruits and Vegetable Consumption, owing to Growing Population and Infrastructural Development" By Ken Research observed that the Cold Chain market is an emergent market in South Africa at a rebounding stage from the economic crisis after the pandemic. The rising government policies and demand for Cold Chain, rising domestic consumption of meat and seafood, fruits and vegetables along with government initiatives are expected to contribute to the market growth over the forecast period. The market is expected to grow at a 11.5% CAGR during 2021-2026F owing to the rise in the economy of the country and growing population as well as infrastructural development by the government with investments in the sector.
Key Segments Covered
South Africa Cold Chain Market
By Revenue Split:

Cold Transport

Cold Storage

By End User:

Meat and Seafood

Fruits and Vegetables

Pharmaceuticals

Dairy Products

Processed Foods

Frozen Foods

By Ownership:

3PL Cold Chain Facilities

Owned
Request for Sample Request @ https://www.kenresearch.com/sample-report.php?Frmdetails=NTk2MDkw
South Africa Cold Transport Market
By Truck Type

Reefer Vans/Trucks (1 to 10 Tons)

20-foot reefers (10 – 20 Tons)

40-foot reefers and others (more than 20 tons)

By Mode of Transportation

Land

Sea

Air

By Location

Domestic

International
By Vicinity

Inter-city

Intra-city

By Ownership:

3PL Cold Chain Facilities

Owned

By End User

Meat and Seafood

Fruits & Vegetables

Pharmaceuticals

Dairy Products

Processed foods

Frozen Foods
South Africa Cold Storage Market
By Temperature:

Frozen

Chillers

Ambient

By End User

Meat and Seafood

Fruits & Vegetables

Pharmaceuticals

Dairy Products

Processed foods

Frozen Foods

By Region

Gauteng

Cape town

Durban

Others
Key Target Audience
Cold Storage Companies

Cold Chain Companies

Cold Transport Companies

Captive Cold Storage Companies

Captive Cold Chain Companies

Logistics Companies

Non-captive Companies

Cold Chain Associations

Logistics Associations

Private Equity Firms

Venture Capitalists
Time Period Captured in the Report:
Historical Period: 2016-2021
Base Year: 2021
Forecasted Period: 2021-2026F
Companies Covered:
QK Cold Stores

CCS Logistics

Imperial Logistics

Meister Cold Stores

Etlin International

Chilleweni Cold Storage Solutions

Global Distribution Solutions

Reefer Cold Storage

Bidwest International Logistics

Hexkoel

Ethekwini Cold Stores

Precool Cold Stores

Idube Cold Storage

Two Oceans Commercial Cold Stores

Ayoba Cold Storage

Durban South Cold Storage

GoGlobal

Ziqene Cold Stores

SAFT Atlantic Cold Storage
Key Topics Covered in the Report
South Arica Cold Chain Market Overview

South Arica Cold Chain Industry Supply Ecosystem

Business Cycle, Genesis and Timeline of South Arica Cold Chain Market

South Arica Cold Chain Market Size, 2016-2021

South Arica Cold Chain Market Segmentation, 2021 (by Cold Storage and Cold Transport, by Ownership, by End Users)

South Africa Cold Storage Market Overview

South Africa Cold Storage Market Ecosystem

South Africa Cold Storage Market Size,2016-2021

South Africa Cold Storage Market Segmentation, 2021 (by Temperature Range, by End Users, by Region)

South Africa Cold Transport Market Overview

South Arica Cold Transport Market Size, 2016-2021

South Africa Cold Transport Market Segmentation, 2021 (by Type of Reefer Truck, by Mode of Transportation, by Location, by End Users)

Value Chain Analysis of South Africa Cold Chain Market

South Africa Cold Chain Market Competition Landscape

SWOT Analysis of South Africa Cold Chain Market

Regulatory Landscape of South Africa Cold Chain Market

Growth drivers of South Africa Cold Chain Market

Issues and Challenges in the South Africa Cold Chain Market

Recent Trends in the South Africa Cold Chain Market

End User Analysis of South Africa Cold Chain Market

Future Outlook of South Africa Cold Chain Industry, Cold Storage Market, Cold Transport Market, 2021-2026F

Market Opportunities and Analyst Recommendation
For more information on the research report, refer to below links:-
South Africa Logistics Market Outlook to 2026: Ken Research
Related Reports:
Philippines Frozen Storage Market Outlook to 2025-Driven by Growing Meat and Seafood Consumption and Insufficient Pallet Capacity to Tackle Food Wastage
UAE Cold Chain Market Outlook To 2025 – By Cold Storage (Ambient, Chilled And Frozen Warehousing) And Cold Transport (Land, Sea And Air), By End User (Dairy Products, Meat And Seafood, Pharmaceuticals, Fruits And Vegetables And Others) And By Ownership (Integrated And Contract Logistics)
South Korea Cold Chain Market Outlook To 2023 – By Cold Storage (Ambient, Chilled And Frozen Warehousing) And Cold Transport (Land, Sea And Air), By Application (Dairy Products, Fruits And Vegetables, Meat And Seafood, Pharmaceuticals And Others) And By Ownership (Integrated And Third Party Logistics)