How is the South Korea Used Car Market Positioned?
~70% of the total population is under the age bracket 15-64 years supplemented by the high per capita income.
The used car market in South Korea has a highly concentrated online classifieds market and fragmented offline market. A combination of restrictions on public transport and a movement towards private travel have accelerated the sale of used cars. The Online Platforms and E- Commerce in the market benefitted the most from this sector as it grew the highest. Factors such as easy availability of finance through banks and NBFIs have positively contributed to the growth in the used car market revenue. Increased digitalization, internet penetration and relaxation of government regulations on allowing big domestic players in the used car market space are critical factors which have boosted the used cars sales.
Parameters such as the age, brand, certifications, mileage, and so on impact the buying decision of the customers.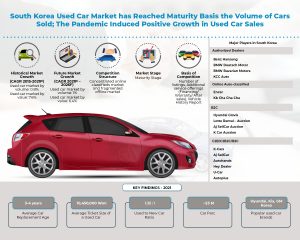 Market: Market for 'Used Car in South Korea' has increased at a CAGR of ~% over the period 2015-2021P on the basis of revenue. Sales for used cars were recorded at ~units in South Korea during 2021P.
There has been a surge in the demand for quality cars, warranty packages, after-sale services, and vehicle history reports, since the used car market in South Korea has high consumer distrust.
Yet, there are a high number of independent sellers (Customer to Customer) transactions which operate in the market. Transactions between parties without intervention in used car sales, such as transactions between individuals, accounted for greater sales than transactions through used car dealers accounted
The used cars market showed resilience during the economic crisis brought down on the country by the pandemic in the year 2020. Both the new and used cars market witnessed growth in sales.
The country saw its domestic industry – comprising of Kia, Hyundai, Renault-Samsung, GM Korea, and SsangYong – bounce back in March 2020 after seeing big declines in February, when it was down nearly, on automaker shutdowns.
Request for Sample Report @ https://www.kenresearch.com/sample-report.php?Frmdetails=NTE1MDY3
South Korea Used Car Market Segmentation
By Market Structure: Organized sector accounted for the majority of share in the used car market segment. Unorganized sector, on the other hand, made for the remaining small percentage of share.
By Organized Market Source of lead generation:
In South Korea, online platform is the most preferred method for lead generation for organized players. It also offers a display of large variety of used vehicles on a single click and allows person to compare different vehicles at the same time.
By Type of Car: SUVs are the most preferred car type amongst used car buyers. Other preferred car types include Luxury Sedans and Sedans.
By Sales Channel: C2C sales is most the preferred sales channel in South Korea. B2C sales make up a relatively small portion of the market.
By Brand: Hyundai has the highest share in the used cars market. Another Korean brands Kia, has captured a high proportion of the total market as well.
Snapshot on Online Used Car Landscape
The number of online used car portals and marketplaces have risen significantly along with rising internet penetration in South Korea over the last few years. Major dealers such as K-Cars, Aj SellCar, Autoplus and others are using online platforms to increase their sales. Hence, there was an inevitable expansion in the lead generation of used cars via the online means. Social networking sites including Facebook and Instagram play a key role in expanding the used cars market in South Korea. Emergence of online auto-portals and classified platforms such as Encar and Kb Cha Cha Cha have provided increased visibility and credibility to the customer-to-customer transactions in the unorganized segment. South Korea had one of the fastest internet networks around the world. The internet infrastructure has been a high priority in numerous governmental regulations that led to its rapid and thorough expansion, contributing positively to the growth of the industry.
Competition Scenario in South Korea Used Car Market
Various authorized dealerships, multi-brand outlets & independent (standalone as well as clustered dealers) operating in the industry have led to increased competition in the used car market. Most multi-brand dealers are providing value added services including easy financing options, handling the paperwork and warranty, to expand their market share and to compete with authorized dealers.
South Korea Used Car Market Future Outlook and Projections
The used car industry in South Korea is expected to demonstrate a low growth rate in the future. It is expected to increase at a five year CAGR of 1.0% (by sales volume in units) from 2021P to 2026F. It is anticipated that the share of the organized segment in the used cars space will increase over time owing to an expected entrance of the big finished car makers in the market. Foreign established C2B players are too considering 'South Korea Used Car Market' a growing and profitable venture as consumer trust is higher towards imported vehicles. The demand for imported vehicles has been on a rise, especially for German Brands such as Mercedes and BMW.
Key Segments Covered
By Market Structure

Organized

Unorganized
By Organized Channel Source of Lead generation

Online

Dealership walk-ins
By Type of Car

Luxury Sedan

Sedan

Hatchback

SUV

MPV

Others (Sports car, Station wagon)
By Engine Size

2000 CC and Below

2000 CC – 3000 CC

3000 CC – 4000 CC

4000 CC and Above
By Brand

Hyundai

Kia

GM Korea

Renault Samsung

Ssangyong

Benz

BMW

Genesis

Audi

Volkswagen

Others (Includes both domestic and international brands)
By Region

Gyeonggi

Seoul

Gyeongnam

Gyeongbuk

Incheon

Busan

Chungnam

Dae-Gu

Jeonnam

Jeonbuk

Chungbuk

Gangwon

Gwangju

Daejeon

Ulsan

Jeju

Sejong
By Age

0-2 Years

2-4 Years

4-6 Years

6-8 Years

8-10 Years

More than 10 Years
By Mileage

Less than 20,000

20,000 – 40,000 Km

40,000 – 60,00 Km

60,000 – 80,000 Km

80,000 – 100,000 Km

Over 100,00 Km
By Fuel

Petrol

Diesel

Electric

Others (Petro-Electric, Diesel-Electric, etc.)
By Transmission Type

Auto

Manual

Others (Semi-Auto, CVT)
Companies Covered
Authorized Dealers

Benz Hansung

BMW Deutsch Motor

BMW Bavarian Motors

KCC Auto.
C2B/C2B2C/B2C

K-Cars

Aj SellCar

Autohands

Hey Dealer

U-Car

Autoplus
Online Portals – Online Auto Classified Platforms

Encar

Kb Cha Cha Cha
Auction Players

Hyundai Glovis

Lotte Rental – Auction

Aj SellCar Auction

K Car Auction
Time Period Captured in the Report:-
Historical Period – 2015 – 2021P

Forecast Period – 2021P – 2026F
Key Topics Covered in the Report
Executive Summary

Research Methodology

South Korea Used Car Market Overview

South Korea Used Car Market Size, 2015-2021P

South Korea Used Car Market Segmentation, 2021P

Growth Drivers in South Korea Used Car Market

Issues and Challenges in South Korea Used Car Market

Government Regulations

Ecosystem and Value Chain of Used Car Industry in South Korea

Customers Purchase Decision Making Parameters

Cross Comparison between Major Authorized Dealers and Multi-brand Dealers 

Snapshot on Online used car market

Future Market Size and Segmentations, 2021P – 2026F

Covid-19 Impact on the Industry & the way forward

Analysts' Recommendations
For more information on the research report, refer to below link:
South Korea Used Car Market Industry Outlook To 2026
Related Reports
Indonesia Used Car Market Outlook To 2025 – By Market Structure (Organized & Unorganized), By Type Of Car (MPVs, Hatchbacks, SUVs & Others), By Brand (Toyota, Honda, Daihatsu, Suzuki & Others), By Vehicle Age, By Mileage, By Customer Age And By Region (DKI Jakarta, East Java, West & Central Java, North Sumatera & Others)"
Saudi Arabia Used Car Market Outlook To 2025- By Market Structure (Organized & Unorganized), By Type Of Car (Sedans & Hatchbacks, SUVs & Crossovers, Pick-Ups And Luxury), By Brand (Toyota, Hyundai, GMC & Chevrolet, Ford And Others), By Type Of Sourcing, By Age Of Vehicle (Less Than 1 Year, 1-3 Years, 3-5 Years & More Than 5 Years), By Kilometers Driven (Less Than 50,000 Km, 50,000-80,000 Km, 80,000-120,000 Km & More Than 120,000 Km) And By Region (Northern, Southern, Central, Eastern And Western)"
Malaysia Used Car Market Outlook To 2025 (Second edition) – Growth of Online Used Car Platforms and increased shift from using public transport to personal cars, fueled by Covid-19 to accelerate Industry's Growth
Follow Us
LinkedIn | Facebook | Twitter | YouTube
Contact Us:
Ken Research
Ankur Gupta, Head Marketing & Communications
Support@kenresearch.com
+91-9015378249