Key Findings
The Thailand Online Insurance Market is anticipated to grow as a result of changing consumer lifestyles, rapid increase in urbanization, and the tech-savvy generation that are favoring online purchasing.
Thailand's current total insurance penetration is 5.5%, which is higher than the penetration in emerging markets like China (4.4%), India (4.1%), Indonesia (1.5%), Vietnam (3.3%), and the Philippines (1.7%). Increasing digital insurance users due to rise in internet penetration stands at 69.5% in 2021.
The Government's Policy of "Insurance Development Plan 4.0" aims to digitally transforming the country that will fuel the interest in how InsurTech will transform the country's insurance industry.
Thailand Online Insurance Market Overview:
A shift to targeted Health Management: Thailand is one of the fastest-ageing countries in the world where the proportion of the population aged 60+ is projected to increase to 33% in 2040. Hence many old people are to issue insurance policies in future along with changes in the society like fast-growing middle class and health tech-savvy working population consumers create opportunities for multiple players to enter the market.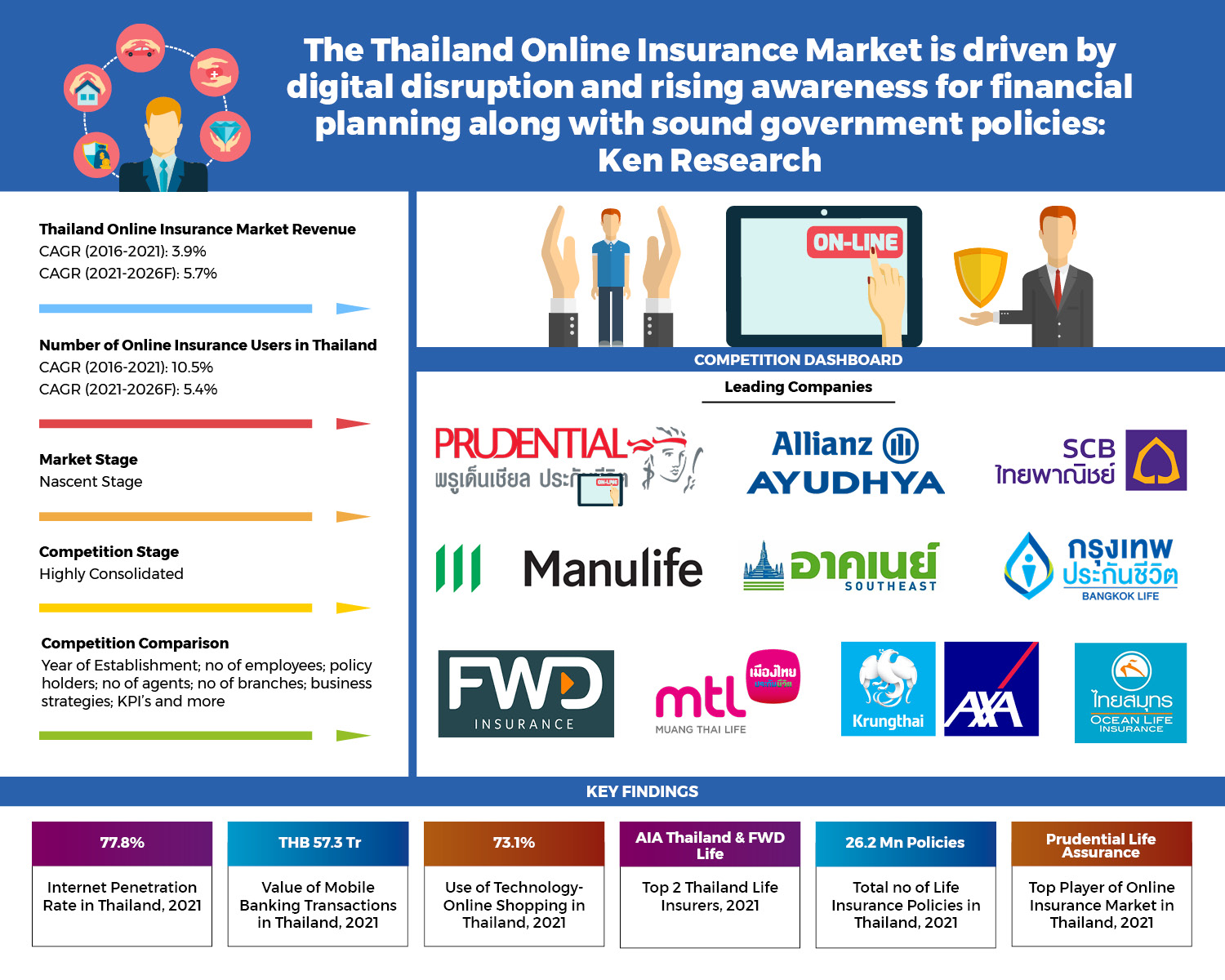 Future Technologies: The online shopping industry is always changing through new trends that will affect businesses in coming years with merchants creating and/or improving their online businesses. Technologies that will transform the Online Insurance Industry in Thailand include Predictive Analysis, Artificial Intelligence, Machine Learning, Internet of Things, InsurTech, Telematics, Chatbox, Lowcode and more where digital insurance offerings and a defined omnichannel approach to customer service is driving the pace of change in the insurance industry in Thailand. Insurance technology is poised to mature even more by 2022 that can scale and update with changing demands and capabilities of the consumers.
Online Insurance Sales: Online insurance sales may be relatively small compared to sales through agents/ brokers or bancassurance, but the online distribution channel is becoming an increasingly popular choice. It is expected that Thai's would issue online insurance as it is more convenient issuing e-policies, e-claim payments, instant insurance issuance with minimal paperwork will boost the market in near future.
Analysts at Ken Research in their latest publication "Thailand Online Insurance Market Outlook to 2026F- Driven by digital disruption and rising awareness for financial planning along with sound government policies" by Ken Research observed that with the online insurance industry being at the nascent stage, the marketplace offers wide opportunities at affordable premiums as multiple players enter the market. The market is expected to grow @5.7% CAGR (2021-2026F) owing to the increase in smart phone penetration rate and increased consumer spending on different life and non-life insurance due to growing penetration of internet and smart phones and increasing safety measures for emergencies are driving the market in Thailand.
Key Segments Covered in the report
Thailand Online Insurance Market
Life Insurance
Non-Life Insurance
Health Insurance
Motor Insurance
Property insurance
Others
Bangkok
Songkhla
Lamphun
Others
Less than 40k
More than 40k
Agents
Aggregators
Company Website
Request for Free Sample Report @ https://www.kenresearch.com/sample-report.php?Frmdetails=NTk2MDA1
Key Target Audience
Insurance Industry
Online Insurance Companies
Policy Consultants
Life and Non-Life Insurers
Government Agencies
Private Insurance Agents
Insurance Brokers
Market Research and Consulting Firms
Time Period Captured in the Report:
Historical Period: 2016-2021
Base year: 2021
Forecast Period: 2022F-2026F
Thailand Online Insurance Market Companies Covered:
Prudential Life Assurance
Muang Thai Life Assurance
Bangkok Life Assurance
South East Life Insurance
Ocean Life Insurance
FWD Life Insurance
Allianz Ayudhya Assurance
SCB Insurance
Manulife Insurance
Krungthai AXA Life Insurance
Key Topics Covered in the Report
Executive Summary of Thailand Online Insurance Market
Thailand Country Overview
Thailand Insurance Sector Overview
Thailand Online Insurance Market Genesis and Overview
Major Challenges in Thailand Online Insurance Market
Comprehensive Analysis on Thailand Online Insurance Market (Market Size, 2016-2026F; Market Shares; Future Trends)
Industrial Analysis of Thailand Online Insurance Market
Government and Private Initiatives for Thailand Online Insurance Market
Technologies Shaping Thailand Online Insurance Market
Competitive Landscape in Thailand Online Insurance Market
Analyst Recommendations
Related Reports:
UAE Online Insurance Industry Outlook to 2024 – Driven by Customer Uptake, Ease for New and Renewal Policy Convenience with Insurance Aggregators
Indonesia Online Loan and Insurance Industry Outlook to 2024 : Compelling Incumbents to pursue growth via Product Development & International Expansion
Global Online Life Insurance Industry Market Research Report
Contact Us:-
Ken Research
Ankur Gupta, Head Marketing & Communications
+91-9015378249