Increased Internet Penetration and Availability of Multiple Channels Helps Increase the Sales of Used Car in Thailand: Ken Research
Increasing Internet Penetration: There were 52 million internet users in Thailand in January 2020 Internet penetration in Thailand was 75% during the same period. As the smart phone and internet penetration in Thailand is increasing, the used car dealers have been able to increase their footfall. They are using digitalization to make market offerings attractive. Digital platform provide online services such as photos and videos and instant finance which are drawing more customers into buying used cars.
The Concerns about Health from Using Public Transportation:  Due to the onset of corona virus, public transport and ride sharing are no longer considered to be a safe option. Nowadays, more people are concerned about health and risk for severe illness from the virus, and as a result, used car is an alternative for prevent getting and spreading COVID-19 to keep social distance. In addition to the same, with the decrease in purchasing power, new vehicles are not considered to be economical option which makes used car a perfect choice for customers with limited budget.
Supply Gut Leads to Higher Prices of Used Cars: Due to the moratorium period provided by the Government of Thailand during the pandemic, banks cannot repossess car from loan defaulters. This has led to a supply disruption in the used car market. Also, since rental companies are facing a downward trend, they are unwilling to sell their cars at a lower price. The combined effect of both has led to an increased price of used car which may hamper the sales in the future.
Impact on Used Car Sales due to Covid-19: The demand for used cars decreased during the corona virus pandemic. This was due to low supply and also due to closure of OEM dealerships and Local Tents during lockdown. This was further fuelled by decrease in purchasing power which led to postponing of new and used car purchases. Also, Thailand has recently recovered from a political and economical instability which has led to a decline in supply. Apart from sales issues, used car companies experienced cash flow difficulties due to the fact that most of the banks were not repossessing cars. The demand for used cars in the country remained low at the starting of 2020, however there was increase in demand in the second half of the year post ease in confinement. The manufacturers are expected to shift focus towards digital medium in order to drive sales and increase customer footfall.
Analysts at Ken Research in their latest publication "Thailand Used Car Market Outlook To 2025 – Growth of Online Used Car Platforms and Easy Availability of Credit Escalating Industry's Growth" observed that Thailand is a growing used car market in South East Asia and is slowly recovering from the economic crisis after pandemic. The increasing credit availability in the country along exemption in taxes is driving the growth of the industry. Increasing focus on promotional and marketing activities, new product launches, partnerships & collaborations are expected to drive the industry in the future. The Thailand Used Car Market is expected to grow at a CAGR of 7.3% on the basis of GTV over the forecast period 2020-2025.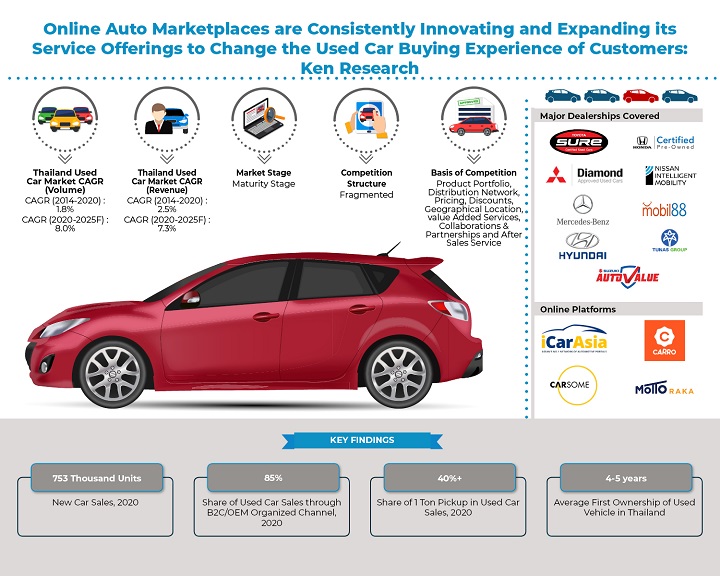 Key Segments Covered
By Market Type
C2C
B2C/OEM organized
Multi Brand Organized Dealer
Multi Brand Unorganized Dealer
OEM Organized
Auction
By Car Segment
Hatchback
1 ton pickup
Sedan
MPV, HPV/Mini MPV
SUV
By Region
Bangkok
North East
North
South
East
West
By Kilometers Driven
Less than 20,000
20,000-50,000
50,000-80,000
80,000-120,000
Above 120,000
By Age of Vehicle
Less than 1 year
1-3 years
3-5 years
5-8 years
More than 8 years
By Age of Buyers
20-30 Years
30-50 Years
Above 50 Years
By Source of Lead
Online (Social Media/Car Portals/Official Website)
Offline (Dealership Walk-in)
Companies Covered (OEM Dealerships)
Toyota Sure Thailand
Honda Used Certified Thailand
Mitsubishi Diamond Used Car
Nissan Intelligence
Mercedes Certified
Volvo
Companies Covered (Online Portals)
ICar Asia (One2Car, Thaicar, Autospinn)
Carsome Thailand
Carro Thailand
Key Target Audience
Used Car Companies
OEMs
Online Used Car Portals
Used Car Financing Companies
Government Bodies
Investors & Venture Capital Firms
Used Car Dealerships
Used Car Distributors Auction Houses
Used Car Associations
Time Period Captured in the Report:-
Historical Period – 2014-2020
Forecast Period – 2021-2025
Key Topics Covered in the Report
Executive Summary
Research Methodology
Thailand Used Car Market Overview
Thailand Used Car Market Size, 2014-2020
Thailand Used Car Market Segmentation, 2020
Growth Drivers in Thailand Used Car Market
Issues and Challenges in Thailand Used Car Market
Regulatory Framework
Snapshots on Used Car Financing
Snapshot on Auction Market
Snapshot on Used Bike Market
Ecosystem and Value Chain of Used Car Industry in Thailand
Customers Purchase Decision Making Parameters
Cross Comparison between Major OEMs and Multibrand Dealers and Company Profiles & Product Portfolios
Future Market Size and Segmentations, 2021-2025F
Covid-19 Impact on the Industry & the Way Forward
Analysts' Recommendations
For More Information on the Research Report, refer to below links:-
Related Reports by Ken Research
Indonesia Used Car Market Outlook to 2025 – By Market Structure (Organized & Unorganized), By Type of Car (MPVs, Hatchbacks, SUVs & Others), By Brand (Toyota, Honda, Daihatsu, Suzuki & Others), By Vehicle Age, By Mileage, By Customer Age and By Region (DKI Jakarta, East Java, West & Central Java, North Sumatera & Others)
Saudi Arabia Used Car Market Outlook to 2025- By Market Structure (Organized & Unorganized), By Type of Car (Sedans & Hatchbacks, SUVs & Crossovers, Pick-ups and Luxury), By Brand (Toyota, Hyundai, GMC & Chevrolet, Ford and Others), By Type of Sourcing, By Age of Vehicle (Less than 1 year, 1-3 years, 3-5 years & More than 5 years), By Kilometers Driven (Less than 50,000 Km, 50,000-80,000 Km, 80,000-120,000 Km & More than 120,000 Km) and By Region (Northern, Southern, Central, Eastern and Western)
Contact Us:
Ken Research
Ankur Gupta, Head Marketing & Communications
+91-9015378249