July 2022 | South-East Asia News
Increased demand for private cars, rising per capita income, accessible financing options, rising internet penetration, and improved digitization of the used car industry are among the growth factors pushing SEA region to witness growth in used car market.
Online SEA used car market witnessed the entry of various online classified portals and marketplaces in recent years. These players follow various different business models and aim to harness the untapped potential of the industry. Malaysia Contributes the Most in terms of Online Used Car Market in SEA.
Growing Traction Towards Online Platform:  Increasing internet and smartphone penetration in the Southeast Asian countries has resulted in large number of consumers preferring to buy and sell cars through online auto classifieds and social media, due to which the used car market is getting more organized and gaining more traction. Moreover, enormous number of photos and videos on the online platform tends to build trust within the consumer.
Impact of Covid-19 on the Used Car Industry: Amidst mobility restrictions imposed across the Southeast Asian region, the demand for used cars declined as consumers deferred car purchase decision. Post lifting of lockdown, the sales of used cars ascended in the SEA region due to preference of using personal vehicles over public or shared transportation, inability to pay off loans resulting in selling off vehicle, selling off vehicle if the seller has more than one already so as to minimize expenses.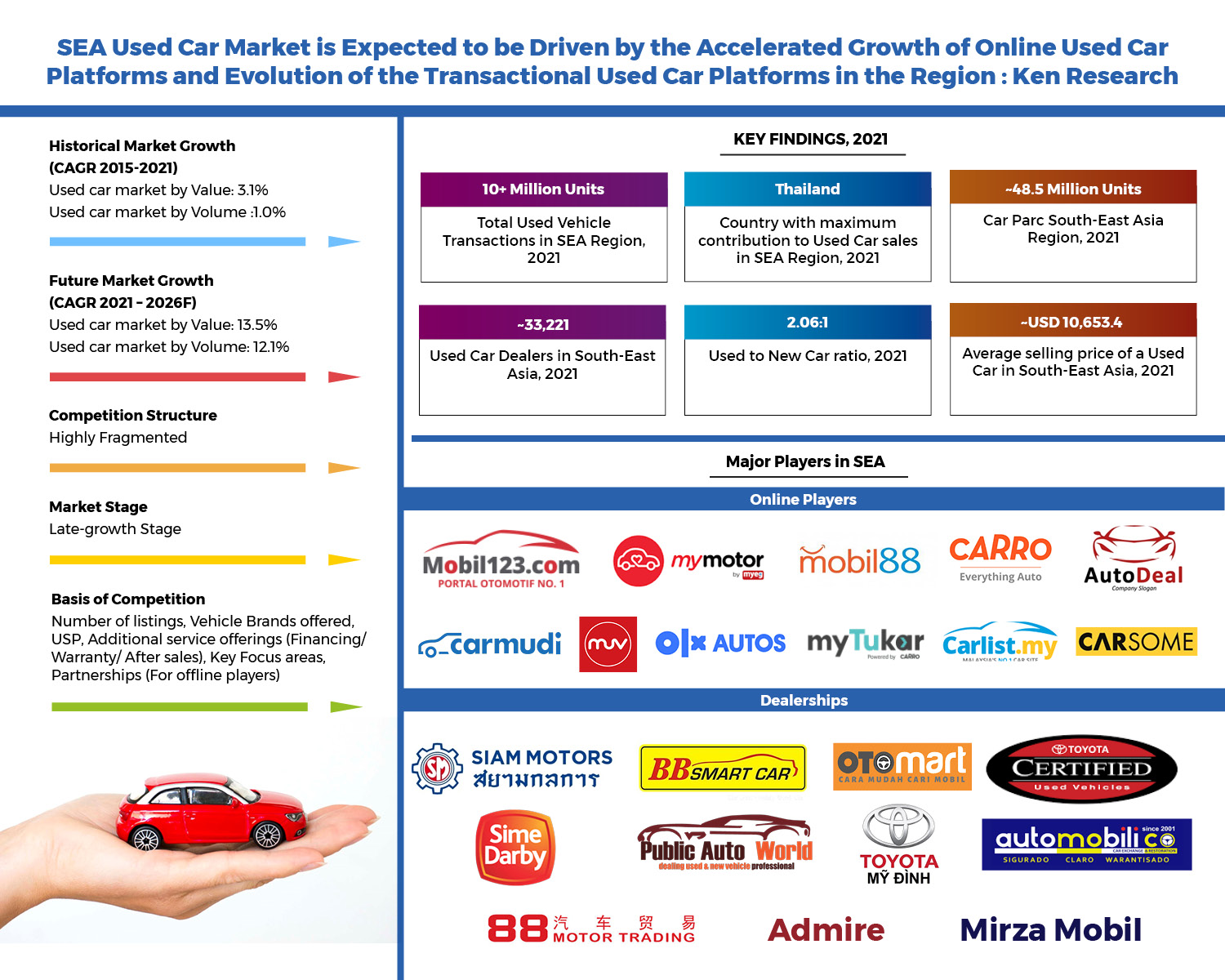 Incorporation of Latest Technologies to enhance digital experience: Future Technologies involving Artificial Intelligence & Virtual Reality is expected to enhance the digital buying and selling experience for consumers by offering 360° interior and exterior view of the car, estimating car price online via uploaded images, analysing consumer behavioural insights to show relevant ads according to interests and more.
Analysts at Ken Research in their latest publication "SEA Used Car Market Outlook to 2026F: Driven by Covid-19 led shift in User's Preference towards Private Vehicles and Growing Penetration of Online Used Car Platforms" observed that post pandemic, SEA is in the late growth phase and is slowly recovering from the economic crisis. The Covid-19 pandemic drastically decreased customers' purchasing power globally, which had a detrimental effect on their capacity to purchase new cars. In the SEA region, there has been a massive impetus in customer preference for used cars. The industry is expected to demonstrate rapid growth in the future driven by the expansion of online used car platforms that make the transaction process easier for both buyers and sellers. The SEA Used Car Market is expected to grow at a CAGR of 13.5% on the basis of GTV over the forecast period 2021-2026F.
SEA Online Used Car Market Key Segments:
SEA Used Car Market
By Business Model
C2B
B2C+C2C
By Country
Indonesia
Thailand
Malaysia
Philippines
Singapore
Vietnam
By Business Model
C2B
B2C+C2C
By Country
Indonesia
Thailand
Malaysia
Philippines
Singapore
Vietnam
SEA Ancillary Services Market
By Type
Auto Finance
Used Car Finance
Motor Insurance Premium
Warranty Value
Automotive Aftermarket
By Country
Indonesia
Thailand
Malaysia
Philippines
Singapore
Vietnam
Request for Free Sample Report @ https://www.kenresearch.com/sample-report.php?Frmdetails=NTg0MjYz
Segments Included:
Current Used Car Market Size
Online Used Car Market
Competition Landscape (Market Share of Major Companies, Cross Comparison and Company profiles)
Future Used Car Market Size
Future Used Car Market
Countries Covered:
Indonesia
Thailand
Malaysia
Philippines
Singapore
Vietnam
Companies Covered (Online Platforms)
Carsome
Carro
OLX Indonesia (OLX Autos)
MUV
Mobil 88
Mobil 123
MyMotor
MyTukar
Carmudi
AutoDeal
my
Key Target Audience
Used Car Companies
OEMs
Online Used Car Portals
Used Car Financing Companies
Government Bodies
Investors & Venture Capital Firms
Used Car Dealerships
Used Car Distributors Auction Houses
Used Car Associations
Time Period Captured in the Report: –
Historical Period: 2015-2021
Forecast Period: 2021-2026F
Key Topics Covered in the Report
Executive Summary
Ecosystem of Major Entities in SEA Used Car Market
Overview and Genesis of the Used Car Market in SEA Region
Value Chain Model for Used Car Industry
Issues and Challenges
Overall Used Car Market Size and Segmentation
Online Used Car Market Size and Segmentation
Ancillary Service Market Analysis
SWOT Analysis
Customer Decision Making Parameters for Buying Used Car
Covid-19 Impact on SEA Used Car Market
Comparison of SEA Used Car Market with USA and China Market
Competitive Landscape & Cross Comparison of Major Players
Company Profiles
Individual Country Wise Used Car Analysis for Indonesia, Thailand, Malaysia, Philippines, Singapore and Vietnam
Future Projections
Analyst Recommendations
Research Methodology
Related Reports
Australia Used Car Market Outlook to 2026F – Driven by the consumer shift to online platforms and supply chain issues for new vehicles with an increasing trend of upgrading vehicles
UAE Automotive Aftermarket Service Industry Outlook to 2026: Driven by increasing number of startups and consumers' shifting preference towards online and organized sector
Contact Us:-
Ken Research
Ankur Gupta, Head Marketing & Communications
+91-9015378249