June 2022|UAE News
3D Printing Technology Extensively used for functional and rapid prototyping purposes as it provides realistic product, better designs, enhanced aesthetics and less material wastage.
Growth in domestic manufacturers of 3D printers will present low-cost systems that will drive the market in coming years.
The manufacturing Industry will move from mass production to mass customization backed by 3D printing in the coming years.
Polymer Material Most widely used for 3D Printing: Due to its versatile properties and wide applications, polymer is the most widely used material in today's 3D Printing technology. The purpose of 3D Printing decides the type of material to be used in the process. However, over time as 3D Printing technology becomes mainstream in the manufacturing process, it is anticipated that the trend is going to shift towards materials like metals.
UAE 3D Printing Software Market
Application of 3D Printing in Healthcare: Currently, Prototyping is the most widely use case of the 3D Printing technology, followed by Manufacturing and Tooling. This technology can very much come in handy in the medical devices and healthcare industry as 3D printing can be used for prototyping and manufacturing complex healthcare medical devices with utmost precision. Medical devices like syringes, face shield, stent and other surgical equipment are made using 3D Printing Technology. With Advancements in Technology in the coming years, complex human body organs such as Heart, Bladder, and Kidney are also expected to be 3D Printed.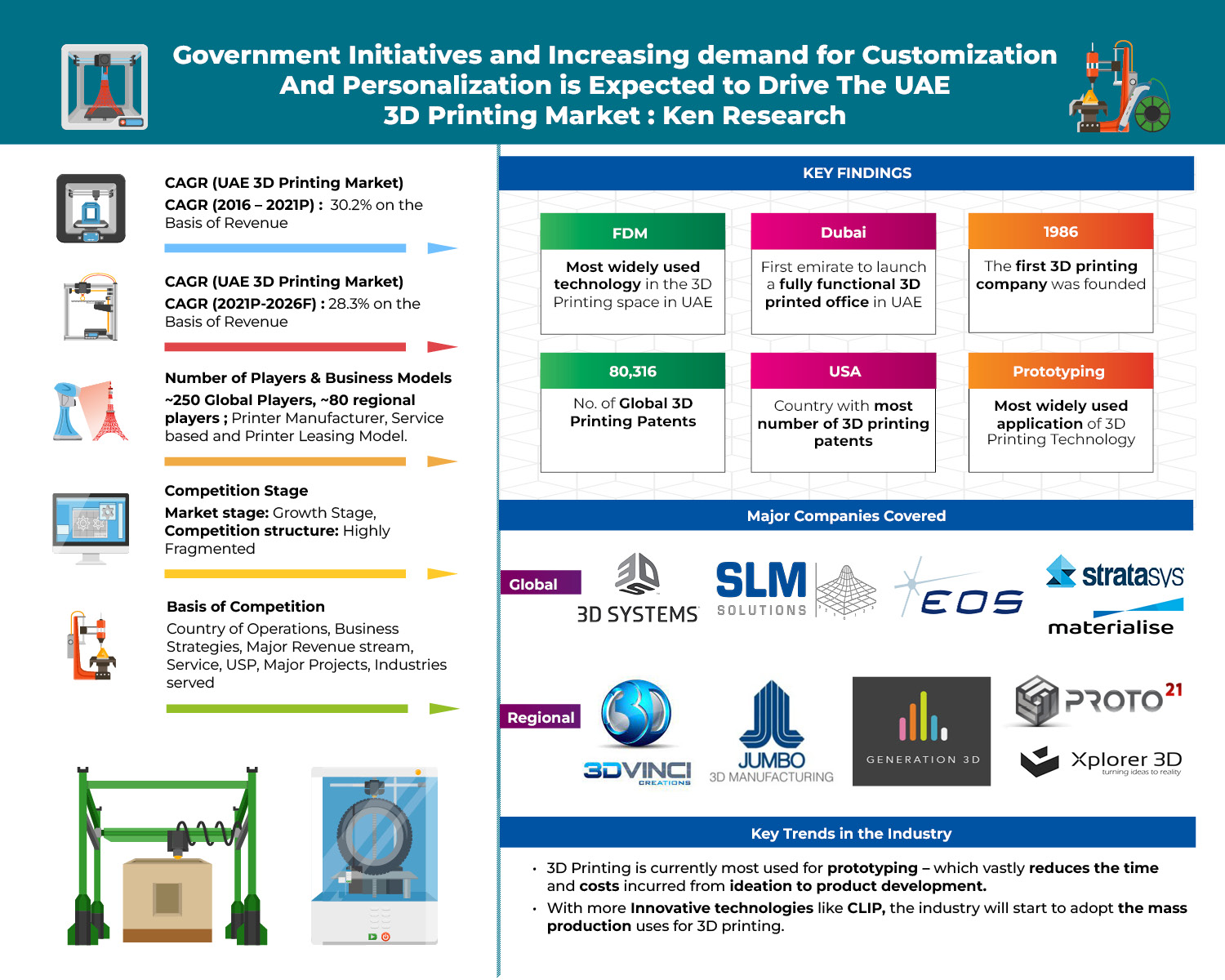 Rising Government Support: In the current decade, the UAE government has a major focus to develop Abu Dhabi backed by the advancement in technology. This will ensure growth of 3D printing in the emirate as well. Since 3D printed houses lack the element of luxury, and will primarily cater to 2 categories – affordable living, and technology enthusiasts, so the 3D printing construction activities would majorly be focused in the 5 less luxurious emirates other than Dubai, and Abu Dhabi.
Analysts at Ken Research in their latest publication "UAE 3D Printing Market Outlook to 2026F – Driven by the Government initiative to adopt the technology and a shift in demand from mass production to mass customization" believe that the 3D Printing Market in UAE is expected to demonstrate strong growth owing to the progressive policies by the government and the Increasing Awareness of 3D Printing technology in new industries .The market is expected to register a positive CAGR of 28.3% in terms of revenue during the period 2021P – 2026F.
Key Segments Covered
By Component

Services
3D Printers
Materials
Software
By Application

Prototyping
Manufacturing
Tooling
By End User

Medical Device & Healthcare
Machinery & OEMs
Consumer Goods
Aerospace
Automotive
Others
By 3D Printing Technology

Fused Deposition Modeling {FDM}
Stereolithography
Selective Laser Sintering {SLS}
Selective laser melting/ Direct metal laser melting {SLM/DMLM}
Polyjet
Electron beam melting
Request for Free Sample Report @ https://www.kenresearch.com/sample-report.php?Frmdetails=NTYxNDE0
By Material
Polymer
Metal
Ceramic
Others
By Region
Dubai
Abu Dhabi
Sharjah
Others
Companies Covered:
Global Players:
3D Systems Corporation
SLM Solutions
Stratasys Ltd.
Materialise NV
EOS GmbH
Regional Players:
Generation 3D
Proto21
3D Vinci Creations
Jumbo 3D Manufacturing
Xplorer 3D
Key Target Audience
3D Printer Manufacturers
3D Printing Material Provider
3D Printing Software Provider
3D Printing Service Provider
Third-Party 3D Printing Services
Industry Associations
Government Associations
Government Agencies
Private Equity and Venture Capitalist Firms
Time Period Captured in the Report: –
Historical Period: 2016-2021P
Forecast Period: 2021P-2026F
Key Topics Covered in the Report
Executive Summary
UAE 3D Printing Market Flowchart
Difference between Traditional Manufacturing and Additive Manufacturing
Value Chain Analysis
Ecosystem for the 3D Printing Market
Business Cycle for the 3D Printing Market
Global Patent Analysis
3D printing Market Size, 2016 – 2021P
3D printing Market Size, 2021P- 2026F
UAE 3D Printing Market Segmentation, 2021 & 2026
Growth Drivers, Trends and Developments
SWOT Analysis
Government Regulations for the 3D Printing Market
Competitive Landscape – Cross Comparison of Major Players
Company Profiles
Analyst Recommendations
Research Methodology
Related Reports
APAC 3D Printing Market Outlook to 2025 – By Region (China, Japan, South Korea, India, Australia and Rest of the APAC), By Component (Printers, Materials, Software and Services), By Application (Prototyping, Tooling and Manufacturing), By End Users (Automobile, Healthcare and Medical Device, Aerospace, Machinery and OEMs, Consumer Goods and Others), By Technology and By Material
Global 3D Printing Metal Market Research Report with Opportunities and Strategies to Boost Growth- COVID-19 Impact and Recovery
Follow Us
LinkedIn | Instagram | Facebook | Twitter | YouTube
Contact Us:-
Ken Research
Ankur Gupta, Head Marketing & Communications
+91-9015378249