Key growth drivers for cards and payment industry include digitalization, development of infrastructure (Integration with Artificial Intelligent Platforms, POS Terminals and ATM Terminals), Improved Member Merchants Discounts, Rewards and Loyalty Programs, Increasing Disposable Income and Reducing Interest Rates
The growth in the credit cards has been at an accelerating pace, specifically with improvement of the individual financing infrastructure such as at Point of Sale (POS) and Automated Teller machine (ATM) terminal networks thus, deployment of innovative card options coupled with instant lending options. As of 2018, the total number of POS machines with cash registers was evaluated at 2.4 million. ATM machines are very crucial for cash withdrawal and they have surged from 45.0 thousand in 2014 to 52.0 thousand in 2018. The debit cards are highly exposed to cash withdrawals and hence it is necessary for the country to have ample amount of ATM machines to maintain required amount of cash in circulation. The E-commerce spending using domestic and foreign cards for domestic transactions has increased during 2014-2018.
Online payments market of Turkey is also on a rise. An increase in E-commerce merchants, shifting demographics towards adaptability of new technology, the popularity of social media and an increasingly affluent middle class population with rising disposable incomes have collectively contributed to drive transaction volumes and values.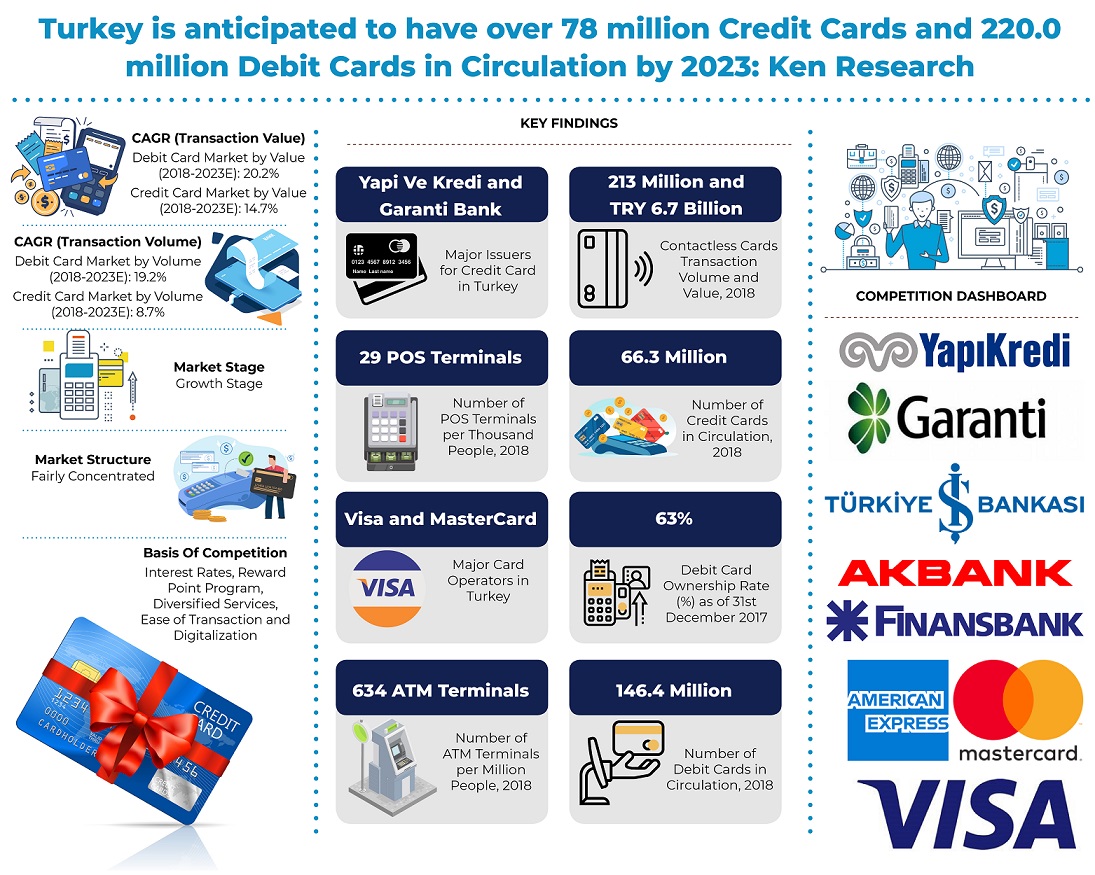 The credit card reward and loyalty program is the most significant growth driver for surge in credit card transaction value and transaction volume. The card issuers and operators have been partnering with member merchants in order to increase the customer acquiring rate. The member merchants provide the cardholders with discounts on the purchases or opportunity to earn reward points which can be redeemed later on shopping / air ticket purchases and many more. The banks in Turkey have taken the plastic money/ credit cards to a next level by converting them into virtual cards which can be easily accessed from the cardholder's smartphone (Android/ iOS) thereby, further enhancing the ease of doing business. In 2017, it has been observed that approximately 65.0-70.0% of the online transactions via credit card are paid in instalments within Turkey.
Analysts at Ken Research in their latest publication "Turkey Cards and Payments Market Outlook to 2023 – Rapid Acceptance of TROY Cards and Contactless Cards Coupled with Rising Penetration of Credit Cards to Drive Market Growth" believe that Turkey Debit and Credit Card Market is expected to register a positive CAGR of 20.2%and 14.7% respectively in terms of value of transaction during the forecast period 2019-2023.
Key Segments Covered:-
Credit cards
Value of transaction
Volume of transaction
Number of Credit card in circulation
Domestic Transaction Using Domestic Credit Card
International Transaction Using Domestic Credit Card
Domestic Transaction using International Credit Card
Sectoral Spending
Debit Cards
Value of transaction
Volume of transaction
Number of Debit card in circulation
Domestic Transaction Using Domestic Debit Card
International Transaction Using Domestic Debit Card
Domestic Transaction using International Debit Card
Sectoral Spending
Key Target Audience:-
Credit/ Debit Card Operator
Credit/ Debit Card Issuers
Prepaid Card Issuers/ Operators
Local/ Foreign Bank
Reward/ Loyalty Program Business Operators
Payment gateway provider
Credit/ Debit Card Issuer
POS Device Manufacturers
Debit/ Credit Card Manufacturing companies
ATM Manufacturing Entities
Investors
Time Period Captured in the Report:-
Historical Period: 2014-2018
Forecast Period: 2019-2023
Companies Covered in Turkey Card Market:-
Issuers
Turkiye Cumhuriyeti Ziraat Bankasi AS
Turkiye Vakiflar Bankasi TAO
Turkiye Halk Bankasi AS
Denizbank
Yapi ve Kredi Bankasi AS
Turkiye Is Bankasi AS (Is bank)
Garanti Bankasi AS
Ak bank TAS
Finansbank AS
TEB AS
Seker Bankasi AS
HSBC Bank AS
Citigroup Inc
Operators
Visa Inc
MasterCard International Inc
American Express Co
Troy
Key Topics Covered in the Report:-
Stake Holders in Turkey Card Market
Genesis of Turkey Card Market
Credit and Debit Card Coverage
Market Size by Number of Cards in Circulation (2014-2018)
Market Size by Value of Transaction (2014-2018)
Market Size by Volume of Transactions (2014-2018)
Market Segmentation of Turkey Cards Market (2014-2018) on Cash Withdrawals and Shopping Purchases
Sectoral Spending by Debit and Credit Card (2018)
Volume of Transaction
Value of Transaction
Growth Drivers, Trends and Developments in Turkey Card Market
Issues and Challenges in Turkey Card Market
Competition Scenario in Turkey Card Market
Turkey Card Market Future Outlook and Projections, 2019-2023
Analyst Recommendations
For more information, refer to below link:-
Turkey Cards and Payments Market
Related Reports:-
Russia Payment Services Market Outlook To 2025- Breaking New Grounds Through Alternative Payment Systems Such As Contactless Payments Albeit Challenging Profitability Of Incumbent Firms)
Saudi Arabia Cards and Payments Market Outlook to 2023 – Increasing Penetration of Islamic Credit Cards Coupled with Rising Preference for Online Shopping to Drive Market Growth
Contact Us:
Ken Research
Ankur Gupta, Head Marketing & Communications
+91-9015378249