How UAE ATM Managed Services Market Is Positioned?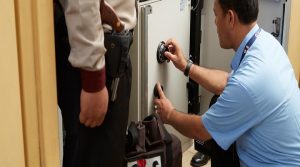 UAE ATM managed services market witnessed growth due to increase in ATM penetration, increase in value and volume of ATM withdrawals and improved liquidity in the market from 2013 to 2018. The total number of ATMs have increased from 2013-2018 at a CAGR of %. The market is currently concentrated to one company in managed services and two companies in ATM supply. Profitability associated with ATM managed services is highly correlated with factors such as branch expansions, introduction of new breed of ATM machines such as cash recyclers, multifunction ATMs & biometric ATMs, improvement in customer retention schemes, maintaining recurring clients by exceeding the service level agreement and having diversified services portfolio offered by well trained professionals. Currently, ATMs operate as cost centres in UAE as Banks incur losses. UAE ATM Managed Services market has grown from AED ~Million in 2013 to AED ~Million in 2018, at a CAGR of ~%. ~, ~ and ~ are the three main players in ATM Managed Services Market. The ATM Supply market has been analyzed to be AED ~ Million in 2018.
The number of ATMs in UAE has increased to ~ as of 31st December, 2018 from ~ as of 31st December, 2013 experiencing a moderate YOY decline of ~% during 2017-2018. The growth in ATMs can be attributed to an increase in bank branches, from 2013-2016. Thereafter, a slowdown in growth of ATMs was witnessed due to declining bank branches.
Similarly, the number of bank branches has decreased from ~ in 2013 to ~ in 2018. This decline in bank branches was witnessed due to merger of major banks which led to reduction of branches and ATMs to reduce costs. Total cash in circulation has increased AED ~ Billion in 2013 to AED ~ Billion in 2018.The value of transactions through ATMs has increased from AED ~ Billion in 2013 to AED nearly AED ~ Billion in 2018, at a CAGR of ~%. The volume of ATM transactions have increased from ~ Million 2013 to nearly ~ Million in 2018, at a CAGR of ~%.
UAE ATM Managed Services Segmentation
By Location (Off-Site and On-Site ATMs)
In Off-site ATMs, the right of ownership of the ATM machine remains with the banks and rest other management services such as cash replenishment, transaction processing, first and second line maintenance, site maintenance and security are being outsourced to the managed service providers. Generally, in UAE, banks outsource their off-site ATMs managed services to single or multiple vendors as it makes their margin on profitability higher. ATMs which are operating under this category generally deployed where there are no bank branches.
By Type of Services (Cash Management, ATM Maintenance, ATM Supply)
Cash management services have contributed the highest share in the ATM Managed Service category in UAE. Transguard has a near monopoly over the cash management services for banks in UAE. Brinks Cash Logistics is a far second competitor with a % market share. Cash management companies charge approximately AED for Off-Site ATMs and AED for On-Site ATMs on a monthly basis for providing a bundle of services including cash replenishment, CIT, cash processing, cash vaulting, etc. However, the final cost depends on the basis of number of trips, location of the ATM, number of ATMs replenished, among others.
Snapshot On ATM Supply Market Of UAE
The revenue from ATM Supply market in UAE amounted to AED ~ Million in the year 2018, with sales of about ~ ATMs during 2018.
Competitive Scenario Of UAE ATM Managed Services Market
The market in the ATM Supply Market in UAE is completely concentrated between two companies, NCR and Diebold Nixdorf. NCR is the market leader in UAE followed by Diebold Nixdorf. Two manufacturers Diebold and Wincor merged to form Diebold Nixdorf. There are two major companies in UAE supplying ATM Machines namely NCR and Diebold Nixdorf. NCR is the market leader in the ATM supply segment with a ~% market share while the remaining ~% & share is held by Diebold Nixdorf.
Companies operating into ATM supply segment compete on the basis of following factors. Pricing of the ATM is the major factor that distinguishes vendors from each other. In UAE, banks generally buy ATM machines once or twice a year in bulk. The machine comes with a warranty of ~ year. Charges for second line maintenance and first line maintenance are waived off during this period. The average life of an ATM machine is expected to be ~ years. A basic ATM machine generally cost AED ~.
For More Information on the research report, refer to below link:
UAE ATM Managed Services Market
Related Reports
Indonesia ATM Managed Service Market Outlook to 2023 – By ATMs (On-Site ATM, Off-Site ATM, Mobile ATMs), by Service (Cash Management Services, ATM Repair & Maintenance, ATM Site Maintenance & Others- Journal Management & ATM Reconciliation), By ATM Machine (Cash Dispensers, Cash Recyclers) and By Cash Management Services (Cash Replenishment Service, Cash-in-Transit, Others – Cash Processing, Cash Vaulting & Cash Forecasting).
India ATM Cash Management Market Forecast to 2023 – ATM Replenishment, Cash in Transit, Cash Pickup and Delivery and Vaulting Services, Bullion Management, and Cash Processing
Saudi Arabia ATM Managed Service Market Outlook to 2023 – By ATMs (On-Site ATM, Off-Site ATM, Mobile ATMs), by Service (Cash Management Services, ATM Repair & Maintenance, ATM Site Maintenance), By ATM Machine (Cash Dispensers, Cash Recyclers) and By Cash Management Services (Cash Replenishment Service, Cash-in-Transit, Others – Cash Processing, Cash Vaulting, Cash Reconciliation & Cash Forecasting)
Contact Us:
Ken Research
Ankur Gupta, Head Marketing & Communications
Ankur@kenresearch.com
+91-9015378249