The report titled "UAE Automotive Aftermarket Service Industry Outlook to 2026: Driven by increasing number of start-ups and consumers' shifting preference towards online and organized sector" provides a comprehensive analysis on the status of aftermarket service industry in UAE. The report covers various aspects including automotive aftermarket service industry market size on the basis of revenue and number of vehicles serviced, value chain analysis, ecosystem of major entities in aftermarket service industry in UAE, trends & developments, issues & challenges faced by the industry, government regulations, SWOT Analysis, Porter 5 forces analysis, key decision making parameters of OEM and multi brand vehicle servicing companies, pain points in OEM and multi brand aftersales workshops, opportunities in OEM and multi brand aftermarket industry, market size of spare parts aftermarket industry in UAE, ecosystem by different type of spare parts &  consumables market, competition in OEM and multi brand aftermarket service industry, pricing packages of OEM and multi brand automotive service companies and other aspects. Further, the report focuses on the UAE Four Wheeler Aftermarket Service Industry Segmentation by Type of Workshop (OEM/Authorized, Large Multi Brand, and Small/Unorganized Workshops); by Type of Vehicle Serviced (Sedans, SUVs, Hatchbacks, MPVs and Crossover); by Age of Car (0-2 Years, 2-4 Years, 4-6 Years, 6-8 Years, 8-13 Years and Above 13 Years); by Region (Dubai, Abu Dhabi, Sharjah, and other Emirates); by Booking Mode (Online, and offline); By Car Brand (Toyota, Nissan & Renault, Mitsubishi, Hyundai, BMW, General Motors, Ford, Fiat, and Others); and by Service Split (Non-Crash Repair, Crash Repair, and Body Care).
UAE Four Wheeler Aftermarket Service Industry report concludes with projections for the future of the industry including forecasted revenue and number of vehicle serviced by 2026, and analysts' take on the future highlighting the major opportunities.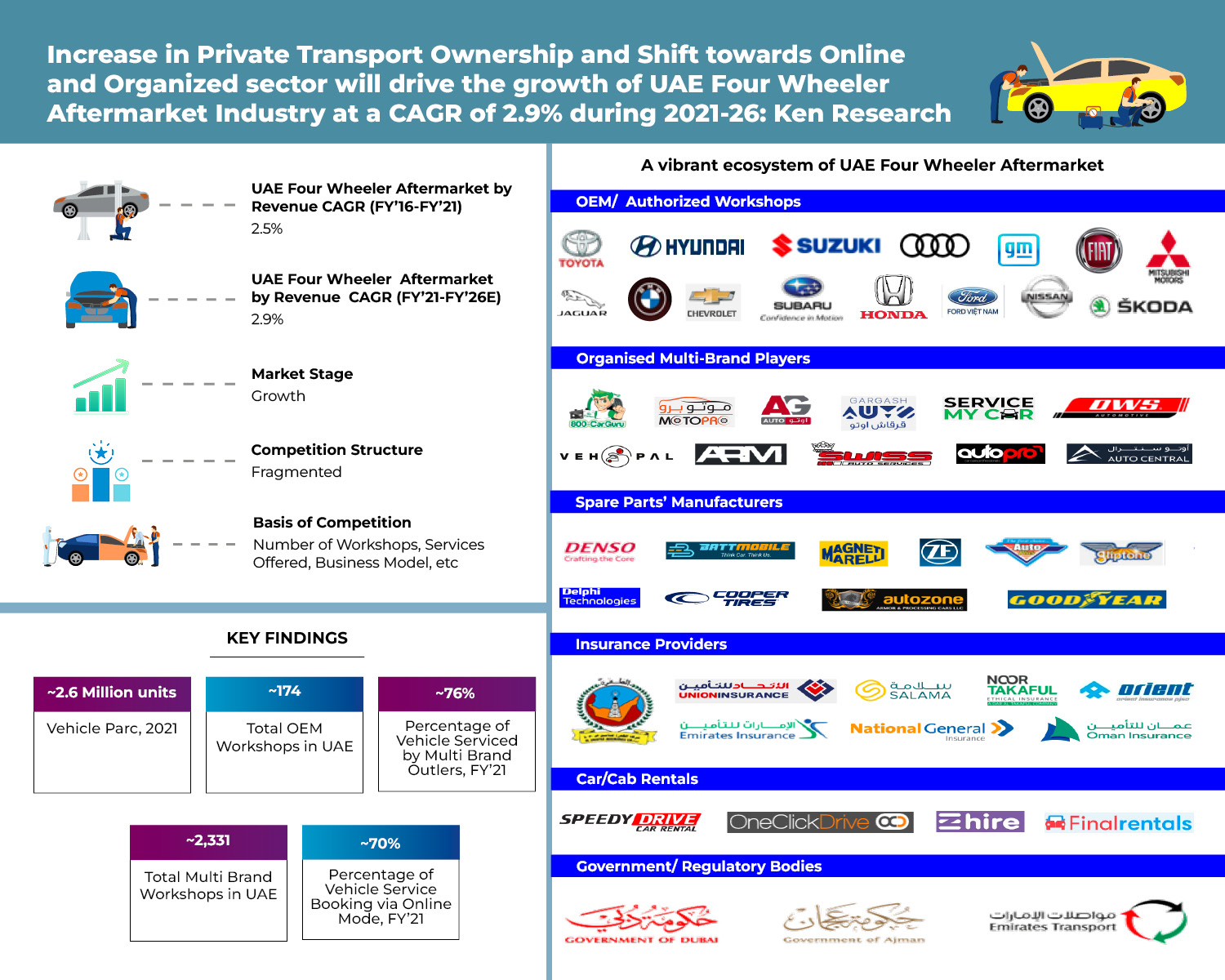 UAE Four Wheeler Aftermarket Service Market Overview:
The Four Wheeler Aftermarket service industry in UAE recorded a CAGR of 2.5% on the basis of revenue in between 2016 and 2021. The Industry is currently in a Stagnant Growth phase, where neither much growth nor a decline has happened.
The market growth can be attributed to the rapidly expanding automobile industry and enhanced focus of the automobile drivers on boosting their vehicle performance and efficiency in terms of exhaust sound, speed, and appearance parameters. Rising consumer awareness regarding repair and proper maintenance of vehicles and growing need for long-distance vehicles are fuelling the market growth.
The rapid adoption of online platforms by the market players and the use of advanced software and technologies create lucrative growth opportunities for the UAE automotive aftermarket. Due to the stable fuel prices and high disposable income, there is high demand for private vehicles among consumers. Consumers are moving towards increased convenience and comfort and are availing of the aftermarket services through the online sales platform.
Due to the economic pressures, it is expected that consumers are postponing their new car purchases for the next few years which would increase the average age of a vehicle, this would result as a positive gain for the aftermarket service industry.
Drivers and Impediments to growth:
The Expo took place from Oct 1, 2021–March 31, 2022. It accelerated the UAE's recovery in H2 with an additional boost for travel and tourism. Visitor activities increased the demand for transportation, which indirectly created more demand for the aftermarket. There resulted an increase in the usage of taxi and cabs also.
There has been a shift towards usage of private transportation which can be seen from increased vehicle usage in 2020/21. People in UAE are keen to own their personal vehicles.
Request for Free Sample Report @ https://www.kenresearch.com/sample-report.php?Frmdetails=NTc0NDI0
UAE Spare Parts Aftermarket Industry
UAE's spare parts aftermarket industry has expanded at a YoY growth of 2% in between 2020 and 2021.  Ideal location, increasing domestic demand for high-end cars and a robust logistics sector have turned the emirate into a major exporter and re-exporter of vehicles. Surging vehicle parc in UAE resulted in increased demand of parts and components, thus acting as a major catalyst for the growth of spare parts industry. The market for automobile spare parts has been an attractive sector for UAE-based enterprises, who have emerged as the leading supplier of these goods to many countries. Major spare parts suppliers in UAE include Denso, Battmobile, Delphi Technologies, AutoPlus, Gliptone, among others.
Competitive Landscape in UAE Four Wheeler Aftermarket Service Industry
The competition structure in UAE four wheeler aftermarket service industry is fragmented in nature with no single player accounting for majority of the market share. There is High Competitive Rivalry as there are a lot of players in the market currently.
The competition in aftermarket industry is segregated between OEM/Authorized, and Multi Brand workshops. Both of these workshops compete on the basis of services offered, number of cars serviced, quality of service, sourcing of spare parts, and booking mode. Customer satisfaction level is high for Organized Multi-brand and highest for OEMs. Also, OEMs generally use a lot of technological platforms for their services while Organized Multi-brand uses some technology platforms.
Players like AG Cars, Royal Swiss Auto Services, Gargashauto, Wheel fix, Alsa automotive, etc are providing car care services in UAE. Also there are more players coming in the market, especially the Chinese like Carcility, Mysyara.
UAE Four Wheeler Aftermarket Service Market Future Outlook and Projections
The market size on the basis of revenue is expected to grow at a CAGR of 2.8% between 2021 and 2026. Increased vehicle production and sales and the growing used car market are playing a significant role in the growth of the UAE automotive aftermarket. Also, the rapid adoption of online platforms by the market players is anticipated to create lucrative growth opportunities for the UAE automotive aftermarket. The growing number of retailers providing automotive aftermarket services to meet the increasing consumer requirements is expected to accelerate the market demand in the next five years. It is expected that the increased penetration of electric vehicles and used car market will act as a catalyst for the UAE Aftermarket Industry.
Key Segments Covered in UAE Four Wheeler Aftermarket Service Industry
UAE Four Wheeler Aftermarket size by
Revenue
Number of Vehicles Serviced
Market Segmentation By Type of Workshop
OEM/Authorized
Large Multi Brand
Small/Unorganized
Market Segmentation By Type of Vehicle Serviced
Sedan
SUV
Hatchback
MPVs
Crossover
Market Segmentation By Age of Car
0-2 Years
2-4 Years
4-6 Years
6-8 Years
8-13 Years
Above 13 Years
Market Segmentation By Region
Dubai
Abu Dhabi
Sharjah
Other Emirates
Market Segmentation By Car Brand
Toyota
Nissan & Renault
Mitsubishi
Hyundai
BMW
General Motors
Market Segmentation By Service Split
Non-Crash Repair
Crash Repair
Body Care
UAE Spare Parts Aftermarket Segmentation
By Expenditure Category
Spare Parts
Consumables
By Type of Spare Parts
Engine components
Electricals and Electronic Components
Suspension and Braking
Consumables and Miscellaneous
Cooling Systems
By Type of consumables
Battery
Oil, fluid & filter
Tires
Others
Key Target Audience
Automotive Companies
OEM Vehicle Service Companies
Multi Brand Vehicle Service Companies
Automotive Spare Parts Companies
Government Bodies
Automotive Associations
Time Period Captured in the Report:
Historical Period: 2016-2021
Forecast Period: 2021-2026
Automotive Aftermarket Service Companies in UAE:
OEM/Authorized Vehicle Service Companies
Toyota
Nissan & Renault
Mitsubishi
Hyundai
BMW
General Motors
Ford
Fiat
Spare Part Suppliers
3M
Delphi Technologies
DENSO Corporation
Magneti Marelli S.P.A
ZF Services Middle East
Battmobile (Battery)
AutoPlus
Avatizone
Gliptone
Key Topics Covered in the Report
UAE Four Wheeler Aftermarket Service Industry Overview
Comparison of UAE Automotive Industry with other Countries
Market Size on the basis of Revenue and Number of Vehicles Serviced, 2016-2021
Vehicle Parc in UAE, 2016-2021
UAE Four Wheeler Aftermarket Service Industry Segmentation, 2021
Competitive Landscape of UAE Four Wheeler Aftermarket Service Industry
Pricing Packages of Major Multi Brand Automotive Service Companies
Trends in UAE Four Wheeler Aftermarket Service Industry
Issues and Challenges in UAE Four Wheeler Aftermarket Service Industry
SWOT Analysis of UAE Four Wheeler Aftermarket Services Industry
Government Regulations in the UAE Four Wheeler Aftermarket Services Industry
Comparing Car Servicing Decision Parameters in UAE
Analysis of Multi-Brand and OEM Workshops in UAE
Spare Parts Landscape in UAE
Operating Model of Spare parts in UAE
Market Size of Spare Parts Aftermarket Industry and Classification by Different Type of Spare Parts
Ecosystem by Different Type of Spare Parts and Consumables Market in UAE
Future Outlook and Projections of the UAE Four Wheeler Aftermarket and Spare Parts Industry, 2021-2026E
Future Market Size of UAE Four Wheeler Aftermarket Service Industry on the basis of Number of Vehicles Serviced, 2021-2026E
Future Market Size of UAE Four Wheeler Aftermarket Service Industry on the basis of Revenue, 2021-2026E
Related Reports
Indonesia Automotive Aftermarket Service Market Outlook to 2026: Influx of new players and car variants from abroad are contributing to the growth of automotive aftermarket service industry in Indonesia
Malaysia Automotive Aftermarket Service Market Outlook to 2025: Surging Used Car Sales contributing to the Growth of Automotive Aftermarket Service Industry in Malaysia
Follow Us
LinkedIn | Instagram | Facebook | Twitter | YouTube
Contact Us:-
Ken Research
Ankur Gupta, Head Marketing & Communications
+91-9015378249