The cold chain market in the UAE has increased from around USD 700 Mn in 2015 to USD 900 Mn in 2020, owing to rising grocery retail spending in the country, increasing number of establishments, as per the findings by Ken Research      
1.The value of the Emirati food and groceries market grew at around 6% in 2020.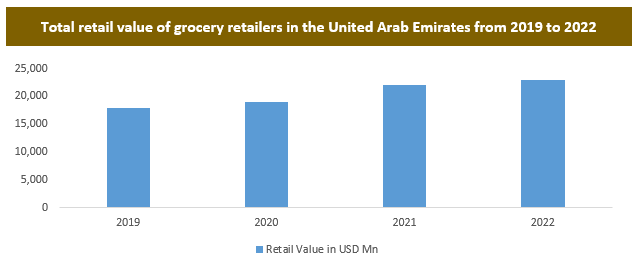 In 2022, the total retail value excluding sales tax of grocery retailers in the United Arab Emirates touched around 24 bn U.S. dollars, up from around 22 bn U.S. dollars in the previous year. Food retail holds the largest share of the UAE retail market, and it is expected to continue to be the dominant market sector in the future.
Interested to Know More about this Report, Request for a sample report
2.SPENDING ON LOGISTICS INFRASTRUCTURE: Major investments to help the Cold Chain Market to grow at around CAGR 7% by 2025.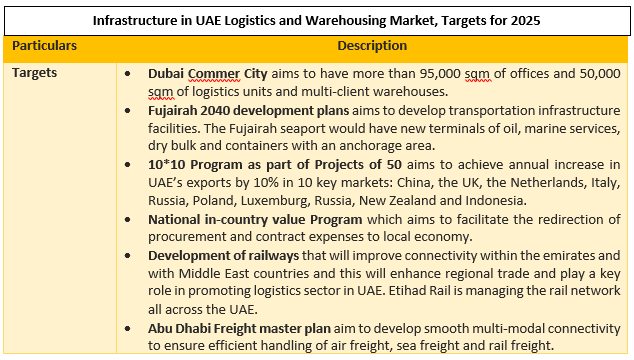 Construction projects worth USD 3.1 bn were announced across GCC in May, 2020 with UAE contributing 55% of the value of total new announcements. Below are few of the investments that the following Emirates has made to this sector – Sharjah had announced plans to spend USD 2.6 bn on infrastructure development as part of its 2020 budget prioritizing capital investments on road and tunnels with a 2% increase from 2019, Abu-Dhabi has announced plans to launch infrastructural projects worth USD 2.72 bn under the public-private partnership model.
Visit this Link :- Request for custom report
3.UAE secures first rank regionally and 25thrank globally among top 141 countries of the world.

UAE is one of the world's most developed economies and has world-class facilities in terms of roads, airports, sea ports, telecommunications and growing rail network which accelerates economic growth and welfare. Maintaining growth of infrastructural facilities is one of the important pillars of National Agenda. According to the Global Competitiveness report published by World Economic Forum 2019 Edition, it was found that in terms of infrastructure, UAE secures first rank regionally and 25thrank globally among top 141 countries of the world.