The cold transport market expected to grow faster than cold warehousing in the future reversing the cold chain market trend thus far.
Substantial increase in consumer spending on retail goods, already a USD 90 Billion market, is expected due to population growth, increase in disposable income levels and high demand for temperature sensitive and perishable goods food and pharmaceuticals.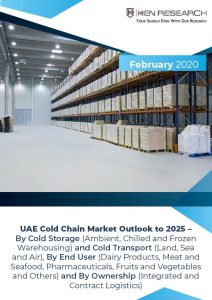 UAE is determined to reduce economic dependence on oil to and is a crucial logistics hub owing to its strategic advantage basis its geographical location in the GCC region and increasing government investment in infrastructure development.
Government Initiatives: UAE transport infrastructure investments has crossed AED 100 Billion between 2006-2018, focused on development of rail network, expansion of airports and sea ports, technologically advancement and many more. UAE government intends to promote trade and economic diversification through EXPO 2020, free trade agreements, change in foreign ownership rule for some sectors and development of free zones near airports and seaports to allure foreign investors to set up manufacturing industries in UAE.
Initiatives to Reduce High Dependence on Imports: UAE is largely dependent on food and pharmaceutical imports that require abundant cold chain transportation and storage facilities in the country. However, the government is creating national food and pharma reserves to reduce impact of possible import fluctuations, further increasing the demand for cold warehouses in the UAE.
Technological Improvement and Automation: Cold chain operators in the country are expected to implement modern technologies such as radio frequency identification, electronic data exchange and others to improve their operational efficiency. There is also scope for adopting automation in the facilities using automated storage and retrieval systems, cloud computing, drones and others in the industry in the years to come.
Analysts at Ken Research in their latest publication "UAE Cold Chain Market Outlook to 2025 – By Cold Storage (Ambient, Chilled and Frozen Warehousing) and Cold Transport (Land, Sea and Air), By End User (Dairy Products, Meat and Seafood, Pharmaceuticals, Fruits and Vegetables and Others) and By Ownership (Integrated and Contract Logistics)" believe that the Cold Chain market in UAE is expected to grow due to growth in the demand for food items, increase in manufacturing activity in the pharmaceutical industry and government initiatives to improve the logistics infrastructure in the country. The market is expected to register a positive CAGR of 6.1 % in terms of revenue during the forecasted period 2019P-2025F.
Key Segments Covered
By Type of Market
Cold Storage
By Temperature
Frozen
Chilled
Ambient
By Major Areas
DAFZA
JAFZA
DIP
DIC
Others Includes KIZAD and other Free-Zones and distribution markets
By Ownership
Integrated
Contract
By End-User Application
Dairy Products
Meat and Seafood
Pharmaceuticals
Fruits and Vegetables
Others includes flowers and ornamental plant, confectionary products
Cold Transport
By Mode of Transport
Land
Sea
Air
By Type of Transport
Domestic
International
By Ownership
Integrated
Contract
By End-User Application
Dairy Products
Meat and Seafood
Pharmaceuticals
Fruits and Vegetables
Others includes flowers and ornamental plant, confectionary products
Key Target Audience
Cold Chain Companies
Logistics Companies
Government Associations
Express Logistics Companies
Industry Associations
Warehousing Companies
E-Commerce Operations
Investors and Private Equity Companies
Logistics Companies
Dairy Companies
Meat and Seafood Companies
Fruits and Vegetables Companies
Pharmaceutical Companies
Time Period Captured in the Report
Historical Period: 2014-2019P
Forecast Period: 2019P-2025F
Companies Covered
Gulf Agency  Company
Al-Futtaim Logistics
Hellman Worldwide Logistics
Global Shipping Logistics (GSL)
RHS Logistics
CEVA Logistics
Mohebi Logistics
Agility
Panalpina-DSV
Kuehne- Nagel
RSA Cold Chain
DB Schenker
MHK
Port Khalid Cold Stores
Verks Logistics
Triburg
Sharjah Cold Stores
Key Topics Covered in the Report
UAE Cold Chain Market Overview
Infrastructure Analysis
Existing and Emerging Technologies
UAE Cold Chain Market Value Chain
UAE Cold Chain Market Size by Revenue, 2014-2019
UAE Cold Chain Market Segmentation and segment future, 2019-2025E
End user industry analysis and future growth potential
UAE Cold Chain Market Competitive Landscape
UAE Cold Chain Market Company Profiles of Major Players
Regulatory Environment
Industry Trends and Developments
Industry Issues and Challenges
Analyst Recommendation
UAE Cold Chain Market Future Outlook and Projections, 2019-2025E
UAE Cold Chain Market Analyst Recommendations
For More Information, refer to below links:
Related Reports
UAE Logistics and Warehousing Market Outlook to 2025 – By Road , Sea and Air Freight Forwarding; Domestic and International Freight, Major Flow Corridors, Integrated and Contract Freight Forwarding; By Warehousing (Industrial / Retail, CFS / Inland Container Depot & Cold Storage, Agriculture), End Users (Manufacturing, Retail, Food and Beverage, Automotive, Oil and Gas, Healthcare), Type of Warehouses; By Courier Express & Parcel Market , and, E-commerce Logistics
South Africa Logistics Market Outlook to 2023 – By Sea, Land, Air Freight Forwarding; International and Domestic Freight, Integrated and Contract Logistics Freight Forwarding; By Warehousing (Industrial/ Retail, ICD/CFS, Cold Storage, Others), 3PL Warehousing, Cold Chain; By Express Logistics and E-commerce Logistics
Indonesia Logistics and Warehousing Market Outlook To 2023 – Driven By Infrastructure Spending For Airport  And  Seaports  Albeit By Poor Existing Road Network
Contact Us:
Ken Research
Ankur Gupta, Head Marketing & Communications
Ankur@kenresearch.com
+91-9015378249