The Outdoor Payment Terminal Market is expected to see significant growth in the upcoming years owing to EMV norms and shift from PoS devices to outdoor payment terminals due to its convenience and contactless payment mode. The rising adoption of technologies such as machine learning and artificial intelligence (AI) for faster financial transactions at fuel stations, coupled with benefits such as lesser transaction time and ease of convenience offered by outdoor payment terminals (OPTs), is propelling the market growth. Work-from-home culture & the demand for e-commerce have increased the market growth of the OPT market during the pandemic. The adoption of outdoor payment terminal is showing an upward movement and expected to penetrate among consumers and rise as a prospective payment method. The Outdoor Payment Terminal Market in USA is segmented on the basis of total installed base and will grow at a CAGR of 4.0% over the period 2021-2025F.
USA Outdoor Payment Terminal Y-o-Y Installation and Adoption rate
Year-On-Year Installation of Outdoor Payment Terminals: The year on year installation of outdoor payment terminals are expected to increase due to the convenience and easy to use interface with profitability for both EV charging stations and fuel stations.
Adoption rate for Outdoor Payment Terminals (Consumer Behavior in %): The outdoor payments terminals are high in adoption among consumers both in fuel stations and convenience stores.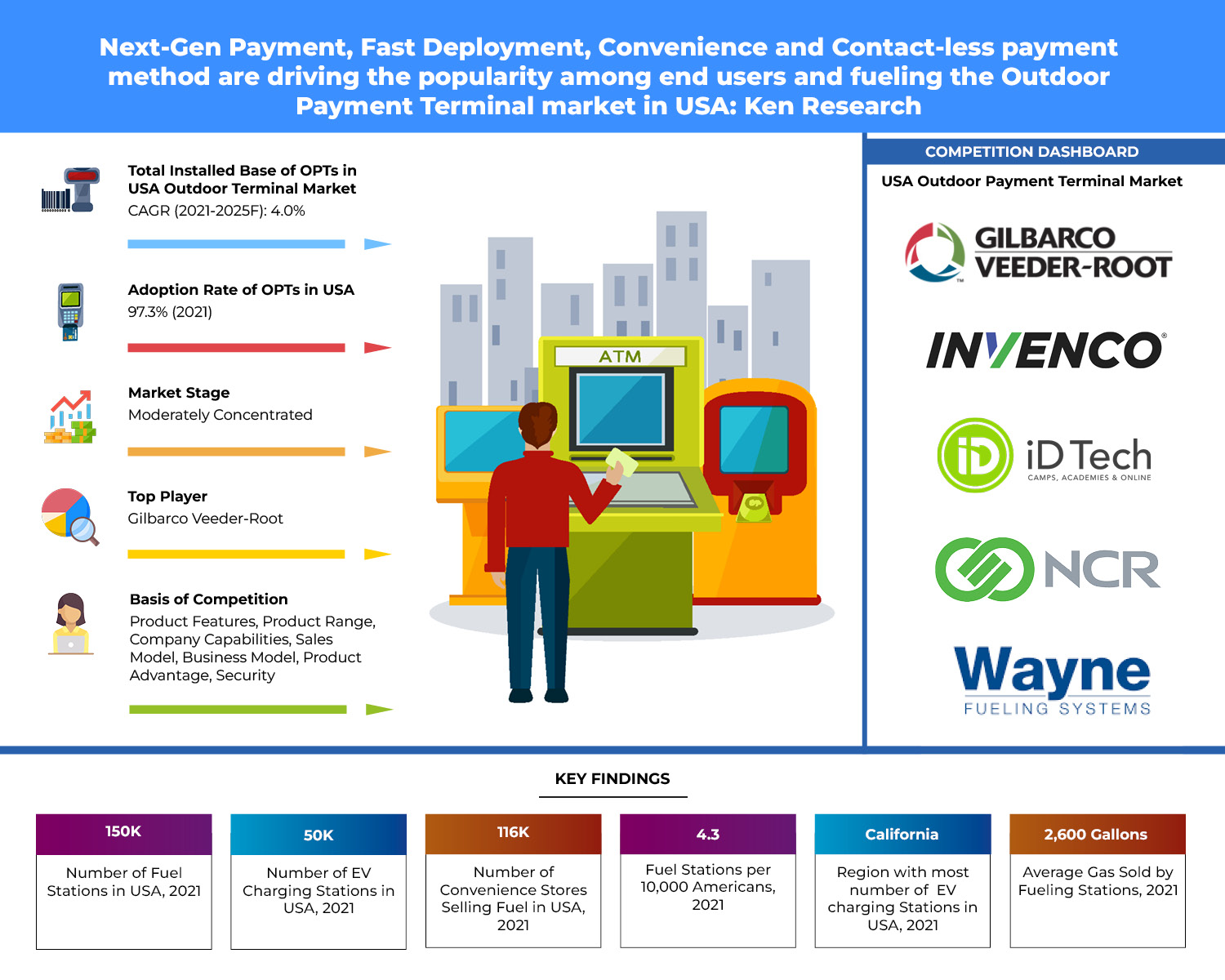 Request for Free Sample Report 
Assesing the growth in PCT and EV charging Payment Terminal market Future Outlook and Projections
Outdoor payment terminal market will be affected by number of fuelling stations and EV charging stations in the near future. In future, EVs can be in the reach of the common people, Infrastructure and anxiety of charging EVs will also evolve leading to the low demand of fuel stations. Over the near term number of fueling station is expected to show decline whereas the EV charging station will expected to grow at a CAGR of ~30.9% from 2021 to 2025F
Competition Landscape in USA Outdoor payment terminal Market
The competition for outdoor payment terminal market was observed to be moderately concentrated in USA. Gilbarco and Wayne fueling systems leads the Outdoor Payment Terminal Market as the top player with most number of OPT installed in USA. The outdoor payment terminal market comprising various global and local cloud services operators with Gilbarco, Wayne and NCR being the most popular outdoor payment terminal providers. Companies in Outdoor Payment Terminal Market in USA are competing based on No. of OPT installed, Product Portfolio, Technology innovation and Client Base & after sales services
 Key Target Audience
Outdoor Payment Terminal Providers
Outdoor Payment Terminal Distributors
Payment Processing Companies
Payment Switch Companies
Fueling Stations
Convenience Stores
EV Charging Stations
Research organizations and consulting companies
Government bodies such as regulating authorities and policy makers
Organizations, forums and alliances related to OPT Terminal
Key Topics Covered in the Report
USA Outdoor Payment Terminal Market Overview
Supply Side Ecosystem of USA Outdoor Payment Terminal Market
Demand Side USA Outdoor Payment Terminal Market
Snapshot on USA EV Station Market
Snapshot of USA Fuel Stations Market
Value Chain Analysis OPT Payment Terminal Manufacturing Industry in USA
Enablers and Growth Drivers in USA Outdoor Payment Terminal Market
Major Challenges and Bottlenecks in USA Outdoor Payment Terminal Market
Entry Barriers in USA Outdoor Payment Terminal Market
Regulatory Framework USA Outdoor Payment Terminal Market
End User Analysis of USA Outdoor Payment Terminal Market
Market Share of Major OPT Providers in USA Outdoor Payment Terminal Market
OPTs on the basis of installed base, 2021-2025F;
Adoption Rate of OPTs
Long Term Outlook for USA Outdoor Payment Terminal Market
Related Reports
Global Outdoor Payment Terminal (OPT) Market 2019 By Manufacturers, Regions, Type And Application, Forecast To 2024
Global Virtual Payment (POS) Terminals Market 2019 By Company, Regions, Type And Application, Forecast To 2024
Contact Us:-
Ken Research
Ankur Gupta, Head Marketing & Communications
+91-9015378249