The report focuses on overall market size in terms of Gross Transaction Value (GTV), Spain Used Car market segmentation by Market Structure (Organized and Unorganized Market); by Type of Used Cars (Hatchback, Saloon-4 doors, Hatchback-5 doors, People Carrier, SUV, Estate, Van, and others); by Kilometers Driven (Less than 5,000 km; 5,000-20,000 km; 20,000-50,000 km; 50,000-80,000 km; 80,000-120,000 km and Above 120,000 km); Ownership Period (Less than 1 Year, 1 to 3 Years, 3 to 5 Years, 6 to 10 Years and More than 10 Years); and By Car Make (Renault, Citroen, SEAT, Peugeot, Ford, Opel, Volkswagen, Mercedes, Nissan, Audi and others). Major players operating in the Spain Online Used Car market include Webycar, Clicars.com, AutoScout24 and others. Major players operating in the Spain Offline Used Car market include Berge, Global Car Centre, Viva Autos, Occasion Plus and others.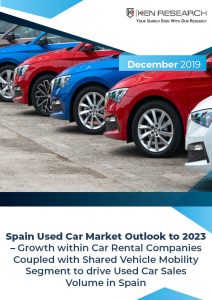 Key Findings
The used car sales in terms of volume is expected to increase in the future thus, grabbing a positive CAGR of approximately 7.0%, due to boost in used car sales through the online car portals.
Diesel lost 35% points of share in the new car market between 2010 and 2018. The decline in diesel cars is further expected to decrease the total number of new and used car sales in the near future.
In the unorganized sector, the sale of used cars is anticipated to increase during the forecast period 2018 -2023, at a CAGR of 11.7% in terms of sales volume due to more adoption of the online car portals by OEM dealers and used car customers in Spain.
Online Space gaining Traction in Spain: The Spanish OEMs are using digitalization to increase dealers' used car sales volume. The quest for increased efficiencies within the asset management and vehicle re-marketing industry over the past few years has meant the market has embraced digitalization. The online space of Spain used car market and is anticipated to experience a CAGR of approximately 34% in terms of sales volume during the forecast period 2018 to 2023.
Elevation in After-Sales Services in Spain: Surge in the adoption of car financing and insurance options at the used car dealerships in Spain will lead to a significant growth in the used car market. The availability of these services in the online car portals also attracts the crowd due to feasibility and convenience factors. The growth of Spain used car market is especially due to availability of additional after-sales services such as insurance and financing options which results in increased demand for used cars in the country.
Emergence of multi-brand showrooms and OEM-Certified: It was observed that the multi-brand dealers will dominate the Spain used car market as compared to the OEM-Certified dealers in terms of sales volume, recording a CAGR of approximately 18% during the review period 2018 to 2023. Dominance of multi-brand dealers in Spain will be majorly due to further shift of OEM-certified dealers to multi-brand dealerships. This will lead to a wide variety of used car brands and models to choose from the convenience of the customers' preferences.
Analysts at Ken Research in their latest publication "Spain Used Car Market Outlook to 2023 – Growth within Car Rental Companies Coupled with Shared Vehicle Mobility Segment to drive Used Car Sales Volume in Spain" believe that the used car industry in Spain will augment owing to the rising penetration in the online used car portal, increase in organized dealership chains and stringent inspection process. This rise is expected to boost the demand for used cars in the country owing to the increased availability of financing options across the nation. The market is expected to register positive CAGR of approximately 11.7% in terms of Gross Transaction Value and around 6.8% in terms of used cars sales volume during the forecast period 2018-2023.
Key Segments Covered
Market Structure
Organized Sector
By Sales Channel (Multi-Brand Dealers and OEM-certified Dealers)
By Lead Generation (Dealerships Walk-ins and Online Car Portals)
Unorganized Sector
By Sales Channel (C2C, Online Portal and Local Dealerships)
By Lead Generation (Dealerships Walk-ins and Online Car Portals)
Type of Used Cars
Any Saloon/ Hatchback
Saloon (Sedan) – 4 doors
Hatchback- 5 doors
People Carrier
SUVs
Estate
Van
Hatchback- 3 doors
Coupe
Saloon (Sedan) – 2 doors
Kilometers Driven
Less than 5,000 km
5,000-20,000 km
20,000-50,000 km
50,000-80,000 km
80,000-120,000 km
Above 120,000 km
Ownership Period
< 1 Year
1 to 3 Years
3 to 5 Years
6 to 10 Years
>  10 Years
Key Target Audience
Offline Dealers
Online Portal
Organized Multi Brands Dealers
OEM Certified Dealerships
Online Portal
Private Equity and Venture Capitalist
Industry Associations
OEM Manufacturers
Automotive Manufacturers
Car Auction Companies
Time Period Captured in the Report:
Historical Period – 2013-2018
Forecast Period – 2018-2023
Online Companies Covered:
Webycar
Clicars.com
Yamovil
AutoScout24
OcasionPlus
Autofesa
Autos Costa Mar
Ollmax
Mia Cars
Offline Companies Covered:
Quadis
Berge
Salvador Caetano
Global Car Centre
OcasionPlus
Viva Autos
Key Topics Covered in the Report
Introduction to the Spain Used Car Market
Spain Used Car Market Size, 2013-2018
Spain Used Car Market Segmentation, 2018
Trends and Developments in Spain Used Car Market
Issues and Challenges in Spain Used Car Market
Used Car Market Supply Chain
Spain Used Car Auction Market
Online Comparative Landscape in Spain Used Car Market
Offline Comparative Landscape in Spain Used Car Market
Government Regulations in Spain Used Car Market
Business Model in Online Used Car /Market
Working Model in the Spain Used Car Market
Success Case Studies- OLX and Dutch Renault Dealer
Spain Used Car Market Future Outlook and Projections, 2018-2023
Analyst Recommendation for Spain Used Car Market
For More Information click on the below mentioned link:
Related Reports
France Used Car Market Outlook to 2023 – Surge in Demand for Rental Cars Backed by Increased Online Used Car Sales
Germany Used Car Market Outlook to 2023 – Surge in Multi-Brand Dealerships Coupled with Improved Quality and Inspection of Used Cars to boost Used Cars Market
Italy Used Car Market Outlook to 2023 – Led by Surge in Demand for Young Used Cars Coupled with Improved Quality and Inspection of Used Cars
Contact Us:
Ken Research
Ankur Gupta, Head Marketing & Communications
Ankur@kenresearch.com
+91-9015378249